Once a rarely used subset of medical treatments, protein therapeutics have increased dramatically in number and frequency of use since the introduction of the first recombinant protein therapeutic - human insulin - 25 years ago. Protein therapeutics already have a significant role in almost every field of medicine, but this role is still only in its infancy. In this article, we decided to evaluate Five Prime Therapeutics (NASDAQ:FPRX), a small-cap biotechnology company focused on discovering and developing novel protein therapeutics for cancer and inflammatory diseases.
Company Overview
Five Prime was incorporated in Delaware in 2001 and is headquartered in South San Francisco, California. Five Prime has developed the industry's most comprehensive protein library consisting of more than 5,600 human extracellular proteins, representing nearly all of the potential protein therapeutic targets in the body. To fully leverage this unique library, Five Prime has also developed high-throughput in vitro and in vivo screening technologies and technologies for identifying ligand-receptor interactions. Together, these components make up a powerful protein drug discovery engine. Through this platform, Five Prime has identified novel therapeutic targets and developed a pipeline of product candidates for cancer and inflammatory diseases. Its lead development candidate is FP-1039, an FGFR1-targeted ligand trap in development for solid tumors and partnered with GlaxoSmithKline (NYSE:GSK). Behind FP-1039, its unpartnered pipeline includes FPA008, a monoclonal antibody in development for inflammatory diseases (e.g., rheumatoid arthritis), and FPA144, an antibody for gastric cancer. In addition, Five Prime has early drug discovery partnerships with GlaxoSmithKline and UCB Pharma S.A.
The Company's Pipeline
1. FP-1039 - The company's most advanced product candidate, FP-1039, is a ligand trap, which "traps" and neutralizes fibroblast growth factors (FGFs), a family of proteins that normally regulate cell proliferation but can also promote cancer development. FP-1039 is designed to only block FGF family members with cancer-promoting activities, and therefore may have a better tolerability profile than other FGF-targeting agents that indiscriminately block all FGFs. In preclinical studies, FP-1039 demonstrated anti-tumor activity in a variety of different xenograft models and enhanced anti-tumor activity of cytotoxic or targeted anti-cancer drugs. In a phase 1 study in 39 patients with various tumors, 17 patients had stabilization of tumor growth (stable disease) and one patient with hormone-resistant prostate cancer who had progressed rapidly on chemotherapy achieved tumor reduction of 20% following treatment with FP-1039, with a stable disease duration of approximately seven months. FP-1039 was described as well tolerated in phase 1 experience and was not associated with hyperphosphatemia as was observed in clinical trials of small-molecule pan-FGFR inhibitors.
The agent was originally partnered with Human Genome Sciences, for which Five Prime received $50 million upfront - a reasonably sizable payment for such an early-stage asset. Following completion of the phase 1 in early 2011, as Human Genome was ramping up production of the fusion protein, Human Genome was subsequently acquired in August 2012 by GlaxoSmithKline. Started in July 2013, GSK is conducting a Phase 1b study of FP-1039 in FGFR1-amplified solid tumors, with squamous non-small cell lung cancer (NSCLC) as the lead indication. The study will explore the agent in first- or second-line squamous NSCLC patients with FGFR1 amplification, in combination with standard of care chemotherapy, with an additional arm to test monotherapy safety and activity in other solid tumors. U.S. and European sites will be included in the study, and the trial will measure safety, tolerability, and overall response rate. The study is expected to read out in the second half of 2014.
Under the partnership agreement, Five Prime is eligible for $435 million in milestones, of which $70 million are development-related (including $5 million for phase 1b completion and $15 million for phase 2 start), and $195 million are regulatory-related. GSK pays for all FP-1039 development costs, including reimbursing Five Prime for any R&D activities, and will pay Five Prime a low-double-digit to high-teens royalty on sales of the drug. Five Prime retains a co-promote option in the United States, which, if the company exercises it, would increase its royalty rate by a low-single-digit percentage.
2. FPA008 - FPA008 is an antibody against colony stimulating factor-1 receptor (CSF1R), currently in development for the treatment of rheumatoid arthritis. CSF1R plays an important role in the survival and function of certain immune cells known as monocytes and macrophages. By inhibiting CSF1R activation, FPA008 prevents the production of multiple proinflammatory cytokines, such as tumor necrosis factor (TNF), interleukin-6 (IL-6) and interleukin-1 (IL-1). Each of these proinflammatory cytokines has been successfully targeted by approved therapeutics for various inflammatory disorders such as rheumatoid arthritis. Therefore, FPA008 could potentially be effective in treating multiple inflammatory conditions. In addition, FPA008 may have advantage over existing therapies for RA because FPA008 directly inhibits bone-destroying cells known as osteoclasts. In preclinical studies, incubation with FPA008 reduced levels of inflammatory cytokines TNFα, IL-6 and IL-1 in biopsy samples of inflamed joints from RA patients. Five Prime plans to initiate a phase 1 trial for FPA008 by year-end 2013 and expect preliminary data by year-end 2014.
3. FPA144 - FPA144 is an antibody against FGF receptor 2b (FGFR2b) and is currently under development for the treatment of gastric cancer. In preclinical studies, FPA144 was highly effective in inhibiting the growth of gastric tumors that expressed high levels of FGFR2b. Five Prime plans to file an IND for the program in 2014 then begin an initial single agent dose escalation study. Over time, the company will likely move the antibody into biomarker-selected populations, and ultimately it may be tested in combo with standards of care for front-line solid tumor indications. Five Prime has indicated that it would also consider a phase 1 study in Japan, where the incidence of gastric cancer is much higher; South Korea is another region the company may consider exploring development in. In the U.S., given the very small patient population, there is the potential opportunity for the agent to be developed and approved in a more-expedited way such as via accelerated approval. Since FGFR2 is expressed in epithelium, one key during development will be balancing safety with theoretical side effects to hair, the GI tract, and the retina.

Market Potential
Squamous NSCLC - NSCLC is currently the leading cause of cancer death in the world, with 750,000 new cases expected worldwide in 2013. Squamous NSCLC represents 30% of these cases, or 225,000 patients according to the Journal of Thoracic Oncology. There is fairly conclusive scientific evidence that FGFR1 amplification occurs in 20% of squamous NSCLCs, defining a large, 45,000 patients candidate pool for FG-1039. The company is entitled to a tiered, low-double digit to high-teen royalty on U.S/E.U. FP-1039 sales, and the company currently retains Japanese rights to the drug.
Rheumatoid Arthritis - The anti-TNF treatments, notably Enbrel and Humira, are very entrenched in RA, and it will remain difficult for new therapies to supplant use of these drugs for many years to come. Appropriately, Five Prime will initially focus development of FPA008 in RA patients that have failed anti-TNF treatment. However, this is still a very large market - 150,000 patients are diagnosed with RA each year in the U.S. at a cost of approximately $30,000 per patient based on Gene Therapy in Inflammatory Diseases. According to Decision Resources, rheumatoid arthritis drug market will experience moderate growth over the next decade as sales increase from $12.3 billion in 2012 to $15.8 billion in 2022 in the U.S., France, Germany, Italy, Spain, the United Kingdom and Japan. Therefore, FPA008 sales could potentially approach or exceed blockbuster status in this setting.
Gastric Cancer - The prevalence of gastric cancer is about 72,250 in the U.S. in 2013, and the NCI estimates that approximately 21,600 new cases will be diagnosed and 10,990 will die of the disease in 2013. Globally, there are more than one million gastric cancer patients, and approximately 3%-9% of patients with gastric cancer have tumors with FGFR2 gene amplification. Therefore the prevalence rate of gastric cancer with FGFR2- amplifed tumor in the U.S. is between 2,100 and 6,500, and the incidence rate for this population is between 600 and 1,900 per year. In addition, lifetime risk of developing gastric cancer is 1 in 116, with a slightly higher incidence in men than women, and more common in underdeveloped countries vs. U.S. Given the small patient population and poor survival rate of gastric cancer, Five Prime believes that gastric cancer will be an orphan indication in the U.S., and that the subset of patients with FGFR2 gene amplification constitutes an ultra-orphan indication.
Summary: Reasons to Buy the Stock
There is good evidence that FGFR1 amplification leads to poorer prognosis in squamous NSCLC. Based on this, several biotechnology/pharmaceutical companies have attempted to target the FGFR1 pathway, with promising efficacy but concerning on-target side effects, such as severe weight loss and hyperphosphatemia. In contrast, in a recently completed Phase 1 trial, FP-1039 was reasonably well tolerated, with no evidence of typical FGFR1 side effects. Therefore, based on a favorable side effect profile and a clear molecular rationale for targeting the FGFR1 pathway in cancers driven by FGFR1 amplification, FP-1039 has a good probability of success in subpopulations of NSCLC and other solid tumors.
Initiation of CSF1R antibody FPA008 in rheumatoid arthritis by year-end 2013, should attract large pharma interest, given prior validation of macrophage targeting therapeutics in RA. In addition, more targeted development of FGFR2b antibody FPA144 in FGFR2b amplified gastric cancer could drive additional value as phase 1 study is initiated in 2H14.
The company has three major collaborations with GSK, including, notably, development of FP-1039, and has successfully completed several other collaborations with large pharmaceutical companies. To date, Five Prime has generated more than $220M of non-dilutive funding from collaborations, which has enabled the company to operate without significant outside financing since 2005. The company has stated that it intends to form at least one new deal a year, going forward, which would likely lead the stock higher.
BMO Capital analysts have initiated coverage of Five Prime with a "Buy" rating and a price target of 24$ a share, represents potential upside of 78% from where the stock is currently trading.
Risks:
Given the early stage of Five Prime's biologics programs, there is the risk that a number of them could face setbacks on their respective clinical development paths. For FP-1039, inhibition of FGF1R has been scientifically validated, but it has not been clinically proven to be an effective mechanism in humans, including those with FGFR1 overexpression. And while FP-1039 was specifically designed to overcome the limitations of similar approaches, it is possible there could be undesired adverse events/effects such as interaction with hormonal FGF receptors, weight loss, and/or retinal epithelial detachment seen with other agents. In addition, there is no extensive historical battery of clinical results in FGFR1 over-expressed squamous NSCLC, which could make the phase 1b data more difficult to put into context and to help guide future clinical development.
In cancer, development of new therapies means the standards of care for each tumor type often change rapidly, which could complicate future trial designs for FP-1039 and FPA144. Five Prime, GSK, and other potential partners would need FDA buy-in for a potential faster path to market for FPA144 in refractory squamous NSCLC and for FPA144 with amplified gastric cancer to enable those agents to reach the market more quickly, or the development timelines and time to revenue generation would become longer. For FPA008, the auotimmune markets are crowded, especially in RA, which is likely to raise the efficacy and safety bars for regulatory approval.
Financial Outlook
As a result of the recent IPO, on a pro forma basis, Five Prime would have had $91 million cash, equivalents, and marketable securities as of mid-2013 with no debt. Net cash burn is expected to be $30 million or less per year, which should enable the company to reach proof-of-concept results for both FP-1039 and FPA008, with current cash on hand. Offsetting some of Five Prime's cash burn is the company's expectation that it will be able to complete at least one collaborative agreement per year. If so, these deals would be structured similarly to its discovery collaboration GSK for muscle disease (2010) and respiratory disease (2012) programs, which resulted in upfront cash payments of $7-10 million and research funding of roughly $2-3 million per year for each agreement.
Bottom Line
Five Prime has a best-in-class biologics discovery effort and multiple opportunities to drive value across an emerging pipeline in oncology and immunology. With primary focus on FGFR inhibitor FP-1039 in FGFR amplified tumors, the upside potential could emerge from multiple indications, including breast cancer, lung cancer, and head and neck cancer. Data flow from a multi-group phase 1b study in patients with FGFR amplified tumors should support proof-of-concept for FP-1039 over the next 12 months. Option value beyond FP-1039 exists from more targeted development of FGFR2b inhibitor FP144A in gastric cancer and CSF1R inhibitor FPA008 in rheumatoid arthritis. That said, Five Prime is attractive based on a promising early stage oncology and inflammatory disease pipeline and impressive platform technology.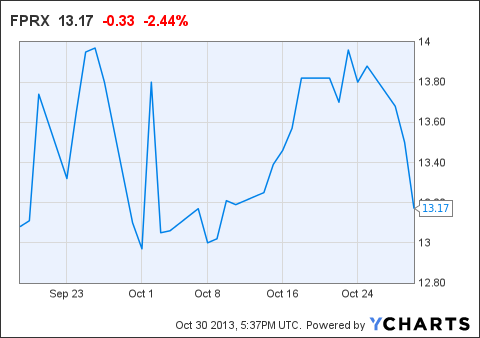 Disclosure: I have no positions in any stocks mentioned, and no plans to initiate any positions within the next 72 hours. I wrote this article myself, and it expresses my own opinions. I am not receiving compensation for it (other than from Seeking Alpha). I have no business relationship with any company whose stock is mentioned in this article.
Additional disclosure: Biomed Group is a group of investment professionals and writers. This article was written by Amit Cohen. This information is not to be construed as an offer to buy or sell any security mentioned on this article.