In the past, we have shared thorough investigative and forensic research on our Seeking Alpha InstaBlog about two publicly traded companies, Telestone Technologies (NASDAQ:TSTC) and AutoChina (AUTC) (here). Since our initial report on Telestone, the stock has declined by 97%, attracting intense regulatory scrutiny, while failing to file a quarterly report with the SEC in over a year. We subsequently wrote four reports on AutoChina discussing at length our belief that AutoChina was misrepresenting its financials and operating model, while potentially engaging in an offshore fraud. After an extensive investigation, the SEC sued AutoChina for securities fraud and referenced our Seeking Alpha blog, written a year earlier, in its complaint. We believe investors in Tangoe Inc (NASDAQ:TNGO) could suffer a similar fate as the investors in Telestone and AutoChina.
Approximately one year ago, there were two in-depth research reports that brought a litany of concerns about Tangoe to the attention of investors (here and here). Both reports did a commendable job exposing numerous red flags in the TNGO story, ranging from a management team that bankrupted their prior company and was sued for fraud, to perpetual acquisitions aimed at obfuscating organic growth, to financial shenanigans used to hide shaky financial performance. TNGO's stock lost almost 50% of its value as the reports left little doubt about the nature of Tangoe's misrepresented business model (a BPO that was pitched as a SaaS vendor).
But the stock market has a very short memory. Over the past year, the shareholder base has seemingly turned itself over and Tangoe has found a new set of investors. At the same time, the sellside has promulgated a bullish thesis that centers on promoting a low margin company with overstated revenue growth as a software-as-a-service pure play. All the while the company has latched on to the hot BYOD (bring your own device) theme with press releases and webinars for investors. A Google search of "BYOD management" returns results for solutions from over twenty-four companies in its first five pages, including Cisco, Aruba, IBM, HP, Fujitsu, and Citrix. Not one result was found for Tangoe. All six analysts that cover TNGO have a "Buy" rating on the stock, which should not be a surprise given TNGO has burned through nearly half of its cash in the last year. This predicament makes an imminent secondary offering likely. Ironically, this new bastion of shareholders may be oblivious to many of the concerns we raise in this report, despite the prominent warning signs and massive insider selling.
In our report, we drill into many of the forensic issues that the sellside has yet to discuss, raising one flag after another. We meticulously outline the ever-increasing financial manipulation tactics employed by management to buoy the company's stock price while VCs race for the exit (we clearly depict how TNGO is violating Section 3270 of the SEC Financial Reporting Manual). We show how TNGO has systematically overstated it earnings by at least 30% and by some measures north of 65%, with non-GAAP adjustments accounting for at least 90% of earnings in 5 of the last 6 quarters. We pinpoint material discrepancies between management statements and actual SEC filings. We highlight some of management's newer tricks that distort organic growth, and finally, we outline when we expect this house of cards to fold. With one of Tangoe's most prominent channel partners disclosing an SEC investigation into its accounting practices one week ago, we think there is enough smoke to consider yelling "FIRE!" We believe that under a best case scenario, TNGO's intrinsic value is less than $10.00 per share, and under a more draconian scenario the stock may fall below $4.00 when the dust settles.
We recognize that some of our analysis may be viewed very negatively. As such, we have tried to get an official response from Tangoe, but due to its quiet period, we were unable to get our questions answered. When management feels comfortable discussing the myriad of isues we have raised, we would be eager to write a follow-up article. Some of the topics discussed in this report that have not been appropriately understood by investors include:
· TNGO overstates its "reported pro forma" results by failing to tax-effect numerous non-cash add-backs. We have never seen this policy in our long history of analyzing aggressive accounting and financial frauds, and it is our belief that TNGO is able to systematically overstate its earnings with this sleight of hand. If TNGO's non-GAAP earnings conformed to SEC guidelines, we think earnings could be overstated by at least ~30% and by some measures upwards of 65%.
· Even under TNGO's reported method, which we believe is a farce, the company used a $499,000 "restructuring charge" related to a sub-lease estimate change from 2011 to meet second quarter guidance. Without this unusual add-back, TNGO would have missed Q2 earnings.
· TNGO management boasts about accelerating large new customer wins on each earnings call. However, despite all of the new customer announcements, a metric touted by sell-side analysts, TNGO appears to generate minimal revenue from these new logos. Based on our calculations, we believe TNGO's incremental ARPU per new customer is down by approximately 75%.
· TNGO management has discussed significant international expansion with countless new customer wins and office openings across the globe. There is only one problem - company filings reveal TNGO does not generate any material international revenues, while most of the international assets appear to be related to recent acquisitions. Based on Tangoe's public filings, we believe the company has blatantly violated international reporting requirements under SEC Regulation S-K Item 101(d) under the U.S. Securities Act of 1933.
· TNGO management has audaciously claimed organic growth is understated due to the impact of acquiring businesses that are shrinking. We will demonstrate how this is categorically false. Since it last came under attack for misstating its organic growth rate, we will show even more egregious examples of management's misleading and inaccurate statements about acquired and organic growth. Based on publicly disclosed information, it appears management misrepresented Symphony's growth rate (calling it "relatively flat" when public filings show it was closer to 20%). The CFO also publicly said Symphony was on a run-rate "of approximately $20 million." Public filings show that when this statement was made, Symphony's run-rate was closer to $24 million, providing $4 million of cushion to attribute to organic revenues. In addition, TNGO would have missed Q3'12 consensus revenue estimates if not for providing Symphony's contribution guidance that was 30% lower than the actual contribution. We show that despite management's inaccurate Symphony disclosures, it appears core Tangoe organic growth is below 10% YTD.
· After coming under attack last year, Tangoe management publicly stated there would be no more material acquisitions for the foreseeable future. The company then acquired yet another business, further clouding the organic growth profile of the business. Consistent with past practices, Tangoe management appears to have lied about the historical revenue of its most recent acquisition, while distorting the actual price paid, and misrepresenting the nature of the business being acquired.
· Contrary to what management and the sellside have told investors, TNGO is not a software company. TNGO continues to have a materially lower gross margin (around 1,700 basis points lower) than it's supposed SaaS comp group. Management has promised material gross margin improvement, yet they have failed to drive their BPO-like margins above 55%.
· Management and analysts tout TNGO's profitable and cash flow generating business model. However, because TNGO is a serial acquirer, the company has effectively been capitalizing its R&D through its acquisitions. After adjusting for TNGO's numerous acquisitions and subsequent earn-out payments, it becomes apparent that the company generates NEGATIVE free cash flow. When factoring in the acquired R&D spend through M&A, we see that TNGO actually burned $12.9 million in cash in 2011 and $23.5 million in 2012.
· TNGO completed its follow-on stock offering in Q2'12, resulting in a cash balance of nearly $80 million at 6/30/12. One year later, TNGO's reported cash balance has dwindled to $44.1 million and according to its second quarter 10Q, it would appear TNGO's adjusted cash balance inclusive of deferred acquisition payments and other contractual obligations, is less than $10 million. The combination of TNGO's precarious cash position, and its need for acquisitions to overstate "organic" growth, means the company will need to raise additional capital very soon in order to keep the story going. Should this occur, investors would have the right to question whether TNGO VCs were trading on inside information as nearly every TNGO VC is selling stock, including Edison Ventures, which just exited 100% of its position.
· TNGO management has regularly boasted on conference calls and in SEC filings about its close relationship with Affiliated Computer Services (which was acquired by Xerox in 2010). On 10/8/13, Xerox announced the SEC was investigating ACS's accounting practices to determine whether the company overstated its revenues. It seems reasonable to at least ask the question - Given Tangoe's relationship with ACS, is Tangoe in the SEC crosshairs as well?
· TNGO's Q3'13 guidance appears respectable at 19% YoY. However, after adjusting for acquisitions, the company's guidance for Q3 implies organic growth of only 11.4%. As we meticulously detail, if TNGO is really growing at 20% organically, then buyside estimates are for Q3'13 revenue of at least $51.1 million and Q4'13 revenue of at least $52.85 million. If TNGO reports/guides for revenue below these levels, then there is simply no way its organic growth rate is 20%. Further, TNGO desperately needs to make acquisitions to be in a position to guide to a 20% organic recurring revenue growth rate in 2014.
As we detail at the end of our report, it is our opinion that under the best case scenario, TNGO is worth slightly less than $10.00, while intrinsic value may be closer to $4.00 per share.
------------------------------------------------------------------------
Ø Company Reported Non-GAAP Net Income is a Farce
Tangoe's management has gone to great lengths to package the company as a fast-growth software company. As a result, we believe Tangoe's reported results greatly misrepresent the actual economics of the business. Several of these shenanigans were discussed in previous research reports. However, we have identified one blatant abuse that appears to violate SEC reporting requirements and significantly overstates pro-forma results.
Like many technology companies, Tangoe has marginal GAAP income, thus investors are provided pro-forma financial tables prepared by management. The SEC has issued very clear guidelines for acceptable pro-forma reporting. It is our opinion that Tangoe has been improperly presenting its pro-forma results by ignoring the SEC's requirement to tax-effect adjustments.
Instruction 7 of SEC Rule 11-02(b) provides the following guidance on how to tax-effect pro forma adjustments:
Tax effects, if any, of pro forma adjustments normally should be calculated at the statutory rate in effect during the periods for which pro forma condensed income statements are presented and should be reflected as a separate pro forma adjustment. [Emphasis added]
This guideline clearly stipulates that charges should be presented in pro-forma tables on a tax-effected basis. Simply put, you can not reap the after-tax pro forma benefit of the entire pre-tax cost adjustment. Most technology companies report non-GAAP net income and EPS excluding non-cash charges such as stock-based compensation and amortization expenses. We looked at a variety of companies that analysts list as comps to TNGO, ranging from Synchronoss (NASDAQ:SNCR) to ServiceSource (NASDAQ:SREV). Every single company we examined tax-effected its pro-forma exclusions. TNGO was the only exception. As a result, TNGO's reported non-GAAP EPS, which analysts and investors have undoubtedly used to value the business, is overstated by at least 30% when compared to the appropriate methodology.
The result of TNGO adding pre-tax exclusion amounts back to its after-tax pro-forma net income is a huge overstatement of net income and EPS that is actually quite difficult to discern. Shockingly, TNGO has been using this gimmick since its IPO in 2011 and has yet to be caught. Below, we present two scenarios that paint a far more accurate representation of TNGO's adjusted earnings should they finally be forced to (or voluntarily) conform to proper reporting standards.
While TNGO is not yet a full cash tax payer, the company has reported a non-GAAP profit since at least 2010 and it has been profitable on a GAAP basis since Q4'11. The fact TNGO's auditors have allowed the company to maintain a full valuation allowance against its deferred tax asset strikes us as completely inconsistent with a company that is profitable. Unless TNGO's auditors believe the company will revert back to losses, TNGO will presumably need to start accruing for a 40% statutory GAAP tax rate in 2014. Critics of this approach may argue that a 40% normalized effective tax rate is overly punitive given that TNGO still has net operating losses (NOLs) it can utilize to shield the company from future taxes. However, we would point out that a 40% effective rate is appropriate industry practice, as evidenced by Synchronoss and ServiceSource, similar technology-enabled managed services providers that also have NOLs, yet still use a 40% effective tax rate on non-cash adjustments. If we assume a standard 40% corporate income tax on the pro-forma add-backs, it becomes evident that this shenanigan alone has allowed TNGO to erroneously overstate earnings by 29% - 38% over the last 6 quarters (we believe TNGO has also under-reported its economic research and development expense, leading to a more than a 60% total EPS misrepresentation, as discussed later). The table below also shows that TNGO has relied heavily on these adjustments, with Non-GAAP adjustments representing at least 80% of Net Income in 5 of the last 6 quarters.
A second approach to adjusting TNGO's non-GAAP earnings is to apply TNGO's statutory GAAP tax rate to its non-GAAP adjustments. This would look at TNGO's results in a more generous light. Nonetheless, under this more favorable scenario, TNGO has still persistently overstated its earnings by an average of ~20% per quarter over the last 6 quarters.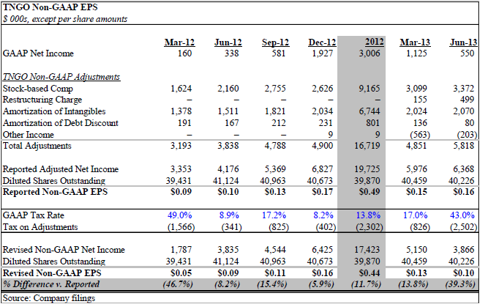 Ø Mysterious "Restructuring Charge" Needed to Reach Q2 13 Guidance
In addition to presenting its profitability in a disingenuous form, TNGO would have missed its own EPS guidance in Q2'13, if not for the pro-forma exclusion of a mysterious one-time restructuring charge related to a lease termination agreement from two acquisitions made in 2011. While the restructuring charge may be legitimate, we question why the company needed to take a charge more than two years after the acquisitions occurred. Further, the cynic in us has to wonder given the well documented fraud accusations levied against its CEO/CFO from their IMA days, how much discretion actually existed regarding the timing of this charge. Without the add-back for this expense, TNGO would have missed earnings by $0.01, rather than barely making its guidance of $0.16.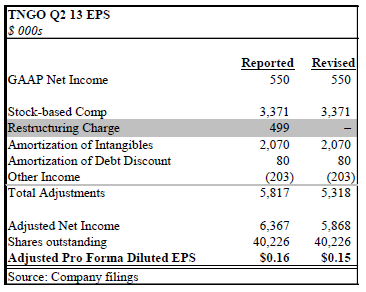 In addition to the restructuring "save" in Q2'13, an odd trend exists when it comes to TNGO's historical EPS performance. Since TNGO went public in Q2'11, the company has managed to beat estimates by exactly one penny every quarter. This miraculous consistency is almost too consistent. Yet, the impressive streak of "adjusted" EPS beats ended in Q2'13, when it required its "restructuring charge" in order to simply make its guidance. While this may be purely a coincidence, as we will discuss later regarding TNGO's odd lack of R&D expenses for a "SaaS" company, we think it is possible TNGO is managing its earnings pro-forma presentation to beat estimates by a penny.

Ø Where is the Bacon? Supposed big new customer wins, but where are the revenues?
Tangoe management has done a terrific job announcing headline customers. The sellside has eaten up these new logo announcements without much skepticism or analysis into why new wins have not translated into new revenue. After TNGO's Q2'13 earnings report, sellside reports ignored the soft results and Q3'13 guide-down, instead choosing to regurgitate the new logo announcements:
Accelerating New Logo Wins a Key Breakout - Given a breakout 49 "new logos" wins (the prior record was 39) and still elevated sales hiring, we expect growth to accelerate near-term.
TNGO: 2Q top line comes in ahead while new logos impress - Tangoe added another 49 new logos during the quarter, which was up from 39 in 1Q and well ahead of the company's stated 25-35 quarterly goal.
Record Quarter for New Logo Wins Highlights Healthy 2Q13 Results - Tangoe landed 49 new logo wins, which represents an all-time quarterly record for the company.
First, we must point out that we find it incredibly odd that TNGO does not report a single verifiable customer or business metric in its quarterly or annual filings, or in its audited (or even unaudited) financial statements. These impressive metrics are not even discussed in the company's quarterly press releases. Management instead chooses to highlight these new logo wins orally. The only remotely useful financial metric TNGO discloses is its "revenue retention rate." Even with this metric, the company will not give a specific number, instead evasively making comments like, "Since we began to fully realize the benefits of our recurring revenue model in 2009, our revenue retention rates have been higher than 90%." As discussed in detail in a previous critical report, this metric is not particularly useful since there is no opportunity for quarterly or annual comparisons, nor is this metric particularly impressive, given revenue retention rates for SaaS businesses often exceed 100%.
It seems fair to question TNGO's apparent refusal to put its total number of customers, new customers, customer retention rate, or spend under management in writing. We do not believe analysts, ourselves included, have the appropriate levels of information to confirm management's characterization about the health of the business. The inconsistencies do not stop with the mysterious new logo announcements. In its 10K, TNGO lists "deferred revenue" as one of management's key business metrics to help monitor the business. This is particularly strange considering the very same management team has said repeatedly that "deferred revenue" is not a useful gauge of the company's performance. Why would TNGO disclose to the SEC that deferred revenue is a key metric, yet downplay the unfavorable trends with its analysts and investors? On TNGO's Q4'11 earnings call, soon after the company went public, CFO Martino stated [emphasis added]:
"As a reminder, it is important to note that deferred revenue is not a key metric or an indication of business activity for Tangoe for two primary reasons. First, we are predominantly on monthly billing terms so new sales do not contribute much if anything to deferred revenue. Second, we still have deferred revenue as related to legacy maintenance contracts, which is amortized annually and we're not adding to this base with our subscription based contracts."
The only precise metric that TNGO management discloses on a quarterly basis is new customer wins. However, given the focus on this metric by management, and the clear importance to the sellside story telling, we find it troubling that the number of new customer wins has never been defined or disclosed in writing (i.e., does a new division or geography count as a "new customer"?).
Could it be that this metric is in fact completely immaterial? Despite the promotional statements on its calls, Tangoe management does not even include this metric in its "key business metrics" disclosed in the 10K. While we are skeptical of this "new logo" metric, it is worthwhile to illustrate how unfavorable the trends actually are with real analysis on the incremental revenue per incremental "new" customer. If TNGO operates in a Greenfield multi-billion dollar market as management claims, then it would seem reasonable to expect new customers, and the revenue generated from new customers, to somewhat mirror older customers (i.e. there should be limited pricing sensitivity given market supply-demand characteristics). If anything, TNGO should benefit from the cross-sell and up-sell that the company often touts, so quarterly incremental revenue from new customers should be boosted over time by TNGO's existing base. Surprisingly, annualized incremental revenue per new customer has actually declined precipitously in 2013. In 2012, on average, each new customer TNGO announced contributed $410k in annualized incremental revenue. Yet in 2013, this number has declined by almost 75% to $109k over the first half. Based on our analysis, despite TNGO management's record number of new customers, these customers are being won at significant price concessions.

Ø International Growth - All Bark, No Bite
TNGO never misses an opportunity to boast about its international growth and success entering new markets. On earnings calls and at analyst events, management has discussed a large contract with SAP (a contract it acquired, rather than won organically, through its Symphony acquisition). And as recently as the Q2'13 conference call, management stated international customers now represent $6.4B of TNGO's $26B of spend under management, an increase of 31% YoY. CEO Subbloie proudly stated:
"We continue to see strength in Asia-Pacific, EMEA, and Latin American markets which are being driven by the adoption of mobility management solutions in the enterprise in connection with the expanding BYOD trend. Enterprises are demanding solutions that enable them to better manage their employees' mobile computing devices, access to the corporate network while maintaining control and security of corporate data, applications, and infrastructure. Tangoe is well-positioned to benefit from this trend and has recently added employees based in Mexico City, Mexico; Santiago, Chile; and Sao Paulo, Brazil."
"In EMEA, we recently increased the size and capability of our operation centers in the UK and Netherlands and, as I mentioned, established an office in Germany. We are also pleased to announce that we signed international base deals with Danaher, Sony EMEA, and additional countries for Atos among others which are on top of the large Nokia deal we mentioned on the last earnings call where they are rolling out our mobile solution globally. Given the investments we have made this past year, we believe we are in a position to benefit from the predominantly greenfield international opportunity."
TNGO's website even has a section dedicated to its new international offices, the majority of which were acquired. The company lists offices in Germany, India, and Australia, yet oddly we have been unable to find precise locations for some of these offices in Google Maps.
On the surface, the progress internationally seems very impressive. But then we checked the facts. Given the inordinate focus on its international operations, we tried to model the revenue growth attributable to each region. We searched every TNGO filing since its initial S-1 in 2010. We were not surprised that the filings from 2010 and 2011 contained no reference to revenues from Latin America, EMEA, or Asia-Pacific. However, we are utterly confused why Tangoe has NEVER quantified its actual international sales, - not even in its most recent filings that purportedly include material revenue from international acquisitions. In every public filing since its IPO, TNGO includes one line related to international revenue: "We historically have derived substantially all of our revenue from United States-based customers.
This disclosure, or lack thereof, is particularly troublesome given SEC Regulation S-K Item 101(d) under the U.S. Securities Act of 1933, which dictates the reporting requirements for SEC filings. It specifically requires an issuer to "disclose for each of the issuer's last three fiscal years the amounts of revenue, operating profit or loss, and identifiable assets attributable to each of its geographic areas."
TNGO has listed 10 international offices. They have named countless international "new customer" wins. And according to management on its Q2'13 earnings call, the company generates 25% of its business from international clients (TNGO's international portion of spend under management). Yet, based on its financial reports filed with the U.S. Securities and Exchange Commission, TNGO derives no discernable revenues from its international business.
Ø Why Organic Growth Remains Overstated - The Secret of Symphony
Organic growth is a hot button issue for Tangoe and management knows this. In nearly every discussion regarding organic growth, TNGO management points out the companies it has acquired typically have flat-to-declining revenues. Management confidently highlights that organic growth is understated because these slower or negative growth acquisitions weigh on overall results. For example, during TNGO's Q2'12 earnings call on 8/8/12, when the company announced its acquisition of Symphony, CFO Martino stated, "During the past few years, the Symphony TEM business revenues have been relatively flat on an annualized run rate of approximately $20 million." Interestingly, despite the fact that TNGO acquired Symphony nearly half way through Q3'12, and the company clearly had access to Symphony historical results during diligence, the CFO vastly understated Symphony's growth rate and its revenue run-rate.
AS PAST CRITICS OF TANGOE HAVE PREVIOUSLY DISCUSSED, WE BELIEVE THAT TANGOE HAS CONTINUED TO MISREPRESENT THE GROWTH AND REVENUE OF BUSINESSES IT HAS ACQUIRED, WITH THE DIRECT RESULT BEING AN OVERSTATEMENT OF ITS OWN ORGANIC GROWTH.
Buried inside TNGO's Q3'12 10Q, the company disclosed Symphony generated $5.9 million in revenue for Q3 on a pro forma basis, which represented ~20% YoY growth. This is in direct conflict with the CFO's statement that Symphony revenues had been "relatively flat." Further, the revenue run-rate at the time Tangoe made the acquisition was $23.6 million ($5.9M/quarter x 4). This is again in direct conflict with the statement made by the CFO declaring Symphony's "annualized run rate of approximately $20 million"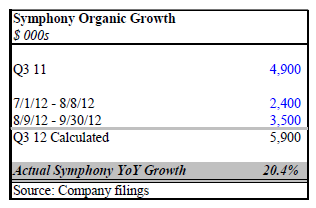 Tangoe's management also materially understated Symphony Q3'12 performance by 30%, again despite giving guidance nearly half way through the quarter. On its Q2'12 earnings call, management stated the following, "if we turn to the third quarter, we expect that total revenue to be in the range of $39.2 million to $39.7 million, or growth of 44% to 45% on a year-over-year basis. This includes a contribution of approximately $2.7 million from the Symphony TEM business." Symphony's contribution was closer to $3.5 million in the quarter, and TNGO would have missed the consensus revenue estimate for the quarter if not for low-balling Symphony by $800,000 (reported revenue of $40.1M v. consensus of $39.5M).
TNGO has also gone to great lengths to exclude Symphony from its reported "pro forma results," which is actually reported in the company's SEC filings, and which investors likely use to calculate pro forma organic growth. While TNGO is able to report pro forma results for each of its five other acquisitions, the company states the following regarding Symphony in its Q3'12 10Q:
"Due to the inability of the Company to anticipate and estimate on a forward-looking basis incremental costs allocated to the Symphony TEM Business by Symphony and the uncertainty and difficulty of calculating the specific costs required to meaningfully present the effects of the acquisition and the costs of operating the Symphony TEM Business, the Company has not included the Symphony TEM Business in the unaudited pro forma results below." [emphasis ours]

What is particularly troublesome about this statement is that while Symphony is clearly excluded from pro forma 2011 results, it appears TNGO has included Symphony results in its pro forma 2012 calculation. This further sleight of hand was confirmed when the company updated the language in its Q1'13 10Q. To make matters even more confusing, the company is only excluding Symphony results from Q1'12, and not from Q1'13.
"Due to the inability of the Company to anticipate and estimate on a forward-looking basis incremental costs allocated to the Symphony TEM Business by Symphony and the uncertainty and difficulty of calculating the specific costs required to meaningfully present the effects of the acquisition and the costs of operating the Symphony TEM Business, the Company has not included the Symphony TEM Business in the unaudited pro forma results for the three months ended March 31, 2012 below." [emphasis ours]

Source: www.sec.gov/Archives/edgar/data/1182325/....htm
Incredibly, management goes on to state it is unable to include Symphony because it cannot estimate "on a forward-looking basis" incremental costs allocated to Symphony. Why would management have trouble defining the costs (or revenues) for Symphony in Q1'12? It was not yet a part of Tangoe and thus as a stand-alone business there is simply no estimation required. And, despite this inability to disclose the historical financial profile of a business it just acquired in its 10Q, management miraculously was able to disclose Symphony's historical results in a separate 8-K filing on 10/24/12.
So What is Organic Growth?
On TNGO's Q3'12 earnings call, CFO Martino argued organic growth should be measured the following way:
"There are [a] number of different ways in which companies and analysts can calculate organic growth. That said, if we take the most narrowly defined definition that includes acquisitions after an acquisition has been with the company for four full quarters, then our guidance would imply organic recurring revenue growth of 16% to 18% for the full year 2013. This growth will be slightly higher using a longer-term timeframe that takes into consideration the fact that it takes time to migrate customers post our consolidation acquisitions."
"Due to the impact from rolling in our acquisitions except Symphony starting in Q1 2013, we expect to start the year at a calculated organic growth rate slightly below the 16% to 18% range and end the year above this range which we believe is most indicative level of our long-term recurring organic revenue growth model of 20%."
While TNGO does not include Symphony financials in its pro forma operating results, the company does report historical Symphony revenues elsewhere in its SEC filings. Also, while TNGO inexplicably stopped reporting Symphony's revenue impact after Q4'12, we do know Symphony's results are included in YTD 2013 financials. If we simply add Symphony historical revenue to the pro forma 2012 results given by the company, we find Tangoe's year-over-year organic growth is actually less than 10% through the first half of 2013.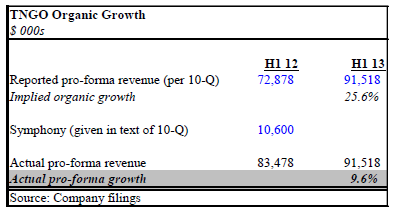 To make matters worse for the Tangoe bulls, for TNGO to organically grow even 9.6%, it assumes Symphony's growth rate declined from 20% to zero in 1H'13. As shown earlier, Symphony was growing at a very healthy clip prior to its acquisition by Tangoe. If we assume Symphony's growth has continued inline with its historical growth rate of ~20%, then TNGO's legacy organic growth would only be 7.0% through the first half of 2013.
Ø More Acquisition Shenanigans - Multiple Discrepancies with oneTEM purchase
When Tangoe's organic growth came under attack last year, management stated repeatedly that it would limit acquisitions going forward. Yet during its Q2'13 earnings call, management announced they were buying a company called oneTEM. As seems to consistently be the case with this management team, there is more to this acquisition than meets the eye. Management made the following statement on its Q2 earnings call which we will dissect in detail below to show the immense inaccuracies:
"During the second quarter, we acquired a small TEM-focused consulting firm for an upfront net cash payment of approximately $850,000 in order to enhance our presence in Germany. While this acquisition is immaterial to our financial performance, we gained domain expertise and resources in a major European economy to service the initial foundation for driving sales of Tangoe's industry-leading on-demand platform."
"I wanted to note that the small German acquisition that Al mentioned earlier is not expected to have a material impact on our revenue or profitability in the second half of the year. Their existing customer business might contribute a little over $100,000 per quarter in non-recurring revenue, and will have no impact on our recurring revenue."
First, as others have clearly argued in the past, and as we illustrated with Symphony above, management has made it a core practice to understate acquired revenues and growth rates to paint a more favorable organic picture. Based on public filings, TNGO management has once again unequivocally understated oneTEM stand-alone revenue. While it does appear to be the case that oneTEM contributed approximately $100k of revenue in Q2'13, management neglected to point out that the acquisition was made midway through the second quarter. As such, the $100,000 of Q2 revenue is not indicative of a full quarter of run-rate revenue. Because TNGO reports pro-forma results for Q2'12 in its 10-Q as if it owned all of its acquisitions (excluding Symphony as noted above) since 1/1/12, we can determine the run-rate for oneTEM. Since ProfitLine, Anomalous Networks, and ttMobiles were all acquired prior to Q2'12, we know that the only difference between Q2'12 actual reported revenue and Q2'12 pro forma revenue is solely due to oneTEM. Unsurprisingly we found oneTEM generates quarterly revenue of $320,000, which is far in excess of the carefully worded $100,000 management said on its Q2'13 earnings call.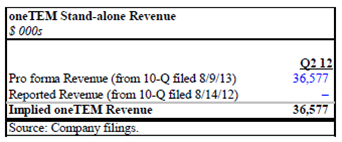 Next, management said that TNGO paid $850,000 in cash up-front to acquire oneTEM. This is not true. TNGO discloses in its 10Q that its up-front cash payment was instead $1.2M. This is not even a borderline misstatement; it is just a fabrication (either they paid $850K in cash as said on the conference call or $1.221 million in cash as disclosed in the 10Q).
Source: www.sec.gov/Archives/edgar/data/1182325/....htm
Further, if we take management's revenue estimate of "a little over $100,000 per quarter in non-recurring revenue" at their word, then it would imply oneTEM is on a $400k annual revenue run-rate. Given Tangoe discloses in its 10Q that its total purchase price was $1.8M, this would imply a purchase revenue multiple of 4.6x. While it is clear Tangoe management misled investors about the purchase price and the revenue run-rate, it is worth asking why TNGO would purchase a small, supposedly non-recurring revenue consulting business for 4.6x run-rate revenue? After all, TNGO paid less than 2.0x revenue for Symphony, ttMobiles, and ProfitLine, all of which were businesses with mainly recurring revenue. We believe TNGO paid $1.8M because oneTEM is generating 3x the revenue that management admitted. More importantly, without oneTEM, TNGO's Q3'13 and Q4'13 guidance, which management guided below consensus, would be in further jeopardy.
Finally, we note that it is extremely odd TNGO management stated oneTEM will have an immaterial impact on non-recurring revenue and "will have no impact on our recurring revenue." How can there be no impact on recurring revenue when oneTEM's deferred consideration is tied to none other than recurring revenue as disclosed in Tangoe's second quarter 10Q?
"In addition, the Company is obligated to pay additional deferred cash consideration following the first four anniversaries of the oneTEM Closing Date, pursuant to an earn-out formula based upon year-over-year increases in annual recurring revenue from specified customers during the earn-out periods."[Emphasis Ours]
The only thing consistent with Tangoe is the nature of the inconsistencies and deception.
Ø Still not SaaS - Where is the Gross Margin Improvement?
In last year's impactful Seeking Alpha blog report on TNGO, a compelling argument was made on why TNGO is not a SaaS business, but instead is much more akin to a business process outsourcer (NYSE:BPO). While we believe the author made a compelling argument, there are several incremental points to make that only solidify the lunacy of valuing TNGO as a software company. In the last year, TNGO's performance and financial profile continue to resemble a BPO, with gross margins remaining substantially below the SaaS comp group, and capital expenditures and research & development expenses equating to a tiny fraction of the innovative, high growth SaaS vendors. Regarding TNGO's gross margins, the company remains a startling 1,690 basis points below the peer group analysts have chosen.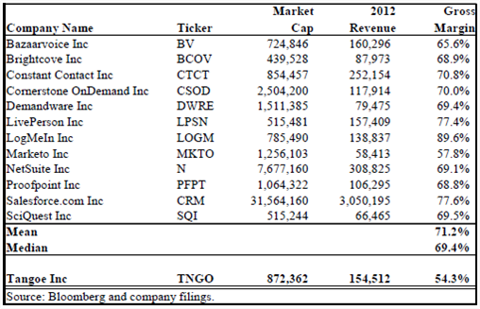 The only "peer" with gross margins even close to TNGO would be Marketo (NASDAQ:MKTO), which was founded nearly a decade after TNGO and is much earlier in its development. And, despite its recent founding, MKTO's subscription and support gross margins (the equivalent of TNGO's recurring technology and services segment), were close to the SaaS mean, coming in at 69.3% in 2012 (whereas TNGO's recurring gross margin was 53.6%).
While TNGO's gross margins are reason for alarm, the inability of management to deliver upon its promises of material gross margin improvements speaks volumes about the challenges this BPO faces. When TNGO announced its acquisition of ProfitLine in December 2011, management made the following statements regarding gross margins:
"Yes. I mean, we definitely should plan on improvement from '11 to '12. And as I commented, their [ProfitLine] gross margins are much better than the HCL and Telwares'. So, it will only have a modest impact or drag if you will on 2012. And so, even with that, we see a significant improvement from one year to the next."
"We expect to improve gross margins associated with ProfitLine's revenue as we complete the customer migration process in the 12 to 18 months following the acquisition by achieving cost efficiencies and eliminating redundant costs."
Despite these gross margin promises by management, gross margins on recurring technology and services increased by a measly 1.4% between 2011 and 2012. In the first half of 2013, gross margin still remained below 54%. While it is possible ProfitLine was more of a drag in 2012 than expected, it is alarming that gross margins have remained essentially flat year-over-year through the first half of 2013. We are now more than 18 months removed from the ProfitLine acquisition, yet despite management's assurances, investors still have not seen the "significant improvement" in gross margins. We do not think TNGO's operating model can move the gross margin needle.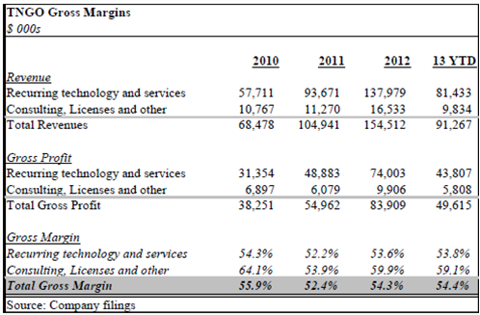 Ø The Free Cash Flow Myth
A common, but often misunderstood, financial byproduct of serial acquirers is that the acquiring company often understates its reported research and development expense and overstates its reported free cash flow. By constantly acquiring other businesses which are focused on new products and innovation, the acquiring company can effectively outsource its own R&D efforts. The cash flow optics of this strategy can be highly misleading. Since payment for an acquisition is not recognized on a pro-forma income statement, and is only recognized as a cash outflow from investing on the cash flow statement, serial acquirers receive the dual benefit of increased operating profit and reported free cash flow. Because free cash flow is typically calculated as cash flow from operations less purchases of property, plant, and equipment, the cash costs of acquisitions never impact the traditional definition of free cash flow. Since its inception, TNGO has acquired 10 companies, with the pace of acquisitions accelerating during the last 2 years. In the last twenty-four months, TNGO has made five acquisitions, which is one reason TNGO's R&D expense (as a % of revenue) is nearly 50% below its desired SaaS peer group.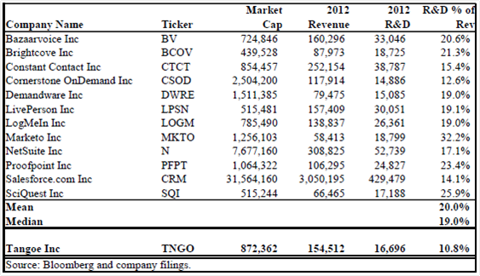 While TNGO management likes to point out the company generates significant free cash flow - "our trend of strong and growing cash flow remains the same" (Q4'12 earnings call) - their definition of cash flow is in fact highly misleading once payments for acquisitions are taken into account. After adjusting for TNGO's acquisition payments and subsequent earn-out payments, the company in fact burned $23.5 million of cash in 2012. And while TNGO is effectively cash flow break-even thus far in 2013, due to additional earn-out payments for prior acquisitions, it appears that TNGO will experience a serious cash crunch in the not-too-distant future.

Ø Good-bye Cash… Hello Insider Sales
While TNGO's reported cash and equivalents at 6/30/13 of $44.1 million may not appear to warrant immediate concern, the company's cash situation is far worse when considering contingent liabilities. Following the company's secondary stock offering on 3/28/12 to shore up its balance sheet, TNGO had nearly $80 million in cash ($78.4 million reported at 6/30/12). Despite reporting positive free cash flow in every quarter over the last year, TNGO's gross cash has dwindled by almost 50%, reaching just $44.1 million on 6/30/13. We must emphasize that companies that generate free cash typically have a growing, rather than shrinking, cash balance.
What is worse is that TNGO still has multiple earn-out payments due in the next year related to its acquisition binge. These payments, combined with the fact the company has $21.5 million of obligations related to non-cancellable operating leases, likely means TNGO's cash balance will decline further. After netting out its future obligations, TNGO only has $8.9 million in pro forma net cash left, a balance we argue is perilously low.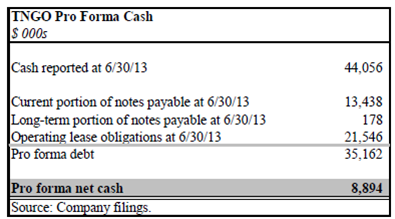 As such, we would expect TNGO to file a near-term secondary offering to take advantage of its overvalued stock and to ensure it can continue its process of buying companies to overstate organic growth. Given the company's likely cash crunch, it is no surprise that the sellside has blissfully ignored the multitude of red flags at Tangoe in front of a possible deal. It is also unsurprising that insiders have been selling stock en masse.
Edison Ventures, TNGO's largest VC, which last year sold nearly half of its position in TNGO's secondary offering at $18.50 per share, apparently decided that $15.00 represented fair value for the company. Edison unloaded its entire remaining position on 5/22/13.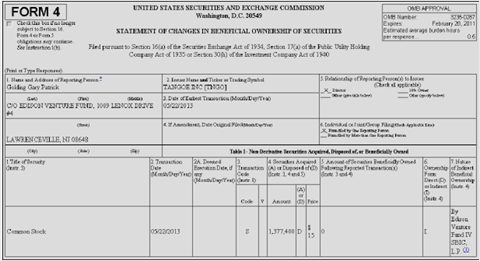 Source: www.secform4.com/filings/1182325/0001209....htm
What is particularly strange about this sale is that it occurred while Edison's lead partner, Gary Golding, still sits on TNGO's Board. Typically, when VCs are preparing to exit a position, the partner on the Board will step down several months in advance of a sale in order to limit the perception of trading on insider knowledge. However, in this case, Gary Golding sold his firm's stake in TNGO while still on the Board, and he remains on the Board today despite Edison having zero economic interest in the company. Golding remains the chairman of TNGO's compensation committee.
And Edison is not the only insider selling. North Atlantic Capital and Investor Growth Capital (NYSEMKT:IGC), TNGO's two other large VCs that owned more than 20% of TNGO at its IPO, have begun selling at an aggressive pace. In the last two months, North Atlantic has reduced its TNGO exposure to less than 2% of the company and IGC has decreased its stake to less than 4%. Like Golding, David Coit, Managing Director at North Atlantic, and Noah Walley, Managing Director at ICG, both continue to sit on TNGO's Board. Should Tangoe announce a secondary within the next few months, we believe the insider selling (as recent as one month ago) could invite questions about trading in front of a secondary.

Ø Is the SEC Already on the Case? TNGO Strategic Alliance Partner Currently Being Probed for its Accounting Practices
On its Q1'12 earnings call, TNGO management said the company's alliance partners account for 25% of its new business, and Affiliated Computer Services (ACS), a company acquired by Xerox in 2010, is one of TNGO's largest partners. As recently as the Q1'13 earnings call, management stated, "during the first quarter, we continued to benefit from our go-to-market partnerships with IBM, HP, AT&T, Dell and Xerox [ACS] as we closed a number of bundled deals across our suite of solutions."
While this is another nameplate relationship TNGO loved to discuss, we suspect they will not be talking about ACS much going forward. On October 8, 2013, Xerox filed an 8K disclosing that Affiliated Computer Services is being probed by the SEC for overstating its revenues [Emphasis ours].
"The Securities and Exchange Commission ("SEC") has been conducting an investigation of certain accounting practices at Affiliated Computer Services, Inc. ("ACS"), which was acquired by Xerox in February 2010 and is now part of Xerox's Services business. The investigation is focused on whether revenue associated with certain ACS equipment resale transactions with several customers should have been presented on a net rather than gross basis, primarily in periods prior to the acquisition."
We must stress that we have no specific knowledge of an SEC investigation into TNGO at this point, but it would not surprise us given the myriad of misstatements and misrepresentations that have been uncovered. As it relates to ACS, we would point out that a large piece of TNGO's value proposition is the procurement, fulfillment, and resale of telecom devices, the exact revenue recognition issue that Xerox has disclosed the SEC is probing at ACS.
Ø When We Expect the Dancing Music to Stop
We believe that TNGO may miss Q3'13 buyside revenue of estimates $51.1 million. Further, we see no chance of TNGO hitting buyside Q4'13 revenue estimates of $52.85 million. Very simply, TNGO management has insisted that organic revenue growth will accelerate in the second half to rates closer to the 20% they are targeting. Given the stock's run, the buyside has clearly also done the math on revenue at a 20% growth rate and realized sell-side estimates have been managed too low. Based on the oneTEM shenanigans, we calculate a return to 20% organic growth would result in Q3'13 revenue upside of anywhere from $600,000 to $3.3 million. As the table below clearly shows, if TNGO is actually growing organically by 20%, then they should report Q3'13 revenues of $51.1 million. This assumes 20% YoY growth for core TNGO, 15% growth for Symphony (it was growing 20%), and just 10% growth for oneTEM. As such, we believe anything less than $51.1 million of revenue will confirm TNGO has a major growth problem. And we believe there is indeed a major organic growth problem.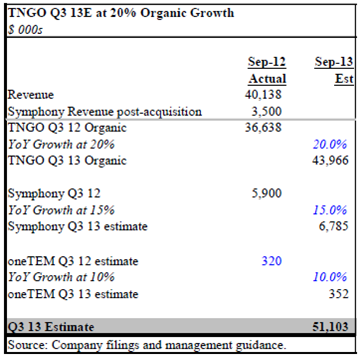 Why do we think buyside estimates are much higher than company guidance? First, TNGO's guidance of $47.75 million implies organic growth of only 11.4%. We can calculate this because we know Symphony's Q3'12 revenue prior to its acquisition on 8/8/12, which we can then add to TNGO's legacy revenue from Q3'12. We also assume oneTEM revenue was flat QoQ in Q3'12 v. Q2'12. Therefore we find TNGO's implied organic growth guidance is only 11%, clearly a number that should be far too low given management commentary. In addition, this analysis assumes zero growth for Symphony and oneTEM, which we discussed previously is highly unlikely. If Symphony and oneTEM are indeed growing, then TNGO's organic growth would be even lower based on their guidance. Thus we believe the company should beat sell-side estimates, but the true bogey of the underlying health of the business will be the buyside estimate of $51.1 million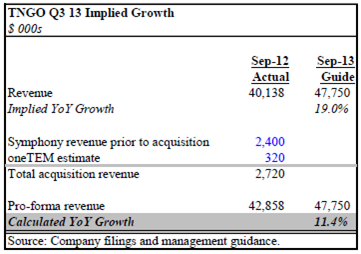 The same exercise assuming a 20% growth rate for core TNGO would imply Q4'13 estimates of $52.85 million as spelled out below. Anything short of this for Q4 guidance will confirm that TNGO is growing below 20% organically.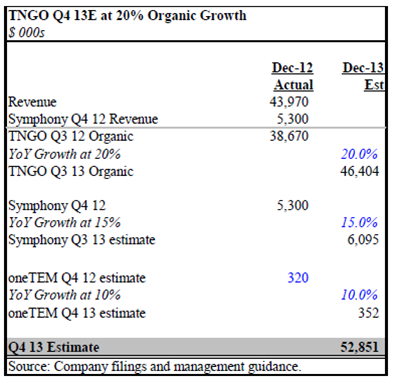 While TNGO's implied Q4 guidance of ~$51.0M requires an acceleration of organic growth to ~15%, we again believe that anything short of a multi-million dollar guide-up against Q4'13 estimates will confirm a material miss of its organic growth goals. Still, we believe the dancing shoes will really come off in 2014 when the company will be well over a year past its last scale acquisition, which management time and again claims is dragging down organic growth. When TNGO provided its initial 2013 guidance on its Q3'12 call, management stated the following [emphasis ours]:
"There is no change to our multi-year goal of targeting 20% organic recurring revenue growth, which we believe we're well positioned to achieve based on the growth and continued execution of our sales force, growing momentum of upselling and cross selling with existing customers and continued traction with our strategic alliance partners."
Assuming management sticks to its promise (something it has not done to-date) and does not make incremental acquisitions to further obscure the company's financials, TNGO should achieve organic revenue of at least $228M in 2014 if the company is to return to its multi-year goal of 20% organic growth. We derive this figure by simply applying a 20% growth rate to the $190 million consensus number.
Ø How do We Value TNGO?
As Warren Buffett has pointed out for most of his investing career, the intrinsic value of a business is defined as "the discounted value of the cash that can be taken out of a business during its remaining life." Because most SaaS companies typically have zero earnings or cash flow, analysts are forced to value the company based on a multiple of revenue. However, once a company produces earnings, it obviously makes sense to value the business on some basis of those earnings. Although we think it is incontrovertible TNGO is a technology-enabled BPO, regardless of the peer group selected, it still makes sense to value TNGO based on its earnings power.
If we adjust TNGO earnings to take into account the appropriate level of taxes on its non-GAAP adjustments, and we include the incremental internal R&D required by TNGO to bring it in-line with its desired peer group (R&D at 20.0% of revenue v. 10.4% spend in Q2), we quickly see that TNGO's earnings are overstated by approximately 65%.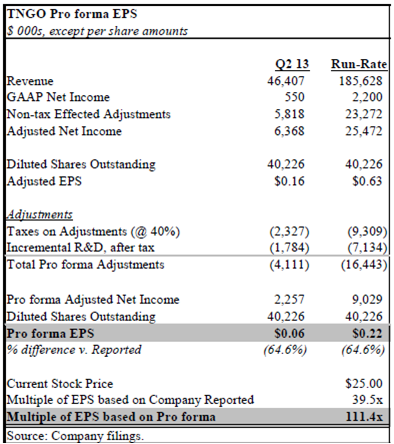 Next, if we assume TNGO grows at 10% next year, which would be slightly above its current high-single digit organic growth rate, we ascertain a forward twelve month run-rate EPS of $0.25. Finally, if we assume a 15.0x forward P/E multiple (compared to 13.9x for TNGO's BPO peer group and a 14x multiple for the broad market), we reach an equity value per share of $3.70. After including $0.22 of pro forma net cash, we attain a total intrinsic value of $3.92 per share, or 84% downside from TNGO's current $25.00 share price.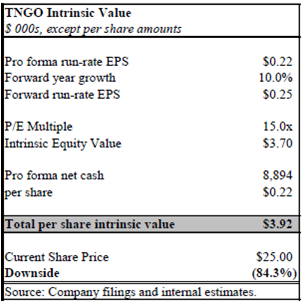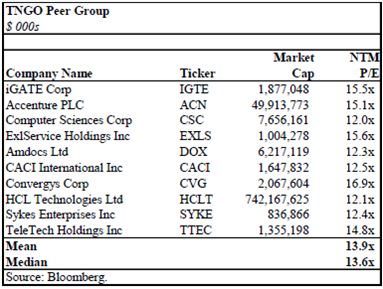 Finally, under a best case scenario, if TNGO were to continue to trade at its currently exuberant P/E multiple of 39.5x, based on the appropriate next twelve months earnings of the company, TNGO should still only trade at $9.97 per share. This "best case" scenario still represents 60% downside for TNGO investors.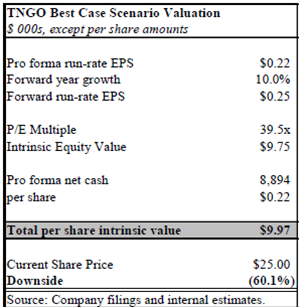 Disclosure: I am short TNGO. I wrote this article myself, and it expresses my own opinions. I am not receiving compensation for it. I have no business relationship with any company whose stock is mentioned in this article.