Energen (NYSE:EGN) is an exploration and production firm focused on capturing new growth potential in the Permian Basin. Most E&P firms of all sizes with Permian acreage are redeploying capital to the Permian Basin, including selling off assets to do so. Energen's drivers of expected double-digit growth in 2013 are from its 3rd Bone Spring wells in the Delaware Basin and its Midland Basin Wolfberry vertical program. Increased horizontal activity is expected to add to production results in 2014 and 2015. Its Permian assets consist of 300,000 net acres in the Midland and Delaware Basins. The firm spent $1 billion on acquisitions from 2009-2012, largely in the Midland Basin. According to Energen, oil production increased 21% from the prior-year 3rd quarter and Permian Basin production rose 36%. Capital investments of $950 million-$1 billion are planned in the Permian for 2013.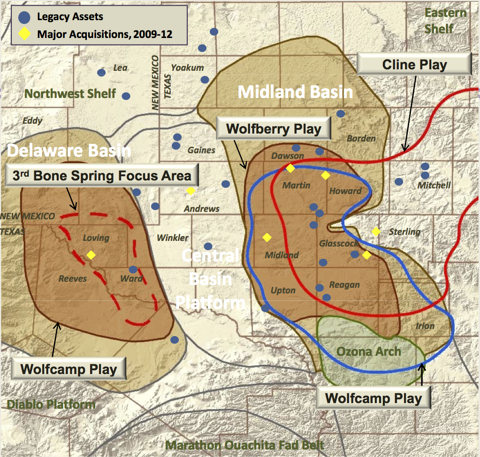 Total 3P reserves, those which are proven, probable, and possible are 735 million boe, with an oil and NGL profile of 57%. Energen's proven reserves are 330 million barrels of oil equivalent (BOE), with another 113.9 million of probable and 290.9 million of possible reserves. While nearly half of its 3P reserves are accounted for in the San Juan Basin, some of its Delaware Basin and Midland Basin shale prospects are not included. This means more additions to reserves and production are expected, given the upcoming development plans. Production growth in 2012 was 22 million boe, estimated to rise to 24.3-24.7 million in 2013 (revised to 23.4-23.8 as of October 30). Its liquids growth, oil and NGLs, is expected to double from 2010 to 2013, from 7 million boe to an estimated 14.1 million in 2013 (revised to 13.8).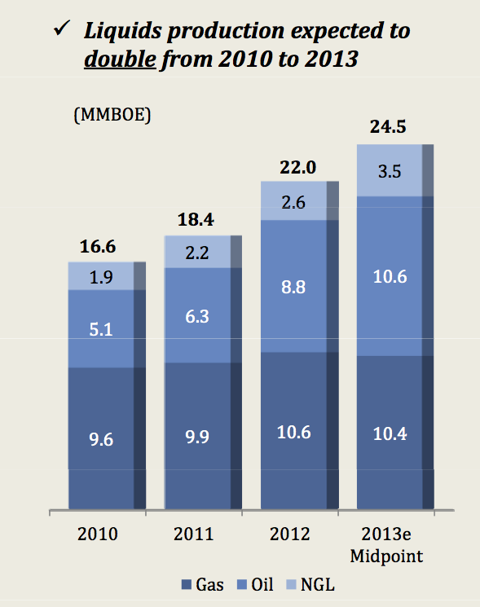 In addition to owning Alagasco, the largest gas utility in Alabama, they hold Niobrara Shale assets (San Juan Basin) in oil, wet gas and dry gas areas. Oil production in the Niobrara has increased 7,000 barrels per day, in a month-over-month calculation by the Energy Information Administration. That's moving from 305,000 per day to 312,000 p/d projected in November. Its gas utility's 5-year annual dividend growth rate is 3.9%, increasing from $.48/share in 2008 to $.58 in 2013. An analyst suggests the enterprise value of the utility at $1.12 billion. Energen has legacy assets in the Permian's Central Basin, which has a steady record of production, as does its San Juan Basin production.
Regarding its Midland Basin highlights, EGN estimates 2,005 potential locations for horizontal activity (80-acre spacing). In 2013, it had 9 test wells in its Wolfcamp horizontal area. Its Wolfberry vertical program includes deep drilling to the Mississippian interval, beyond 10,000 feet.
In comparing EGN's Midland Basin horizontals to an analysis that includes Diamondback (NASDAQ:FANG) wells, Energen's Glasscock County well example Lavaca 38 #101H looks like a decent result in comparison to the other peer wells. Its results of 861 boepd (Peak 24-hour IP) of 60% oil with 709 boepd (peak 20-day average) with 65% oil compares nicely to Diamondback's Midland and Upton county wells, the comparison wells. (The average 30-day peak IP rate was 672 in FANG Midland County wells and 556 for Upton County FANG wells. However at least half of the 7 Midland wells and half of the 8 Upton wells specifically from Wolfcamp B had longer laterals than Energen's 4,250 lateral. They also were reported to have a higher oil content, most of them in the upper 80%s. A recently tested Glassock sister well of Energen's, Llano 8-8A #101, had good results with a higher oil content. Diamondback's Midland County acreage is suggested to be some of its better acreage.) It is difficult to compare firms' wells with absolute precision. Comparing these numbers should be considered guidelines versus absolute gospel.
Energen says it has strong potential inventory prospects, and this is true. Additionally, its Wolfcamp horizontal A and B potential locations in the Permian's Midland Basin and Delaware Basin total 4,460, with another 918 in Wolfcamp C, a deeper interval. This acreage is considered "unrisked, 80-acre spacing and 4,400' laterals." In the Midland Basin acreage, up to 12.5% may be contingent upon regulatory approval.
In the Delaware Basin, the firm highlighted three horizontal wells in its October 30 conference call. Peer Concho (NYSE:CXO) considers the Southern Delaware Basin an emerging play for its goals and has results from Reeves County (see presentations in link above). Two Energen Southern Delaware Basin results were noted below from the call. The well Bodacious is considered a record setter in terms of 24-hour IP:
1) Ward County, University 25-17 #1H:
Peak 24-hour IP (3 stream): 1,079 boepd (70% oil)
Peak 30-day Avg (3 stream): 769 boepd (65% oil)
4,000' Lateral length: slick water stimulation with 17 frac stages.
2) Reeves County: Bodacious C7-19 #1H (record setting well)
Peak 24-hour IP (3 stream): 2,229 boepd (62% oil)
Peak 30-day Avg (3 stream): 1,671 boepd (61% oil)
4,500' lateral length: slick water stimulation with 19 frac stages
Energen considers development in the Delaware as "early days." One focus of management is to drive down well costs, an aspiration of all shale developers.
For prices to drop and stay at $80, a new set of economic fundamentals would need to be present. When the financial crisis hit in 2008-2009, WTI prices went from the high in July 2008 of roughly $140 to an $80 mark in October as the crisis gained steam. Prices declined to a bottom of $32 in late 2008, rising back to near $80 in October 2009, bumping up and down, then up to $80 by January 2010. Prices haven't looked back since then; prices crossed the $90 mark in January 2011. Remember the mood was one of depression-like thinking and gloom as circumstances hit bottom. This worst-case view did not fully pan out, but now asset bubbles once again raise concern. Eighty-dollar oil came full circle in one year's time. Firms now hedge considerable portions of their production earnings.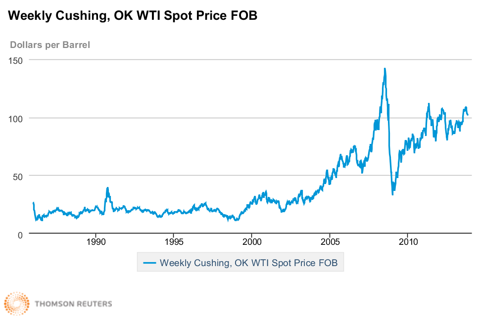 Energen's estimated $889-904 million after-tax cash flows for 2013 shadows its expected capital expenditures for drilling and exploration in the Permian. The firm had a P/E of 28.96 as of midday October 30, and a market capitalization of $5.83 billion. Estimates for its current year P/E is 30, with other oil/energy stocks at 19.2; S&P 500 firms' P/E is 31.9. EGN is considered a "strong buy" by 5 analysts, a "buy" from one, and "hold" from the remaining 5 tracked, according to Wall Street analyst ratings. Energen was trading around $80.78 after lunch on October 30, losing nearly 5% of its value post-call; its one-year target estimate price is $91.38.
(See UBS Houston Energy Symposium for data. http://ir.energen.com/phoenix.zhtml?c=94826&p=irol-presentations)
Disclosure: I have no positions in any stocks mentioned, and no plans to initiate any positions within the next 72 hours. I wrote this article myself, and it expresses my own opinions. I am not receiving compensation for it (other than from Seeking Alpha). I have no business relationship with any company whose stock is mentioned in this article.
Additional disclosure: Opinions expressed herein by the author are not an investment recommendation and are not meant to be relied upon in investment decisions. The author is not acting in an investment advisor capacity. This is not an investment research report. The author's opinions expressed herein address only select aspects of potential investment in securities of the companies mentioned and cannot be a substitute for comprehensive investment analysis. Any analysis presented herein is illustrative in nature, limited in scope, based on an incomplete set of information, and has limitations to its accuracy. The author recommends that potential and existing investors conduct thorough investment research of their own, including detailed review of the companies' SEC filings, and consult a qualified investment advisor. The information upon which this material is based was obtained from sources believed to be reliable, but has not been independently verified. Therefore, the author cannot guarantee its accuracy. Any opinions or estimates constitute the author's best judgment as of the date of publication, and are subject to change without notice.