Mining giant Rio Tinto (NYSE:RIO) issued impressive third-quarter production results that revealed record production and shipments of Western Australia iron ore thanks to the opening of its Pilbara 290 port and rail expansion (ahead of schedule and significantly under budget). We think this good news has only been sweetened by the recent recovery in iron ore prices, following a near-term bottom in early June. It's important to note, however, that iron ore prices remain in a defined downtrend, and while we view the recent pricing performance as positive, we're not celebrating just yet.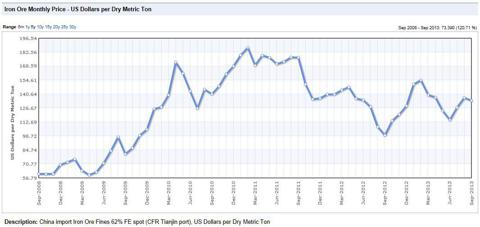 Image Source: IndexMundi
Still, fundamentals are starting to brighten up just a bit for the mining group. Economic performance in China is starting to improve, and the country's iron ore imports set a record in September at 74.6 million tons, up 8% from August and 15% on a year-over-year basis. Steel production in China has come in better than expected during the past couple months, and while we will enter into a seasonally-weaker period in the next few months, the recent performance has certainly been a pleasant surprise.
Valuentum's Take
Iron ore prices will continue to be volatile and the road ahead will be bumpy, but we think Rio Tinto has valuation upside beyond $60 per share on a base-case scenario. The firm also represents our only exposure to the basic materials sector in the portfolio of our Best Ideas Newsletter. We're not making any changes to the weighting of our position at this time.
Disclosure: I have no positions in any stocks mentioned, and no plans to initiate any positions within the next 72 hours. I wrote this article myself, and it expresses my own opinions. I am not receiving compensation for it (other than from Seeking Alpha). I have no business relationship with any company whose stock is mentioned in this article.
Additional disclosure: RIO is included in the portfolio of our Best Ideas Newsletter.