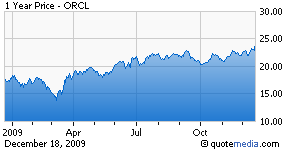 Oracle Corp. (NYSE:ORCL) rose 4.02% after market yesterday following the company's second-quarter of fiscal 2010 earnings announcement.
The market reacted positively to the company's better-than-expected earnings and growing market share. The company said that for the fourth consecutive quarter, it captured market share from SAP AG (NYSE:SAP). Moreover, positive expectations regarding the European Commission's approval of the $7.4 billion Sun Microsystems (JAVA) acquisition in January also boosted the company's share price.
Earnings Better Than Expected
Earnings per share of 39 cents were up 15% from the year-ago period of 34 cents, beating the Zacks Consensus Estimate by 4 cents and surpassing the high end of the guidance range of 35 – 36 cents. Net income rose 12.5% to $2.0 billion from the last year. The increase in earnings was due to intensive cost control measures taken by the company.
Second quarter total sales were up 4.5% year over year at $5.86 billion, due to better-than-expected new software license revenue. Excluding revenue related to assumed support contracts, which will not be recognized for the remainder of fiscal 2010 and fiscal 2011 due to certain accounting rules, non-GAAP revenue increased 3.3% year over year to $5.87 billion.
New software license revenue was up 2% to $1.65 billion, but down 5% on a constant currency basis. This was better than the company's revenue expectation of flat to down 10% and follows four straight quarters of decline. Technology new license revenue was $1.2 billion, down 5% on a constant currency basis, but up 1% in U.S. dollars.
Software license update and product support revenue were up 14% at $3.25 billion, and up 9% on a constant currency basis. This was in line with the company's expectations. Services revenue was $958 million, down 19% on a constant currency basis and down 15% in U.S. dollars.
Applications for new license revenue grew from last year on a constant currency basis. The Americas grew by 1% and Asia-Pacific by 2% versus a decline of 35% and 34%, respectively for SAP. However, EMEA was down 11%. The U.S. dollar weakened in the quarter, resulting in increased international revenue and earnings.
Robust Operating Performance
Operating income on a non-GAAP basis increased 9.5% to $2.86 billion, which resulted in an operating margin of 49%, up 280 basis points year over year. This was the highest second quarter non-GAAP operating margin in the company's history. The real contributors to the robust operating margin was a positive mix, as license updates and product support revenue, which generally realize a higher margin than new license revenue comprised a larger portion of total revenue.
The strong results helped Oracle generate $8.4 billion in free cash flow during the trailing four quarters, growing 11% over the same period last year. Operating cash flow over the last 12 months were $8.7 billion. The company had $20.8 billion in cash and investments at the end of the quarter. In the quarter, the company repurchased 11.6 million shares for a total of $253 million. The company also declared a cash dividend of 5 cents per share.
Earnings Guidance Surpasses Expectations
For the third quarter, Oracle expects earnings to range between 26 and 28 cents a share, with non-GAAP earnings per share ranging between 36 and 38 cents a share. This surpassed the Zacks Consensus Estimate of 35 cents.
Total revenue is expected to rise between 3% and 6% in the third quarter, at the current exchange rates. The guidance assumes a non-GAAP tax rate of 28% versus 26.6% last year. The guidance does not include the impact of the Sun acquisition. Upon closing, the acquisition is expected to contribute $1.5 billion in non-GAAP operating income.
Oracle's results and guidance demonstrate that enterprise spending is on the mend. We are highly positive on the company's longer term growth prospects and believe that the Sun acquisition will further boost shares. We believe the investors will benefit from the company's growing software business over the long term.
However, competition is expected to remain intense, as Oracle has strong competitors in the form of International Business Machines Corporation (NYSE:IBM), Microsoft Corporation (NASDAQ:MSFT) and SAP AG.