Summary
Murphy USA Inc., (NYSE:MUSA) recently spun off from Murphy Oil (NYSE:MUR), a retailer of gasoline across the South East and Midwest, United States. Like many spin-offs, it is underfollowed and undervalued. As such, the company's upcoming earnings release on November 7, 2013 may act as an important catalyst to bring attention to the stock and its valuation in line with fundamentals. In addition to the upcoming earnings release, MUSA exhibits a simple, high return on capital business model as well as other potential catalysts that will unlock value for shareholders.
Core Business
MUSA can reasonably be characterized as the Wal-Mart for gasoline. Owning and operating ~ 1,800 retail stations, most of which are located next to or nearby a Wal-Mart (NYSE:WMT), the company's strategy is to offer gasoline, tobacco, and other merchandise products at the lowest possible price. In order to generate profits at lower prices, the company leverages its volume to get better fuel pricing than competitors, often using a whole trailer of gasoline for a single station. In tandem, the company operates a smaller store format than traditional gas retailers, which both lowers employee costs and maintenance cap-ex.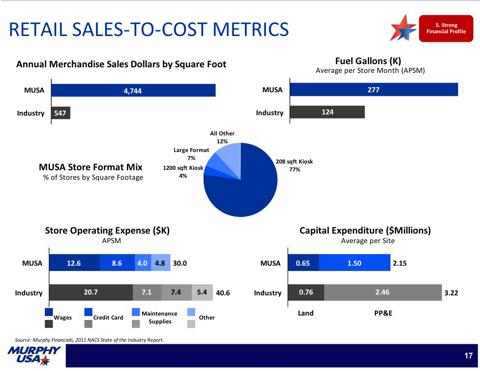 The above image, taken the company's investor presentation, illustrates how MUSA leverages volume and smaller store formats to achieve strong operating results. Another calculation that demonstrates the strength of MUSA's strategy is EBIT per store. For MUSA and two of its peers, (Susser Holdings Corp. (NYSE:SUSS) and Caseys General Stores, Inc. (NASDAQ:CASY)) I calculated the last full three-year average EBIT and divided it by the average store count. I also took the step of removing EBIT generated by MUSA's ethanol business to ensure the calculation reflected the core business: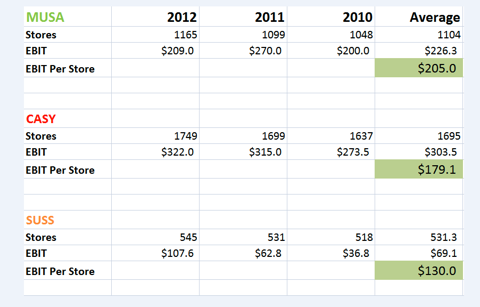 As you can see, MUSA's format has delivered superior earnings per store over the past three years. This historical performance, combined with the company's agreement with Wal-Mart to add an additional ~200 new stores in the Southern and Midwestern United States over the next three years ensures that the company's core business will continue generating profitable organic growth for shareholders.
Ethanol & its Catalysts
MUSA's secondary business is ethanol production. This business, though not integral to the bottom line, is important for investors because it contains two potential catalysts. The first of these is the sale of Renewable Identification Numbers or "RIN" credits. Prices of these credits have skyrocketed in the past six months, providing a tailwind for the ethanol segment. While I do not expect this tailwind will persist indefinitely - the agency that regulates the need for these credits has indicated that it will take steps to reduce the amount required - these profits should help Q3 earnings, and thereby garner much needed exposure for the underfollowed MUSA.
"In considering strategic alternatives for midstream assets that do not directly benefit our retail operations, such as our ethanol production facilities, we intend to pursue actions that will maximize shareholder value and enhance our ability to execute on our planned retail strategy after our separation from Murphy Oil." - MUSA Form 10/12B-A
In addition to the sale of RIN credits, a sale of the ethanol business is the other potential catalyst for investors. As you can see from the passage above, the company stated its intention to sell these assets in the Form 10 filed with the SEC. The assets of the business are comprised of two plants with a combined production rating of 237 million gallons per year. In 2012, the segment generated a loss of $84 million, $61 million of which was a pretax impairment of these assets. As of June 2013, the plants were carried at $83 million on the books, while their cost is recorded at $163 million.
The best information I could get on prices for ethanol plants came from this article
Based on the recent transactions it describes, the $83 million carrying value significantly undervalues the plants. Even, at $0.80 per gallon of production, (20% below quoted trading prices) the plants would be worth ~$190 million. In addition, these figures do not take into account the recent spike in RIN prices, which could significantly improve the economics for a strategic buyer. When these assets are sold, it will free up cash to pay down debt or return cash to shareholders, while cash from operations continue to fund organic growth in MUSA's core business.
Valuation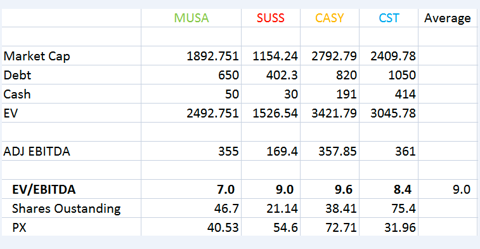 Did I mention cheap? The company is cheap! First on an enterprise basis, the company trades at ~6.9x TTM EBITDA. Its peers trade at an average multiple of 9.1x. At the same multiple MUSA should trade at $55.60 per share or a 37% upside. Personally, I think that because the historical financials demonstrate MUSA has a simple and effective model with ample capacity for profitable organic growth, the company should trade at, if not above the industry average.

Return on capital is the other metric that highlights the company's undervaluation. From 2012 - 2010 MUSA averaged a 15% return on capital. The average of its peers was closer to 9%. This is yet another reason MUSA should command a multiple equal to or higher than the average of its peers. A 9.5x - 10x multiple - what the company deserves - would bring the upside in the range of 46% and 56%.
Catalysts & Conclusion
Between November 7th's earnings release, the sale of ethanol assets, and the potential for increased exposure through additional sell side coverage, MUSA offers investors multiple catalysts to value realization. More importantly, the company sports a stable business model with high returns on capital and a proven track record of profitable expansion. These qualities, taken together with its undervaluation, make any time before the earnings release an attractive entry point for investors or traders.
Disclosure: I am long MUSA. I wrote this article myself, and it expresses my own opinions. I am not receiving compensation for it. I have no business relationship with any company whose stock is mentioned in this article.