By David Urani
Brief Overview
TASER International, Inc. (TASR) is partnered with 90% of US law enforcement. Potential long term drivers include weapon upgrades (By 2015 installed base 5+ years old will be up 48%), entry into video & cloud, and untapped international markets. For me, the video & cloud business is the most compelling part, it's off to a good start and could become a big thing in law enforcement, it's wearable cameras for police that store video in the cloud and address $2.5+ billion in annual police legal liabilities. 82.5% of surveyed police officers say there's a need for on-officer cameras. The company has been on fire of late and that continued in Q3.
Q3 2013
Beat by $0.02, revs +22.6% to $35.2m vs $33.0m cons.
Tasers +16.8% to $31.6m
Video & Evidence.com +111.5% to $3.6m. Bookings nearly tripled from 2Q13 to $5.85m
Gross margin up to 62.8% from 58.4% - sales volume improved overhead leverage, also increased prices.
SG&A up to 36.3% from 33.2% mainly on litigation, expects it to wind down in 2H14. Saw 0 new lawsuits Q3.
Acquired Familiar Inc. to flesh out Evidence.com and mobile.
In the main stun gun business, you can see in the table below that the X26 model, despite now being left in favor of the brand new X26P, still sold relatively well and in combination the X26 and X26P contributed very high volumes compared to a year ago.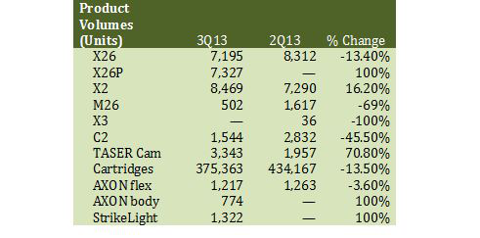 One other interesting point, that if nothing else is very cool but also added significant sales volume in the quarter, is the StrikeLight. It was introduced in July, sells at $130, and already added 1,322 units during the quarter. Simply put it's a flashlight with a built in taser, I'll take that over a Mag-Lite!

One factor that had been a worry for me and that knocked the stock back earlier this month was an announced price cut for AXON Flex cameras, from $949 to $499. Certainly that cuts down on revenues and profits from that product, but we also note that brand new this year is the AXON Body camera, an even cheaper $299 model which sold 774 units and really helped to accelerate sales volume as you can see in the table above. The cheaper cameras do concern me a bit over margins looking forward, but at the same time gross margin has been strong otherwise and in the long term those inexpensive products together will help to drive overall adoption of the product which makes me feel more comfortable even if it potentially sets up some quarterly execution risk for TASR in Q4.
In terms of TASR shares themselves following a great couple of quarters, the stock certainly trades with a growth premium. It's got a 48 forward PE ratio which is quite pricey, although when you note 5-year expected EPS growth is seen at 30% annually it doesn't look as bad. With the aforementioned price cuts to cameras perhaps Q4 has the potential to fall a little shy of expectations and weigh on that valuation but the longer term view is fantastic.
In the end I think the strong growth will continue, and in particular those cameras appear to really be gaining momentum in what could be just the very beginning of a nationwide adoption of this new technology, not unlike the way this same company made stun guns standard issue for law enforcement. Not to mention the international potential as well, where tasers are far less prevalent than in the US and cameras are virtually nonexistent.