Most want to measure economic growth by using GDP. GDP is only a partial measure of the economy – and measures ½ of the total economy. This measure is changed frequently (re-defined and/or re-weighted) to support the politics and rhetoric of the then-current Presidential administration.
But what does any indicator that only measures money flows tell you about the health of an economy?
For Joe Six-Pack, GDP is not an economic indicator of his world. Joe worries about having a job to pay the bills, the interest rate on his credit card debt, his mortgage or house rent, the cost of insurance on his car, and the bills for the repair of little Suzy's crooked teeth. Our President and other government officials are telling him things are getting better. GDP says we are growing at almost 3%.
Does it make sense that your economic indicator is telling you things are getting better but the number of jobs is contracting? What is getting better for Joe?
This week the Conference Board issued their indicators for November 2009. You can ignore the ballistic path of the Leading Indicator – see Leading Indicator Isn't Indicating the Real Recovery. Look at the Coincident Indicator (CEI) – it is almost flat.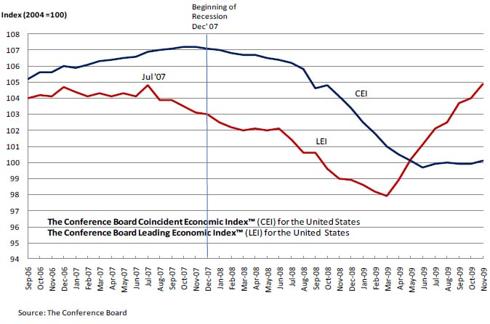 This flat "recovery" is the recovery Joe is seeing. This index includes the elements of Joe's world.

How many Joes can get 3% interest on their money in the bank – yet are paying 24%+ on their credit card debt? Wall Street worries about the spread between short and long term treasuries of less than 4.5% being too great. Banks can borrow at literally zero from the Fed and get 24% return from Joe on credit card debt.
Joe has seen the value of his home turn to crap, and surely does not feel any richer than 10 years ago.
Merry Christmas, gentle readers.
We remain in uncertain times.
We have a chorus of diametrically opposed opinion on investments, the economy, and even currencies. I do not remember a period in my life where experts held so many divergent views.
One area of convergence seems to be on GDP.
My opinion is that GDP in the 4Q 2009 should be similar to the 3Q 2009. It appears the majority of forecasters agree.
There is a dissenter whose rationale is interesting:
COULD Q4 U.S. REAL GDP GROWTH COME IN AT 5%?

The answer is yes it can, but not before Q3 gets revised down again to around 2.5%. But make no mistake, the combination of government support, net exports, the consumer (moderately) and now inventories, we could well see something close to 5% for current quarter growth. We kid you not.

The latest bump-up to Street forecasts came from Friday's data on business inventories for October. Led by autos and food, business inventories nudge up 0.2% MoM to end a 13-string of monthly declines. This could be a very powerful force in Q4 — remember, it was just the reduced pace of de-stocking that accounted for nearly one-third of the headline growth we saw in Q3 (that contribution is going to be much higher this time around).

The inventory-to-sales ratio dipped from 1.31 in September to 1.30 in October — the lowest level since August 2008 — with business sales improving across the board and by a respectable 1.1%.

Yes, yes, 5% growth would be a big deal if we end up seeing it, but still totally consistent with an ongoing deleveraging depression. Go back to the 1930s — we had 10.8% real GDP growth in 1934, for crying out loud, and the Great Depression still didn't end for another eight years.
This opinion came from David Rosenberg at Gluskin Sheff. I personally believe he is underestimating the inventory depletion (see Bring on the Recovery) and overestimating retail sales.
But in this wacky world of GDP data, almost nothing would surprise me. We only have a few months to wait to find out what the 4Q 2009 GDP results will be.
This week it was an inflation scare caused by the Producers Price Index. But the scare was removed when the Consumer Price Index had no price spikes. I see no indication of a price trend in the New Normal.
Additionally, there is no coincident data (except exports) which indicates the real economy is measurably improving yet. On the other hand, there are no indicators showing measurable decline.
Maybe we are in the eye of the economic hurricane?
Or more simply another trough in our 21st century depression. Edward Harrison has penned a disturbing diatribe The recession is over but the depression has Just Begun . Unfortunately, most of his facts are true.
Jobs
The 4-week moving-average of initial unemployment claims continues its slow drift downward for the week ending 12 December 2009.

What are the headwinds that jobs growth creates for economic recovery IF you consider GDP a measure of the economy? The chart below compares GDP annualized growth by quarter to the number of non-farm jobs created in that quarter.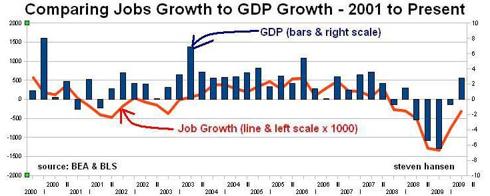 You can draw the following conclusions for the 21st century:
When GDP is negative, jobs growth is usually negative; and

When jobs growth is positive, jobs growth only loosely correlates with GDP.

The largest quarterly job growth was almost 200,000 jobs per month (3Q 2006).

The average job growth per month is zero for the 21st century

When jobs growth was not negative in a particular quarter, the average growth was 90,000 jobs per month.

The theoretical number of workers being added to the workforce due to population growth monthly exceeds 130,000.

As there has been no increase in the size of the American workforce since 2000, we have 15,600,000 people (130,000 people times 120 months) who are unemployed or given up seeking employment.

If we assume 6,000,000 were unemployed in 2000, the total real unemployed is almost 22,000,000.
It is only the growth above 22,000,000 unemployed which will cause headwinds for economic recovery as measured by GDP. The American economy, which was out of balance in 2007 because of many factors – including unemployment, simply reset to a new lower level where unemployment headwind was a normal condition. The economy (as viewed as a business cycle) is ready to resume growth from its new lower baseline.
So what is next?
For certain the unemployment bubble is growing again. Nothing has changed in the poor employment dynamic we have endured since 2000.
But do not be mislead by the unemployment rate which our government 'friends' are showing as improving again. The reality is that net jobs growth must exceed at least 130,000 per month for the employment situation to be improving. Their methodology is biased against counting people trying to enter the workforce.
A thought for those who like thinking history is a basis of future prediction - it took 6 years from the 2001 recession for the economy to get out of balance enough to correct. Would you bet we have 6 years to wait for the next re-adjustment?
Producers Price Index Is Not Inflationary (Yet)
For those who believe the price we pay is inflation, the November 2009 (pdf) Producer Price Index (PPI) should have induced a heart attack.
The Producer Price Index for Finished Goods rose 1.8% in November, seasonally adjusted, the U.S. Bureau of Labor Statistics reported today. This increase followed a 0.3% advance in October and a 0.6% decrease in September. In November, at the earlier stages of processing, prices received by manufacturers of intermediate goods climbed 1.4%, and the crude goods index rose 5.7%.
Then the government hits you with the YoY graph: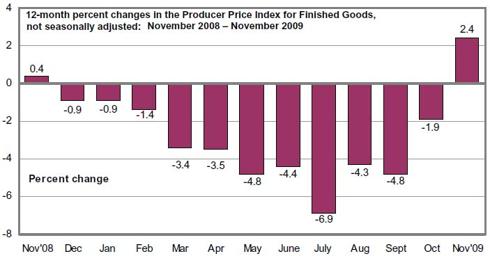 We are now comparing New Normal data to New Normal data. This graph is telling you prices rose 2.4% YoY when last month's comparison was against the old standard. Even so only a subtle price growth was expected.
The data, however, is not foretelling price increases. I could argue the reverse is true. The data buster was oil – yes the same oil that this week has been falling.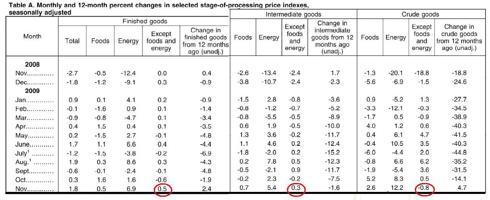 If you look at the data without food and energy, price increases MoM for finished goods was higher than any point since the recession really began to bite. But the increase for Intermediate goods was well within recession norms, and crude goods actually fell. The supply chain is showing price contraction at the low end.
The detailed data are not revealing the exact cause of the 0.8% increase to finished goods (less foods and energy), however, it was in non-durable goods which rose 2.3% MoM. This non-durable category accounts for 38% of finished goods. In fact, except for energy, tires and tobacco – this whole category is pretty negative?????
The tire price rise in the PPI was most likely the effect of the Obama Chinese tire 35% tariff. All tires competing against the Chinese tires could raise their prices and still be competitive.
At this time, there is little indication of future inflation, as most of the increases can be explained away. Wait until next month's data, with the fall in energy prices rekindling deflation worries.
Consumer Price Index Confirms Inflation Not a Worry
Straight from the government's press release for the November 2009 Consumer Price Index:
On a seasonally adjusted basis, the Consumer Price Index for All Urban Consumers (CPI-U) rose 0.4% in November, the U.S. Bureau of Labor Statistics reported today. Over the last 12 months the index increased 1.8% before seasonal adjustment, the first positive 12-month change since February 2009.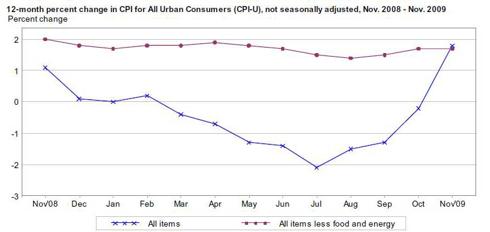 The above graphic demonstrates that core inflation (all items except food and energy) remains well under 2% - and has remained constant in the New Normal. The cause of the overall increase is only energy – and relief is currently on the way as energy prices continue to fall. The food portion of the CPI has actually decreased over the last 12 months.
Unlike the Producers Price Index which is formulated based on a quantitative revenue approach, the Consumers Price Index is based on a mythical American spending pattern, which is not likely to be duplicated by any real person or family. And this CPI is periodically 'improved' (adjusted/re-weighted) making real comparisons between periods questionable.
Industrial Production Rises?
The Federal Reserve's Industrial Production press release for November 2009 (pdf):
Industrial production increased 0.8% in November after having been unchanged in October. Manufacturing production advanced 1.1%, with broad-based gains among both durables and non-durables.
Note, gentle reader, that a large portion of this expansion is being caused by inventories being depleted – and sales are increasingly being filled by production and not inventory.
This is the bump which happens at the end of declines – and does not necessarily indicate increased sales.
And YoY industrial production remains down 5.1%, and was down almost 20% in the darkest days of the recession. We are still lower in production than any point in the 21st century.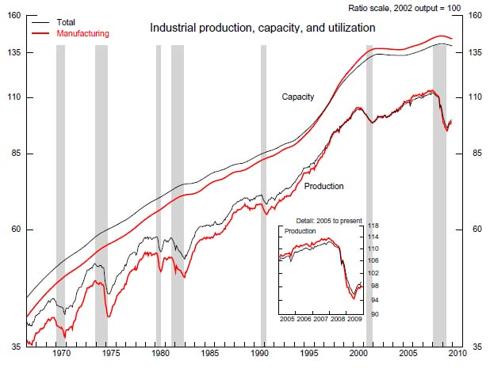 I am watching exports rise, the continuing loss (and unfortunate export) of manufacturing jobs, and the strong "V" shape of industrial production recovery. I think industrial production will level by the end of 1Q 2010 as inventory depletion begins to tail off.
I hope I am wrong.
NY Manufacturers Think a Lull Is Coming
The New York Fed's manufacturing survey for December 2009 indicates they believe we have entered a no growth cycle. This is the opinion of a well-run survey, but it is not based on hard data. It does raise a question about the Industrial Production numbers which will be released next month for December.
The NY Fed survey is in advance of the nationwide Fed Survey results – but historically as been an indicator of what the national survey will say.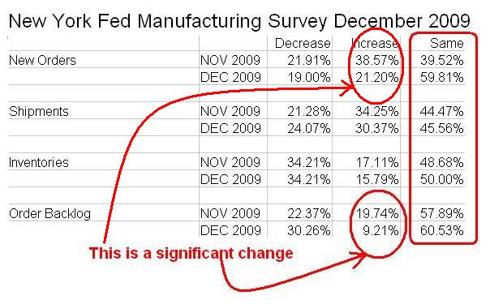 I weight order backlog significantly higher than the other elements. They are telling you that their backlog is shrinking. They have too much capacity and too many people. They are not getting new orders fast enough. New orders are flat.
And the Philly Fed Sees Things Differently
Looking at the results of the Philly Fed business survey for December 2009 (pdf) done on the same basis as the NY Fed's above, you draw a different conclusion.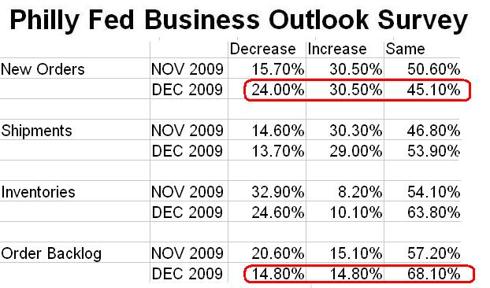 Here we see new orders rising, although slightly less good – and order backlog stable. With conflicting data, I draw no conclusions and will wait until the hard data comes out next month.
Additional Economic Data This Week
The FOMC (the board of directors for the Federal Reserve) meeting this week produced no change to their current economic approach – meeting statement here.
The weekly Mortgage Bankers Association mortgage application data for the week ending 11 December 2009 fell to its lowest level this year for new mortgage applications – and has declined approximately 25% since the beginning of October. The 30 year fixed mortgage rate increased 4 basis points to 4.92%.
The U.S. current-account deficit increased to $108.0 billion, or 3.0% of GDP, in the third quarter of 2009, up from $98.0 billion in the second quarter, or 2.8% of GDP.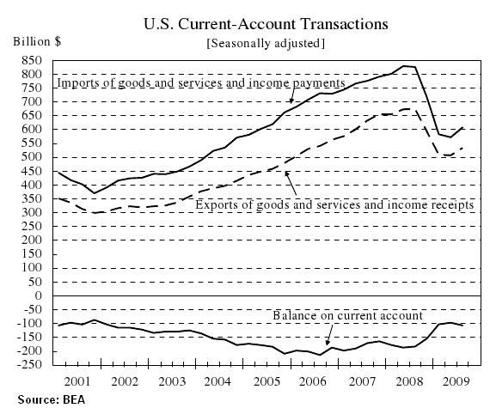 Bankruptcies this week: Vineyard National Bancorp, VION Pharmaceuticals, SKYE International

Economic Forecasts Published This Past Week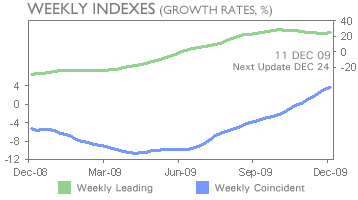 The Economic Cycle Research Institute (ECRI) released their Weekly Leading Index which improved slightly. Lakshman Achuthan, Managing Director at ECRI added:
With the WLI rising to a 17-month high as its growth rate re-accelerates, a resilient economic recovery is poised to persist well into the New Year. This week's index rose due to stronger commodities
Hat tip to Steve at MEMETICS & MARKETING™ for editing support.
Disclosure: MMFs, GLD, ABFS, MXI, SWC, KSWS, LMT, PFE, TBT, XHB, WMT, FTR, HYG, PBT, IOO, PIN, UUP, Physical Gold - as well as numerous puts and calls which comprise less than 3% of my portfolio