NutriSystem (NTRI, $31.25) has had an amazing run over past several months on news of expanded distribution with major retailers, which should lead to accelerated growth. Here is the three month stock chart: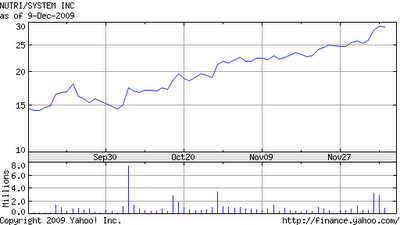 We looked at the company in the mid-teens last summer but didn't purchase shares. Although we like the business, we didn't expect shares to move so sharply in the near-term and wanted to keep following the company. It appears the stock responded in similar fashion to the overall market this year, albeit even more quickly -- some good news yields a sentiment shift and concurrent short squeeze that leads to a meaningful upward move. Here's short interest data from Nasdaq.com: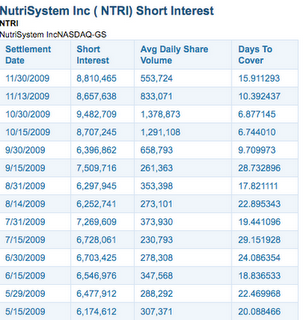 While we missed NTRI (*momentum may yet push shares higher, but we're not in that game), we did recently initiate a small position in Weight Watchers (WTW, $28.30). We see a favorable risk/reward profile given a high quality business model and free cash flow generation. At a 10% TTM FCF yield, we wouldn't mind buying the entire company and further debt reduction should enable a higher dividend in two to three years.
This, along with slight earnings growth, makes at least slight multiple expansion plausible over the medium term. For those interested, we include a summary thesis with more detail on our blog here.
Disclosure: Author holds a long position in WTW.