"Three may keep a secret, if two of them are dead." - Benjamin Franklin, Poor Richard's Almanack
While everyone has their own secrets in life, it is public knowledge that income investors are focused on dividend income. What income investors may wish to keep private, however, are well-run stocks that may leave a great taste in the investor's purse yet operate in a market that many consider dirty.
Dirty companies are all over the world and they are quite legal. Such companies contribute to death and sickness, harm wildlife and promote behavior that you would likely not want your daughter to partake in. The income investor looking for profits and compound dividend growth, however, can set feelings aside as these companies are doing a "service" to the world where addictions and accidents are just a natural byproduct.
Just as you wouldn't brag to your neighbor if you invested in a new oil well next-door to the local high school, you may also want to keep hush-hush about these stocks. After all, Exxon Mobil (NYSE:XOM) investors in 1990 didn't brag that they owned the stock because of the 1989 Exxon Valdez oil spill. They were simply looking to make a profit in a company that had an unfortunate accident.
While the XOM oil spill was 24 years ago, investors who bought the stock after the news of the accident on March 29, 1989 and held on today would be in possession of an 8-bagger, not including dividends.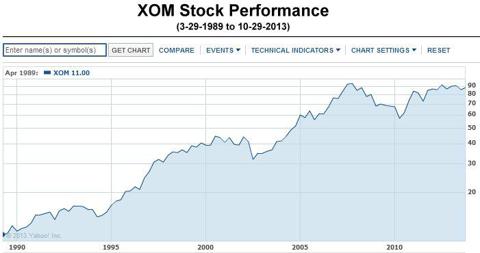 5 Dirty Income Stocks For Dividend Growth
These stocks range in industries, but are concerned with one common problem: getting more money for their investors. With consistent dividend increases, these companies have established marketplace strength and credibility with monopoly or near-monopoly power through global branding spread across several industries that include tobacco, alcohol, oil and defense.
1. Phillip Morris International (NYSE:PM), 4.16% Yield
Phillip Morris International was split from parent Altria Group in early 2008 to isolate domestic litigation risks from its international assets. As such, all of Altria's profits from the global distribution and sale of cigarettes come into PM's coffers. The company is valued at $145.8 billion and is the largest manufacturer and distributor of cigarettes in the world. The quarterly dividend has grown from $0.54 to $0.94 over the past five years, for a 5-year compound annual growth rate [CAGR] of 11.72%. The company is based in the U.S. and has a current payout ratio of 66%.
While advanced economies are experiencing a decline in smoking, pricing gains and growth in emerging and developing markets will continue to provide PM with revenue increases. Also, high cigarette consumption in Asia offers growth as PM has a low market penetration in several Asian countries, including China. The analyst 5-year mean EPS growth projection for PM is 8.93%. With extremely high barriers to entry and a dominant global position, coupled with a current yield of 4.16% and a forward earnings multiple of 15.16, income investors are given an attractive entry point into a monopolistic global dividend achiever.
2. Altria Group Inc. (NYSE:MO) , 5.13% Yield
Altria Group is the domestic company that split off Phillip Morris International in 2008. The company is worth $74.7 billion and yields 5.13%, which is over 23% higher than their international cousin. The company trades at 14.62 times 2014 earnings and has a payout ratio of 80%. The 5-year dividend CAGR is 8.45%.
The higher payout ratio versus PM is beneficial to income investors, however, there are risks involved to growth. Due to high taxes, declining domestic cigarette consumption expectations and potential litigation, MO trades at a low valuation. With extremely high barriers to entry, a dominant market position, the ability to raise prices and margins as well as potential savings on restructuring, the MO dividend looks secure. The high payout ratio, however, may limit future dividend growth. The analyst mean 5-year growth expectations are 7.75% per year, which should enable future dividend increases of the same nature.
3. Diageo PLC (NYSE:DEO), 2.23% Yield
Mai tai anyone? Perhaps a glass of whiskey? Meet Diageo, the king of spirits world-wide. If you know your alcohol, then a few of the DEO brands such as Captain Morgan, Guinness, Baileys, Crown Royal and Ketel One should sound familiar. The company is valued at nearly $82 billion and trades at a forward P/E of 17.7.
DEO yields 2.23% and pays distributions bi-annually. On a dividend basis, the 5-year CAGR is 6.56% with a current payout ratio of 47%. The earnings growth rate is projected to be 7.5% over the next five years. While the spirits industry is highly competitive, DEO deserves a high multiple as it commands premium brands. People continue to enjoy alcohol in all phases of the business cycle, and Diageo is a dominant player that operates in 180 countries.
4. BP PLC (NYSE:BP), 4.97%
Formerly known as British Petroleum, BP PLC is the London-based oil major responsible for the Deepwater Horizon oil spill that tainted the Gulf of Mexico in 2010. The company has paid billions in restitution and has sold assets to cover the associated costs. Now the company is smaller, more nimble and is coming out of the disaster.
As BP shrank due to the Gulf accident, the dividend was immediately reduced. Since then, the dividend has improved from $0.42 per ADR (American Depository Receipt) share to a just-announced increase to $0.57 per share. This gives BP a 2-year dividend CAGR of 16.5%. Shares were up 4.99% on October 29, 2013, on news of the latest dividend increase and earnings that were above expectations.
The BP payout ratio is low at 26%, and the company trades at just 8.5 times expected 2014 earnings. In contrast, XOM trades for 10.85 expected 2014 earnings. If BP continues to improve earnings and comes out of the Deepwater Horizon liability with a minimal amount of unexpected new costs, the stock could dramatically improve on valuation metrics alone.
5. Lockheed Martin (NYSE:LMT), 3.98%
Lockheed Martin, one of the stocks in Janet Yellen's portfolio, is a dividend achiever based in Maryland. The company provides defense products and services to the U.S. military as well as others. From fighter jets to missiles, drones and logistics, LMT is known as a the world's largest military weapon's manufacturer. 93% of sales come from defense spending, and the company has a market capitalization of $42.5 billion.
Lockheed Martin has the highest 5-year dividend CAGR in this group at 18.47%. The payout ratio is 49% and the yield of nearly 4% leads the defense industry. Although the stock is up over 40% YTD, the company trades at only 13.5 times forward earnings, and analysts expect a 5-year growth rate of 6.5%. LMT is very susceptible to war and peace, such that LMT investors would not benefit with a dramatic improvement in global relations.
Conclusion
These five stocks, PM, MO, DEO, BP and LMT, all have sins associated with their names. Each company, however, provides a necessary business in the current global economy. DEO and BP are the only non-U.S. picks, while MO and BP lead the group with yields near 5%.
Out of these categories, the global population will continue to demand tobacco and alcohol. The oil company selected, BP, had a very tragic accident that claimed 11 lives and harmed others, however it was an accident, they did pay restitution and they now look to come out on top.
The people of this world all should have the right to smoke, drink and use oil (responsibly and at the appropriate ages, of course). The only company I cannot get my head around is LMT, as any bet against world peace seems contradictory to our collective nature to live, learn and enjoy the process.
Disclosure: I have no positions in any stocks mentioned, and no plans to initiate any positions within the next 72 hours. I wrote this article myself, and it expresses my own opinions. I am not receiving compensation for it (other than from Seeking Alpha). I have no business relationship with any company whose stock is mentioned in this article.