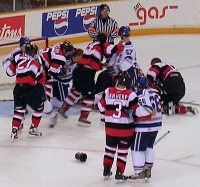 Did you know that there are four times as many Canadians as there are Americans in the National Hockey League? Hockey is the most watched major sport in Canada and the least watched major sport in the U.S.
We are right in the middle of hockey season, which started in the first week of October and will end next April. Although there are no pure plays, there are several companies that are connected to hockey teams and equipment.
Here are some hockey stocks that might be worth taking a swing at:
The Philadelphia Flyers of the National Hockey League and the Philadelphia Phantoms of the American Hockey League are owned by a company called Comcast-Spectacor, of which 63% is owned by Comcast (NASDAQ:
CMCSA
). They also own the Wachovia Center and the Wachovia Spectrum sports arena where hockey is played. Comcast has a forward price earnings ratio of 14 and a yield of 2.2%.
The Toronto Maple Leafs, one of the 'Original Six' members of the NHL, is owned by Maple Leaf Sports & Entertainment Ltd., 14 percent of which is owned by Toronto-Dominion Bank (NYSE:
TD
). Maple Leaf Sports also owns the Air Canada Centre sports arena, where hockey is played. Toronto-Dominion has a forward P/E of 9, and a yield of 3.8%.
The New York Rangers are owned by the Madison Square Garden Limited Partnership, which is owned by Cablevision (NYSE:
CVC
). They also own the Madison Square Garden sports and entertainment arena and the Hartford Wolf Pack, a minor-league professional hockey team. Cablevision has a forward P/E of 16.5 and a yield of 1.5%.
The Hockey Company, also known as CCM, is the ice hockey equipment licensee and supplier to the NHL until the year 2014. CCM is owned by Reebok which is owned by Adidas AG (
OTCQX:ADDYY
), the German based sportswear and sporting goods company.
Bauer is the leading manufacturer of hockey equipment and skates, It is owned by Canstar which is a wholly owned subsidiary of Nike, Inc. (NYSE:
NKE
), and now uses the Nike Bauer brand. Nike has a forward P/E of 16. The stock has a yield of 1.7%.
Dick's Sporting Goods Inc. (NYSE:
DKS
) sells hockey equipment along with numerous types of other sporting goods, so hockey is obviously a very small part of their business. Dick's has a forward P/E of 19.
Sport Chalet Inc. (NASDAQ:
SPCHB
) also sells hockey equipment along with other types of sporting goods including snowboarding, mountaineering, and SCUBA equipment. The company recently generated negative earnings. This is a very low cap stock that should be considered very speculative.
If you like sports related stocks, you should check out
basketball stocks
,
tennis stocks
,
racecar motorsports
stocks, and
horse racing
stocks.
Disclosure: Author does not own any of the above.