Windows RT was Microsoft's (NASDAQ:MSFT) first foray into tablet manufacturing, it hasn't had an easy ride, and has been constantly lambasted by reviewers and internet pundits. Many would like to see it killed off, if that does happen it would be a disservice to a great product.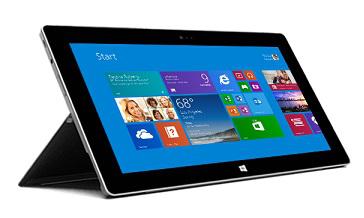 Great Product?
Yes, Surface RT is really an excellent product, this comes as a surprise to many people because their opinions have been informed by all the overwhelmingly negative articles written about this product. One of the largest reasons cited is Microsoft's $900 million write-off - it is not financially successful ergo it must be no good. That $900 million write-off is most likely overstated; Microsoft still has original RT stock that has been selling well since the price cut, and this budget price is enticing a lot more people to give the OS a try.
The comparison
When comparing tablets too often RT is compared with full Windows, in this comparison it's going to come up short but this is unfair, RT was created to compete with Apple's (NASDAQ:AAPL) iPads, and Google's (NASDAQ:GOOG) Android tablets -- when this comparison is made then RT has a chance to shine, side by side it stacks up very well against the competition and has a number of advantages:
True multitasking
Flash support
USB support
Snap apps - two apps side by side
Desktop syncs with the cloud for persistent desktop and favorites amongst different Windows devices.
Built in office, now including Outlook.
Fully features browser - this runs much more website functionality than the equivalent on the iPad or Android devices.
Full file system access.
This is not an exhaustive list but it gives some sense of some of the advantages of the RT platform.
Evolution
There are a couple of reasons cited for the failure of RT: bad naming, bad marketing, too high a price; all of which probably played a part but something that is overlooked is how much the product has evolved; if you compare a launch RT device to the same tablet running 8.1, it is night and day. Microsoft has made so many tweaks to this tablet through updates that the performance and functionality is far superior, it runs much more smoothly, and with 8.1, it is a joy to use. It has none of the performance issues that many reviews complained of.
Why not full windows?
Some will argue if they have the choice between full Windows and RT then they would rather have the full version. This may be possible with advances in chips from Intel but as it stands running on non x86 hardware gives considerable advantages on tablets, namely battery life. The Surface 2 has a claimed 10 hours of battery life, and Nokia's new RT tablet has 11 hours, add in the keyboard cover for Nokia's tablet and that jumps up to 15 hours battery life -- that is truly all day usability. Surface Pro has an increase in battery capacity, but review units are getting nowhere close to the RT battery life.
Security, on RT you cannot install any additional desktop apps, apart from office; all your apps come from the Windows Store. This is a much more secure application distribution which leads to virus free tablets. I'm not sure how many of you have had to provide computer support to relatives, well for those who haven't let me tell you they sure can install a lot of junk on their PCs; with all the apps coming from Microsoft's store they can still install a lot of junk, but at least it will be virus free.
On smaller form factors there is very little use for full windows, right now in Android tablets the sweet spot is 7 or 8 inches and the same success has been shown with the iPad mini. A few smaller devices are showing up at this size running Windows but because manufacturers believe RT is tainted, they are installing full Windows on these devices; this really is overkill, this is the perfect size for an RT tablet.
Productivity
Of all the tablets out there, RT is excellent as a consumption and productivity device, with touch or type cover and office installed it is ideal for road warriors out in the field; with the low weight and long battery life it's a handy companion. You can be productive on an iPad but you're really shoehorning it into a role it was never designed for; try taking an iPad into an office connecting it to a network, copying some files then taking it offline to work on a word document, it's just not possible or practical.
Apps
Out of all the accusations leveled at RT, this is the only one that has some truth to it; compared to the iPad, it doesn't have the same level of application support, there are many more dedicated tablet apps written for the iPad. This argument doesn't hold as much water when compared to Android; most of its tablet apps are simply scaled up phone apps. The app situation is improving with a Facebook app recently released and other big name apps on the way. This last remaining argument should diminish heading into 2014.
Lack of support
Right now with the soon-to-be-released Lumia tablet, there are three models of RT on the market, I'm including the first edition of Surface; all the other manufactures have given up, they believed all the bad press. With the sale of Nokia's handset division, Microsoft will be the only manufacturer left. Fortunately, Microsoft continues to support this OS and will continue to update and refine it. If some of the positive feedback from the actual users of the product is heard, more manufacturers will realize it's not such a dud and maybe we will see some additional hardware released.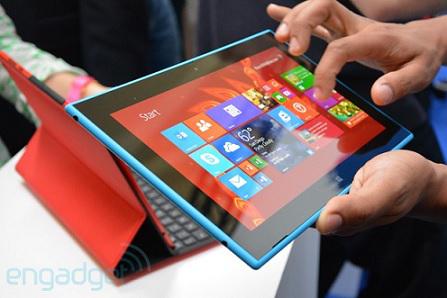 Importance
RT is a very important product for Microsoft. There is huge growth in the tablet market and this was created to mine that rich vein. Microsoft understands how valuable this market can be, and with this in mind, it most likely, is looking several years ahead. RT is not adding anything to the bottom line at present but with slow and gradual momentum, this can become a profitable OS, most likely delivering results in late 2014, which is another iron in the fire for Microsoft's growth over the next couple of years.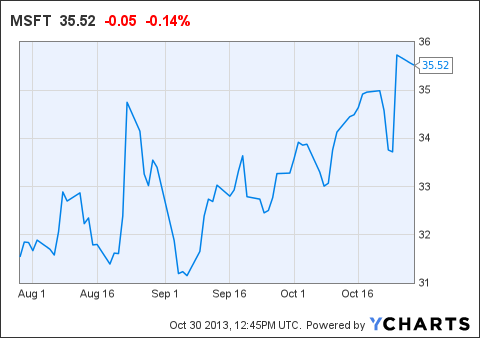 Final thoughts
RT is a much maligned product, but the biggest surprise, discovered by all who use it, is that it's an excellent product. Microsoft realizes how important a device this is for competing against iPads and Androids, and it really delivered something that equals and surpasses this competition in many ways; but it failed to tell the story to its customers, and it hasn't caught on yet. Undaunted, Microsoft continues to support this product, it won't be an overnight success, but if it learns from its mistakes, this can be a much bigger seller heading into the new year.
Disclosure: I have no positions in any stocks mentioned, and no plans to initiate any positions within the next 72 hours. I wrote this article myself, and it expresses my own opinions. I am not receiving compensation for it (other than from Seeking Alpha). I have no business relationship with any company whose stock is mentioned in this article.