After the bell on Wednesday, social media giant Facebook (NASDAQ:FB) reported its fiscal third quarter results. The company beat on both the top and bottom line, sending shares to new all-time highs early in the after-hours session. However, shares lost all of those gains and turned negative for a time thanks to some comments by management on the conference call. Today, I'll break down the latest quarter, management commentary, estimates, and comparisons.
Q3 results:
Facebook revenues came in at $2.016 billion, well ahead of the $1.91 billion analysts were looking for. On the bottom line, non-GAAP earnings per share came in at $0.25, six cents ahead of expectations. Some other numbers, taken from the report, are below:
Daily active users (DAUs) were 728 million on average for September 2013, an increase of 25% year-over-year.
Monthly active users (MAUs) were 1.19 billion as of September 30, 2013, an increase of 18% year-over-year.
Mobile MAUs were 874 million as of September 30, 2013, an increase of 45% year-over-year. Mobile DAUs were 507 million on average for September 2013.
Revenue from advertising was $1.80 billion, a 66% increase from the same quarter last year.
Mobile advertising revenue represented approximately 49% of advertising revenue for the third quarter of 2013.
Margins and expenses:
In this section, I'll look at the income statement, and these numbers will all be GAAP. For a reconciliation between GAAP and non-GAAP numbers, please see the company's report, linked in my opening.
On the top line, Facebook revenues rose by 59.75% over the year ago period, while estimates were looking for growth of approximately 51.40%. The cost of Facebook's revenues rose by 57.45%, slightly less than the growth of revenues. Gross margin dollars increased by 60.53%. On a gross margin percentage basis, Facebook saw an increase from 74.48% to 74.85%, an increase of 37 basis points.
On the operating side, Facebook saw the following expense increases:
Research and Development expenses rose by 51.23%.
Marketing and Sales expenses rose by 38.69%.
General and Administrative Expenses rose by 13.25.
Overall operating expenses, not counting the cost of revenues, increased by 37.30%. That was well below the rise in both revenues and gross margin dollars, so operating margins soared from 29.87% to 36.51%. There wasn't too much other excitement when it came to the results. The company reported a much lower tax rate this year, thanks to lower payroll tax expenses. In last year's period, the company had a tax rate of over 115%. In this year's period, it was a little over 41%. That helped Facebook swing from a 2 cent loss to a 17 cent profit, and again, these are the GAAP figures.
Balance sheet update:
The following table shows some key balance sheet information at the end of Q3, compared against last year's Q3 and this year's Q2.

*Liabilities to assets ratio.
Perhaps the biggest item to note is that Facebook paid back its $1.5 billion in long term debt (a term loan) during the quarter. They replaced the term loan with a $6.5 billion line of credit, which is currently undrawn. This debt repayment makes the balance sheet look even better, not to say that it was looking bad to begin with. Facebook has a ton of cash and financial flexibility. That will allow them to not only spend on the business as is, but to make important acquisitions that will help fuel future growth.
Other recent industry reports:
Facebook is not the only company to report recently. On Tuesday, we got a quarterly earnings report from LinkedIn (NYSE:LNKD). While LinkedIn reported top and bottom line numbers that beat expectations, guidance was a bit light. The nearly $8 million revenue beat in Q3 and seven cent non-GAAP earnings beat was not enough. LinkedIn stated that Q4 revenues would be in a range of $415 to $420 million, well below analyst estimates for $438.1 million. However, one must consider that the company gives very conservative guidance. For Q3, LinkedIn guided to revenues of $367 to $373 million, and they came in at $393 million. On Wednesday, LinkedIn shares declined by 9.32% and are now about 13% off their 52-week high.
LinkedIn was not the only name to decline on Wednesday. Shares of Yelp (NYSE:YELP) also fell after the company reported Q3 results. While Yelp's revenue figure came in almost $2 million higher than estimates, the company's 4 cent loss was 3 cents below expectations. Initially, shares were able to rebound thanks to guidance. Yelp guided to Q4 revenues of $66 to $72 million, well above a $64.8 million consensus, and that helped shares pare losses in after-hours trading. However, the company also announced a stock offering that could raise almost $290 million and increase the share count by about 6%. On the news, Yelp shares declined by 2.59% after rallying off their daily lows. Yelp shares are about 11% off their recent high.
Estimates on the rise, will continue:
The following table shows a history of Facebook's 2013 estimates since just after the IPO last year. The 2012 final numbers were $5.09 billion in revenues and $0.53 in non-GAAP EPS.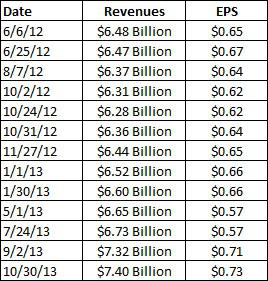 The last line above was going into Facebook's Q3 report, so you can expect that estimates will continue to rise after this blowout quarter. I would not be surprised if by the time Facebook reports in January, the revenue estimate for 2013 is close to $7.75 billion, and the EPS number is around $0.85.
Growth / Valuation comparisons:
Facebook's growth is very impressive, but the cost of the growth is astronomical as well. In the following table, I'll show some growth and valuation comparisons among the three names already discussed, along with Zillow (NASDAQ:Z), and I'll throw in Google (NASDAQ:GOOG) to make a point. The numbers below are based on analyst estimates as of Wednesday (so before Facebook's report), with market caps and prices based on Wednesday's close. All earnings numbers, as far as I can tell, are non-GAAP, except for Yelp.

*Zillow and Yelp are expected to show losses in 2013, which makes the P/E and EPS growth numbers not measurable for certain years. For Google, it seems that analysts switched from non-GAAP to GAAP revenue estimates in 2013. Since Google was still in a transitional period with the Motorola Mobility segment, there seems to be confusion towards GAAP and non-GAAP revenues for the 2012 year. Google's GAAP revenue growth in 2013 should be around 20%, give or take a few percentage points.
These social media names show explosive growth, but they also are very expensive. Many of them trade for well over 100 times earnings, and remember, those are non-GAAP earnings. Transfer the numbers to GAAP, and some have P/E values in the thousands, if they have them at all. Facebook has the lowest valuation of the names discussed, mainly because it is the largest and has the least amount of growth. I threw in Google to show what an established name looks like in terms of growth and valuation. However, I might add that Google is held to a different standard, so Google itself trades at a valuation nearly double that of say an Apple (NASDAQ:AAPL) or Microsoft (NASDAQ:MSFT).
Conference call troubles:
When Facebook initially ran higher to $57 in the after-hours trade, you would figure that some profit taking was in order. This was a stock that was up 85% between earnings reports, and the additional $8 pop made some profit taking natural. A decline back to $55 or so wouldn't have been a big deal, but a drop to $49 became quite troubling. There were a couple of key conference call quotes that must be discussed:
Turning to payments revenue. Remember that in the fourth quarter of 2012, we recognized revenue from four months of payments transactions, so for that reasons we expect payments revenue will be down this coming Q4 compared to last year.

Our best synopsis on youth engagement in the U.S. reveals that usage of Facebook among U.S. teens overall was stable from Q2 to Q3. So we did see a decrease in daily users specifically among younger teens.

Now let's look forward. We continue to believe that improving the quality and relevance of news feed ads provides us with a big long-term opportunity, however as we think about the future, we do not expect to significantly increase ads as a percentage of news feed stories beyond where we were at the end of Q3. This is important because increasing ads in news feed has been a meaningful driver of our revenue growth in 2013, so this should be factored into your expectations for next year.
Let me start with the payments issue. Payments only represented about 11% of revenues in Q3, and as stated above, the decline is mostly due to an extra month in the prior year period. But when you have a super high growth company like Facebook, the word "decline" scares people. That's especially true at a premium valuation.
The quote about younger teens is especially troubling. This group is very important to Facebook, and losing younger teens or teens in general is not a good sign. It was about the time this comment was made when the stock really started to turn lower in a more significant way. Additionally, the newsfeed ad comment is a bit worrisome for those looking for extra growth. Those that thought Facebook would increase these ads now need to readjust their expectations.
Final thoughts:
Facebook had a blowout Q3, beating on both the top and bottom line. The balance sheet improved greatly thanks to the debt repayment, and analyst estimates are likely to continue higher. Facebook has a great growth story, but it comes at a price. Shares initially soared, but fell after a comment on the conference call about a decrease in usage among younger teens. Another comment about the company not increasing the frequency of Newsfeed ads also seemed to hurt. With the stock at an all-time high early in the after-hours, Facebook had appeared to deliver a great report. But some of the conference call comments seemed to spook investors, and shares dropped as a result. Facebook found out the hard way that all it took was two little comments about young teen usage rates and Newsfeed ads to send the stock from $57 to $49. All of that erased a tremendous Q3 report.
Disclosure: I have no positions in any stocks mentioned, and no plans to initiate any positions within the next 72 hours. I wrote this article myself, and it expresses my own opinions. I am not receiving compensation for it (other than from Seeking Alpha). I have no business relationship with any company whose stock is mentioned in this article.
Additional disclosure: Investors are always reminded that before making any investment, you should do your own proper due diligence on any name directly or indirectly mentioned in this article. Investors should also consider seeking advice from a broker or financial adviser before making any investment decisions. Any material in this article should be considered general information, and not relied on as a formal investment recommendation.