In addition to credit market disruptions that required swift action by state debt managers, the American Recovery and Reinvestment Act [ARRA] has brought significant change to the municipal market and how debt is issued, according to Standard & Poor's. "Add to this the worst economic and revenue decline in decades, and it's evident to us that there are numerous challenges."
Highlights of U.S. Public Finance Report Card: 2009 State Debt Review: Significant Challenges Lie Ahead (Premium)
We expect that the current economic and budget climate will continue to translate into more borrowing. Following the 2001 recession, states issued nearly $30 billion of debt to meet budget requirements. We estimate that more than $15 billion has been issued or will be issued in the next year and a half.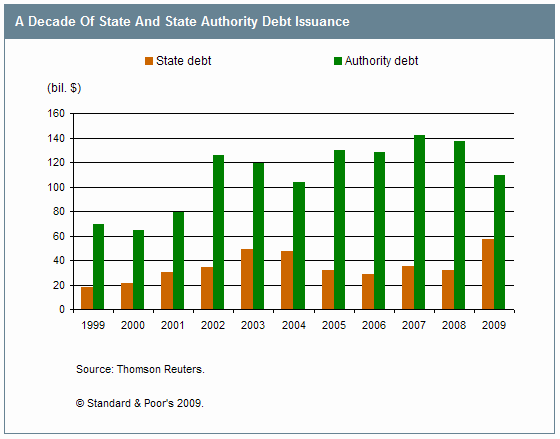 While this is much reduced compared with the previous recession in 2001, the federal stimulus funding in this recession is unprecedented and in our view has limited the need to use debt up to this point. As the stimulus funds diminish, we expect this trend to change. As in past downturns, we believe that state revenues will continue to decline well after the economy begins to rebound.
While we do expect a higher level of leverage for the sector overall, we think some states face challenges related to their debt affordability guidelines that could constrain debt issuance.
In addition to issues that we describe above, there are other reasons that lead us to expect an increase in state debt issuance next year:
Interest rates are relatively low.
Many ARRA provisions were designed to stimulate economic activity and improve conditions in the municipal bond market and, in our opinion, debt issuance under the program has been significant.
Even before the federal stimulus, there were many state bond initiatives to stimulate economic activity, such as in Pennsylvania, Ohio, Mississippi, and New York.
Discretionary resources to fund capital requirements have evaporated in many states, causing a shift to debt issuance.
There continue to be proposals relating to asset sales and the use of public-private partnerships and we expect this to continue due to the current budget climate.
As the spotlight continues to shine on the cost of post-retirement benefits, we continue to see debt initiatives to deal with unfunded pension liabilities.
Finally, we see pressure on states to fund infrastructure improvements as a high priority and we believe the needs across a range of infrastructure areas are well documented.