By Michael Cintolo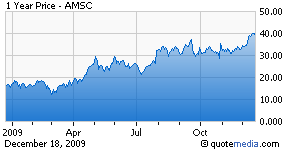 My stock idea for today is one of my favorite growth stories, but the stock itself hasn't done much in months. So why write about it here? Because it's showing signs of wanting to get going, and once it does, I believe it's going to embark on a major run.
The company is American Superconductor (NASDAQ:AMSC), a firm that tried for years to make a name for itself in high-performance superconducting wires. And, in fact, that business should do well over time, as the U.S. and other countries build out so-called smart grids.
However, the big money is not coming from superconducting wires anytime soon. American Superconductor has really transformed itself into a leader in the wind power market … although, interestingly, it doesn't produce any turbines of its own.
What American Superconductor does is design all sorts of wind turbines, and then license the designs to firms that want to get into the production business. These licensees use American Superconductor to set up shop, and then via contract, they are obligated to purchase wind electrical systems (basically the brains of the wind mill). So as its customers grow, so does American Superconductor.
By far its biggest client thus far has been Sinovel of China, which wasn't in the wind business just a few years ago but is now one of the five largest firms in the world. Almost single-handedly, Sinovel has pushed American Superconductor's growth into high gear. But this isn't a one-trick pony–the company has inked more than a dozen licensees, including a few that should ramp into volume production of wind turbines in 2010.
Because of all that, American Superconductor is firing on all cylinders. Revenues have exploded 60%, 83% and 85% the past three quarters, while earnings have surged from losses to three cents, 12 cents and 19 cents per share during the same time. Better yet, management recently stated that they expect earnings of 60 cents a share for the current fiscal year (ending next March), and for fiscal 2010, earnings of "at least" $1.15 per share. We think even those figures could be very conservative as new licensees ramp up.
The stock, as mentioned above, has been building a launching pad for a while, since late July. But since Thanksgiving, AMSC has tightened up and come under some serious accumulation. This week the stock tested its old peak.
While this stock has teased me before (it's tried to break out a couple of times in recent months before failing), I believe it's worth buying a small position–maybe half of what you normally buy–around here with the idea of averaging up in price should AMSC continue higher.