As an investor, I always remember being interested in the markets of countries that had suffered a severe economic crisis. Recovery usually comes with huge profits for the courageous. The problem, especially for small countries, was that I had no clear picture of the situation to help me decide whether to invest or not and in which stocks. It is crazy for a Greek to say that he is lucky to have this kind of experience, but there is no bad without good. Now, I want to share my thoughts about Greek shares with you, so that you can have a better understanding before you choose to take advantage of the Grecovery.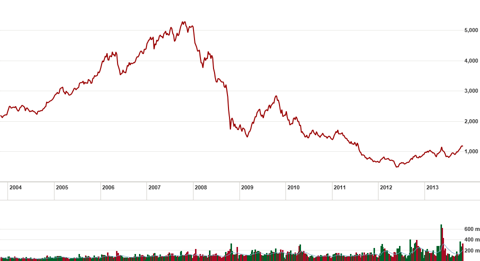 Athens Composite Index (source: ft.com)
Looking at the Athens Composite Index (ASE), somebody might deduce that stock prices are still low. We have seen a rise from under 500 to more than 1000 points, but even some Greek investors believe that after a recovery we will be able to see 5000 points again. Generally speaking, it is not illogical to see prices get multiplied by five times or more in such cases. Nevertheless, the Greek stock market is a special case.
The participation of Greek banks in the Greek stock market and its index was huge, and most of the decline is attributed to the dropping of their prices almost to zero. They suffered huge write-downs because of Greek bonds and bad debt (see NBG). Stockholders have been destroyed by the dilution resulting from the necessary large raising of capital. So, now bank stock prices are still low, but their capitalization is large, comparable to their equity, because of the large number of issued shares. Namely, we have a lot of capitalization added without index earnings.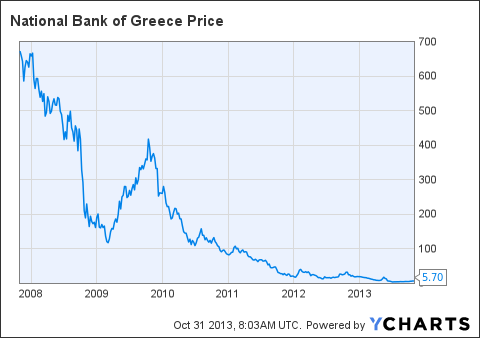 Any Greek investor can feel that. We have an index at around 1150 points, but large and mid cap stocks seem to be at the 3000 point level. Only bank stocks have underperformed, but as I have explained, this does not mean that they are cheap, as they have become leaders again in terms of market value after their recapitalization. So, if you forget stock prices and check capitalization instead, you will see that the ASE index is lying. You can better understand this by examining companies that have survived the crisis until now. Hellenic Telecommunications Organization and Public Power Corporation have risen almost ten-fold from their lows. My opinion about these specific companies is that they might deserve a further 50% rise in case of stabilization of the situation, but for most of them, the market has already discounted the fact of a Greek economic recovery.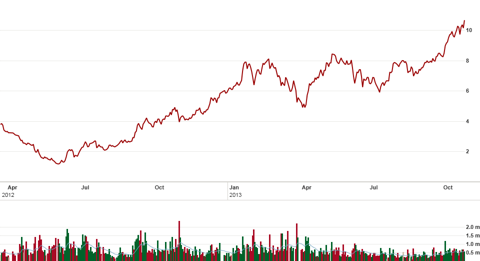 Public Power Corporation Graph (source: ft.com)
Outward-looking enterprises had been a good option 2-3 years before, as they proved to be durable and cheap. Now, they are fairly valued, while a slight discount is reasonable because of the danger of a relapse. Searching for cheap stocks, you will mostly encounter indebted or loss-making enterprises. For some of them, the risk-reward ratio is very attractive if you believe in the Grecovery. For instance, the Greek construction companies would benefit if halted public works were to be restarted. If someone looks at their present figures, they will not be impressed, but taking into account their future, they seem to be a good bet. Similarly, attractive but more defensive stocks are those of real-estate companies.
In my opinion, really cheap stocks can be found in the small cap sector. They are far from attracting the attention of global investors, while at the same time small Greek investors devastated by plummeting bank stocks have left them in obscurity. It is true that companies of this size pose risks for their shareholders, having to do with issues of corporate governance and the ethics of the main shareholders. Furthermore, sometimes these equities remain undervalued for a long time, even if they prosper as enterprises.
Now, most investors are crazy about bank stocks and warrants. Current stock prices and warrant strike prices for most banks are higher than book value. In addition, fears of new capital needs exist. So bank stocks are not a good option. Yet, if an investor believes in an impressive economic upturn coupled with bad debt recovery, warrants could give unrepeatable gains due to leverage. So, the latter are an interesting but risky long-term choice. They can also be a suitable field for speculators.
As for the Greek economy, I am sure that it is mostly a matter of political will inside and outside the country. I am afraid of the fact that many people have not yet understood what went wrong after the political changeover of 1974, while the Greek elite is resisting the necessary reforms, trying to keep its privileges. Thus, social resilience is pushed to the limits, generating fears of a political accident.
In brief, the Greek stock market is not as cheap as it seems, taking into account the political and economic risk. Somebody should have invested a year before to take advantage of the Grecovery. Now, by buying the Global X FTSE Greece 20 ETF (NYSEARCA:GREK), you would be getting at best fair-valued stocks and mostly expensive banks. You must analyze more deeply and find particular stocks that are worth the risk instead.
Disclosure: I have no positions in any stocks mentioned, and no plans to initiate any positions within the next 72 hours. I wrote this article myself, and it expresses my own opinions. I am not receiving compensation for it (other than from Seeking Alpha). I have no business relationship with any company whose stock is mentioned in this article.