Equity Futures: Dow +9.00. S&P +1.50. NASDAQ +4.50. Japanese Nikkei +10.00. German Dax +5.00.
European Trade: European shares turned positive in Monday trade, and following a pattern seen lately, trading volumes overnight remained subdued. The case was the same for the S&P 500 index, which traded on very thin momentum, having a range of only 5 points.

After two days of declines, the European markets advanced 0.50% around the opening bell, with the vast majority of gains coming from the main markets. Throughout the session, Norway's OBX gained 1%, while Netherlands' AEX advanced 0.30%. In emerging Europe, the trading session was somehow mixed, with Greece and Poland trading near the break-even line, while Hungary added 0.65%
The light trading volume seen in the financial market is a consequence of the upcoming Holiday Season. After a very busy 12 months of trade, most trade desks will look to balance books, and prepare for the New Year. The report calendar was clear of any red flag releases this Monday, something that affected trading activity in the equity market.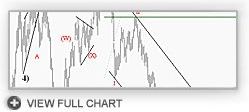 S&P Technical View: TheLFB Member Charts
4 Hour Chart Flows: Mixed Price Points: 1084, and 1118 Looking for: An ending diagonal (reversal pattern)

Momentum: The S&P futures market confirmed a Long momentum read on Nov 11th and has built a near-term support base around 1085. The trend has flattened out, and the 1105 area will be a major resistance point to battle this week. The moves to test and hold support are impressive, and now backed with Japanese and German equity markets that are also looking bullish.
Elliott Wave: S&P futures prices are still trapped between the upper and lower ending diagonal lines.
If the S&P breaks through and holds under the lower support line of an ending diagonal at 1095, the dollar could make further gains against the major pairs, if the Usd/S&P correlation holds as it has done recently. For this scenario to follow through, the wave 5) highs shown at 1118 must remain unbroken.

If there is any break through the 1118 top, we will look for a move into the 1130-1140 area (alternative, boxed wave count), with a Long reversal of the current down-trend on the major currencies to follow.

Sector Moves: With the exception of carmakers and healthcare companies, every other sector advanced in Monday trade in Europe. Carmakers declined after Deutsche Boerse said it would replace VW ordinary shares with preferred ones in the German DAX index. Following this announcement, VW common shares dropped 3.80%, while the preferred shares advanced 1.20%. This also had a negative influence on other German carmakers, dragging Daimler and BMW below the breakeven line.
The European healthcare sector lost 0.30% on Monday as the U.S. healthcare bill approaches its final vote. Further negative momentum came from the biotechnology company Actelion (OTCPK:ALIOF), after health problems emerged from one of its insomnia drugs.
In the telecommunication sector, Nokia (NYSE:NOK) lost 2% after Fitch rating downgraded the company's debt to A-, from A. However, further downgrades are excluded for now, since the rating company kept its outlook to stable.

Upcoming Economic Moves: Clear of red-flag reports

Crude oil was recently trading at $73.30 per barrel, higher by $0.05

Gold was recently trading up by $3.60 to $1115.10.
Disclosure: No positions