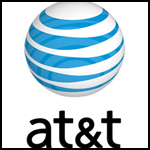 When Verizon (NYSE: VZ) boosted its dividend in early September, we speculated that rival AT&T (NYSE: T) would probably follow suit at some point this year. After all, the Dow components have illustrious dividend histories and are about as far from growth stocks as one can get, so dividends are a big part of the allure of owning these names. It took three months, but AT&T did announce on Friday that it is increasing its quarterly dividend by a penny share to 42 cents.
A penny is better than nothing and it is worth noting that this is the 26th consecutive year that AT&T, the largest U.S. telecom by market value, has raised its payout. That said, this increase of 2.4% is paltry compared to the almost 13% hike AT&T rewarded shareholders with in 2008 and it represents the smallest dividend stocks increase AT&T has offered since 2001. The new dividend is payable on February 1 to shareholders of record on January 11.

AT&T and Verizon are like some of the electric utilities we've blogged about recently in that both offer robust yields. AT&T currently yields 6%, not factoring in the new dividend, and Verizon yields 5.8%, though both lag one of our Dividend Genius holdings, Centurytel (NYSE: CTL), which yields 8%. Both have fairly predictable revenue and profit streams and represent low-risk investments. In addition, like utilities, should AT&T or Verizon opt to tap the credit markets to bolster their networks, the current interest rate is favorable for them.

And like utilities, these telecoms represent superior alternatives to cash investments in the current interest rate environment.
Disclosure: no positions