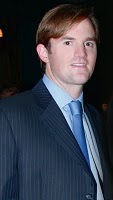 This is the third quarter 2009 edition of our hedge fund portfolio tracking series. If you're unfamiliar with tracking hedge fund movements or SEC filings, check out our series preface on
hedge fund 13F filings
.
The next hedge fund in our series is Chase Coleman's Tiger Global. Coleman is a 'Tiger Cub' because he learned to ply his trade under mentor
Julian Robertson
at Tiger Management. However, Coleman is also a 'Tiger Seed' in that he is one of the few managers that Robertson actually seeded himself in an effort to recognize talent. Tiger Global is one of the hedge funds that comprises the
Tiger Cub Portfolio
created with
Alphaclone
where you can replicate their positions and enjoy 15.5% annualized returns since 2000.
Here's some Wall Street trivia for you: Which hedge fund manager is a descendant of Peter Stuyvesant, the man who built the wall that gave Wall Street its name? Yep, Chase Coleman. Chase attended Williams College and his focus in the markets has always been on smaller cap names and on technology. Although, he has since expanded his horizons. In 2007, Tiger Global returned 70%, and from 2001-2007 Coleman returned 47% on average. This year started off rough for Tiger as financial and REIT short positions hurt portfolio performance, something they talked about in a past
investor letter
. In terms of recent portfolio activity out of Tiger, we've seen them
selling Longtop Financial shares
for quite some time now.
Keep in mind that the positions listed below were Tiger's long equity, note, and options holdings as of September 30th, 2009 as filed with the SEC. We don't cover every single portfolio maneuver, as we instead focus on all the big moves.
All holdings are common stock unless otherwise denoted
.
Some New Positions

Brand new positions that they initiated last quarter:
PepsiCo (NYSE:
PEP
)
Monsanto (NYSE:
MON
)
Yahoo (YHOO)
Electronic Arts (ERTS)
McDonalds (NYSE:
MCD
)
Airvana (
AIRV
)
Some Increased Positions
Positions they already owned but added shares to:
Discovery Communications (NASDAQ:
DISCA
): Increased position by 137.7%
ETrade Financial (NASDAQ:
ETFC
): Increased by 80%
Cablevision (NYSE:
CVC
): Increased by 2.8%
Transdigm (NYSE:
TDG
): Increased by 25.4%
Qualcomm (NASDAQ:
QCOM
): Increased by 22.3%
Some Reduced Positions
Stakes they sold shares in but still own:
Gushan (NYSE:
GU
): Reduced position by 55.3%
Longtop Financial (NYSE:
LFT
): Reduced by 52%
Priceline (PCLN): Reduced by 40%
Advisory Board Company (NASDAQ:
ABCO
): Reduced by 35.4%
American Tower (NYSE:
AMT
): Reduced by 31%
Apple (NASDAQ:
AAPL
): Reduced by 29.3%
Teradata (NYSE:
TDC
): Reduced by 27.4%
Visa (NYSE:
V
): Reduced by 21.8%
Lorillard (NYSE:
LO
): Reduced by 12%
Removed Positions
Positions they sold out of completely:
Philip Morris International (NYSE:
PM
)
Gymboree (NASDAQ:
GYMB
)
Partnerre (NYSE:
PRE
)
Crown Holdings (NYSE:
CCK
)
Broadridge (NYSE:
BR
)
Altria Group (NYSE:
MO
)
Green Mountain Coffee Roasters (NASDAQ:
GMCR
)
Cognizant Technology (NASDAQ:
CTSH
)
JPMorgan Chase (NYSE:
JPM
)
Netezza (
NZ
)
Solarwinds (
SWI
)
Top 15 Holdings by percentage of assets reported on 13F filing
Mastercard (NYSE:MA): 10.31%
Google (NASDAQ:GOOG): 10.02%
Lorillard (LO): 8.06%
Pepsico (PEP): 6.87%
Visa (V): 5.91%
Transdigm (TDG): 5.85%
Priceline (PCLN): 5.45%
Mercadolibre (NASDAQ:MELI): 5.23%
Monsanto (MON): 5.12%
American Tower (AMT): 4.18%
Longtop Financial (LFT): 4.17%
Yahoo (YHOO): 4.04%
Discovery Communications (NASDAQ:DISCK): 3.31%
Qualcomm (QCOM): 3.27%
Cablevision (CVC): 2.82%
Notable moves in hedge fund Tiger Global's portfolio include starting a brand new stake in PepsiCo (
PEP
) and bringing it up to their fourth largest holding. This could possibly be arbitrage driven as John Paulson's hedge fund Paulson & Co detailed some
Pepsi arbitrage in their investor letter
. Additionally, Tiger's new stakes in Yahoo (YHOO) and Monsanto (
MON
) were pretty sizable and are worth mentioning as well. Their position in Priceline (PCLN) certainly fared well for them as shares have risen sharply over the past few months. As such, they've reduced their position in it by 40%.
Another change worth mentioning is their continued selling of Longtop Financial. We've detailed those sales right after they've happened given that Tiger had to file amended 13D's on this position each time a major sale took place. They also sold off nearly a third of their American Tower (
AMT
) position and we mention this because shares of AMT have been a favorite stock amongst hedge funds, and particularly amongst Tiger Cub hedge funds. The only major position they sold completely out of was Philip Morris (
PM
), but even that was only a marginal position for them in the past, at 2.89% of the portfolio previously.
Assets from the collective holdings reported to the SEC via 13F filing were $2.38 billion this quarter compared to $2.15 billion last quarter. Please keep in mind that when we state "percentage of portfolio," we are referring to the percentage of assets reported on the 13F filing. Since these filings only report longs (and not shorts or cash positions), the percentages are skewed. Also, please again note that these positions were as of September 30th so two months have elapsed and they've undoubtedly shifted around their portfolio since then.
This is just one of the 40+ prominent funds that we'll be covering in our Q3 2009
hedge fund portfolio series
.
We've already covered
Seth Klarman's Baupost Group
Bill Ackman's
Pershing Square
, Stephen Mandel's
Lone Pine Capital
, Dan Loeb's
Third Point LLC
, David Einhorn's
Greenlight Capital
, John Paulson's firm
Paulson & Co
, Lee Ainslie's
Maverick Capital
and Andreas Halvorsen's
Viking Global
so check back daily as we'll be covering new hedge fund portfolios.