Last year, Compete published an analysis of both Amazon and of 10 retailers heading into December. We thought it was time for an update. Like last time, we were looking to understand whether or not consumers are back spending. The analysis focused on a single question as a proxy for online consumer spending in general: are online retailers ahead of or behind last year's pace?
This year we're going to look at a different metric to get a feel for consumer behavior – daily attention. Daily attention tells us what percentage of total attention a particular website or websites have been able to garner. Higher attention means that more people are spending more time on that website. For this analysis, we'll look at the aggregate attention going to ten major retailers this year versus 2008.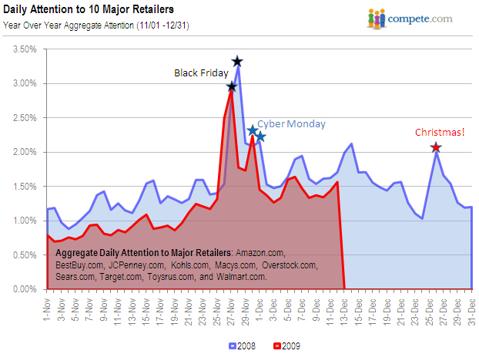 As we can see, attention to the major retail sites is down verses 2008. One answer as to why this is happening may have to do with rise of social media. In the past year, for example, Facebook's traffic has risen 161% to 129M unique visitors in November. Not only are people going the site, but they are going back more often. Facebook users average nearly 5.7 hours on the site last month, up from 3.6 hours last November. As consumers spend more time on social media, the percentage of their time online that is left to devote to shopping has declined.
But how is Amazon (NASDAQ:AMZN) doing this year compared with 2008? Judged by our data, I would say very well.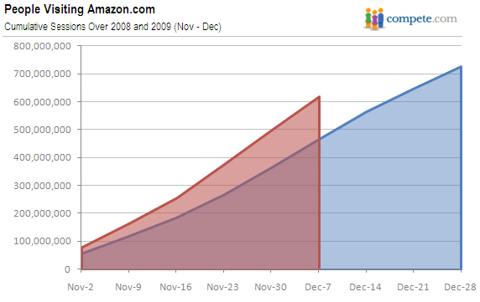 The graph above shows the cumulative number of sessions (people visiting the Amazon.com website) for both 2008 and 2009. As you can see, Amazon is drawing more traffic than last year despite the drop in overall retailer attention.
The drop in attention among retailer may cause them to rethink their strategies regarding social media.
Some innovative retailers, such as 1800Flowers, have already started to tap into this trend by creating stores within Facebook. But Amazon continues to amaze with its ability to grow in spite of overall retail trends.