Google (GOOG) announced its third quarter results on October 17, which showed strong revenue and earnings growth. The advertisement segment is under transformation with the roll out of its new ad format. Meanwhile, the company is also expanding in the advertisement business by partnering with arch rivals, and its effect will be seen in the coming years. Enhanced Campaigns, which will ease the process of placing ads online, will boost the company's earnings as more advertisers migrate to the new format. Apart from the ad business, the company has been investing in research and development to come up with products such as Google Glass, Google Fiber, and Google driveless cars.
What's ahead for ad business?
Amidst strong earnings growth, Google's advertisement business showed mixed results with a decline in Cost per Click, or CPC, but an increase in aggregate clicks.
The decline in the CPC rates could be due to various factors, such as the shift in ads from desktops to smartphones and tablets, adoption of the new ad format, Enhanced Campaigns, or EC, etc. The CPC rates for tablets and smartphones are much lower than desktop CPCs, and thus the overall CPC is declining as more advertisers move towards mobile devices.
The solid paid clicks growth in this quarter is a good indicator of demand, which was driven by the continued shift to mobile. As mobile continues to overtake desktop revenue, Google is adapting better than its competitors in the on-going shift to mobile devices through its new ad format. We believe that as advertisers become more comfortable on the new platform, they are likely to increase spending, bringing more ad revenue to Google.
A win-win deal
In the competitive technology industry, two of the bitter rivals, Google and Facebook (FB), have agreed on an advertisement deal. Google's Double Click Bid Manager, an ad buying software, will let its clients access "Facebook Exchange," or FBX, for buying ads. FBX was launched in June 2012 and allows advertisers buy cookie-based re-targeted ads on the Facebook site. For example, if a user visits any of the advertisers' sites to purchase an item, a cookie is saved on his computer. FBX then uses this information from the cookie to display ads, similar to user's purchase with extra benefits and discounts.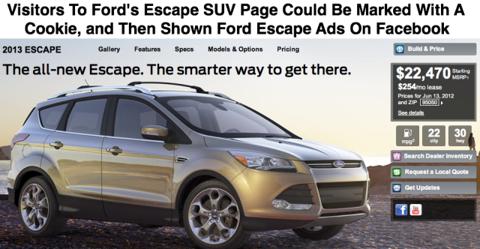 (Source: Techcrunch)
Earlier, Google's Double Click allowed its clients to buy ads from different ad exchanges, except Facebook, thus forcing its clients to explore other mediums to access other ad platforms. Now that the companies have a deal, Google will become a one-stop destination for all advertisers.
Digital advertising is a highly concentrated industry with Facebook and Google commanding around 36% share in terms of ad revenue, and other players such as Yahoo! (YHOO), Microsoft, and AOL contribute the remaining share. So far, no one has been able to challenge the domination of Google and Facebook. While CPC and Click through rates are common measures for evaluating ad effectiveness, the real difference between these two lies in the way they target users. Facebook has been using its vast database of user information and targets users based on their interest, geographic location, and demographic profiles. On the other hand, Google uses its search profiles, i.e. what users search, and matches ads accordingly. Deciding which one is better is extremely difficult and depends upon the advertiser. There are many reasons why Google opted to strike a deal with its bitter rival.
This move by Google could also be due to the fact that it wants to build a strong hold on demand fulfillment ads. Demand fulfillment are ads focused on users who are about to purchase a product. These ads have high click through rate and are expected to fetch a high price. We believe that Facebook will gain more out of this, as it will not only boost its advertisement inventory but also increase ad revenue. Meanwhile, Google is expected to benefit by providing its clients with a high quality advertisement inventory.
This is the first time both Internet giants, Google and Facebook, have decided to come together for such a deal. Their rivalry goes back a long way, but Google may have an edge here, due to the wider sources of revenue and a broader ecosystem than Facebook. What ultimately matters is how successfully both companies have innovated and monetized their platforms to generate revenue.
While this deal may be a win-win situation for both Google and Facebook, whose combined market share is around 30% in the U.S. display ad market, it may not be good news for Yahoo!, as its market share in digital display ads has been declining for the last few years and is expected to be 8% in 2013. The rise of ad exchanges has made it easy for advertisers to buy ad placements from different sites instantly, thus driving down ad prices on Yahoo!'s sites. Yahoo!'s Price per Ad and Price per Click both declined 7% year over year and 4% year over year respectively in the third quarter of 2013.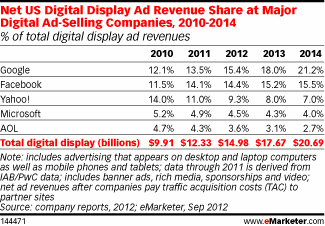 (Source: eMarketer)
In order to counter the declining market share and prices, Yahoo! is focusing towards its stream ads. These ads are based on the user's search experience and increase the likelihood of clicks. Yahoo!'s strength lies in its content varying from Finance to Entertainment, and it has gained large audiences through its massive content. Thus, leveraging on its content, Yahoo! can promote stream ads more effectively to its user base and boost ad revenue. The result of these native ads looks promising, which could increase revenue per page view for Yahoo!
Focus on non-ad revenues
| | | | | |
| --- | --- | --- | --- | --- |
| (in million) | 2010 | 2011 | 2012 | Q3 2013 |
| Other revenues | $1,085 | $1,374 | $2,353 | $1,230 |
| Google's revenue | $29,321 | $37,905 | $46,039 | $13,770 |
| Share of other revenues | 3.70% | 3.62% | 5.11% | 9.00% |
It would be wrong to say Google's revenue has been largely revolving around its advertisement business, as it has been expanding in various other non-ad businesses. While the ad revenue is a major contributor to Google's revenue with 91% share of the total revenue, the share of non-ad revenue is rising year over year. Non-ad revenue was just 3.7% of Google's revenue in 2010, but it has grown to 9% in the most recent quarter. Google's non-ad revenue includes app purchases through Google Play, Chromebooks, Chromecasts, and Google Wallet. This share is expected to continue to rise as Google rolls out new products such as Google Glass, Self-driving cars, and more Chromebooks.
According to NPD Group, Google Chromebooks have gained 25% of the market share for laptops that cost less than $300. This market may not be very large, but it is gaining ground. Google has launched its latest "HP Chromebook 11" along with Hewlett-Packard for just $279 on Oct 8, 2013. The HP Chromebook 11 will be available at Best Buy, Amazon, Google Play, and HP Shopping in the U.S. Low cost, ease of use, and web-based services have increased the popularity of these Chromebooks and have led to growth in sales of these devices.
Another growth driver of the non-ad business is Google Play, which earns revenue through purchase made on Google Play. There have always been concerns as to when and how Google would monetize the Android platform, but now these questions seem answered. According to App Analytics Company Distimo, Google Play lags behind Apple's iOS in terms revenue, but Google Play is growing steadily.
Google has been one of the top innovative companies, and it has developed many products to justify its status. In comparison to other companies, it is much more open about its inventory of upcoming products. Going forward, we believe that non-ad business will be the growth driver for the company.
Global revenue shares of Play Store and iOS over the past 6 months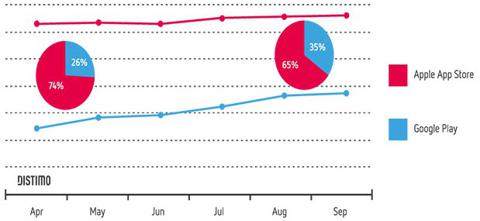 (Source: Distimo)
Google Play, which had a quarter of the market share in April 2013, has now gained 35% share in September, in just 6 months. Play store may be way behind iOS, but its growth has been impressive. We believe that as Google develops more products that are available on its Play store platform, it will drive more revenue to its non-ad business.
Chromebooks, along with Chromecasts, have led Google Play to massive revenue growth of 85% year over year in the third quarter of 2013. We believe that Google seems to be diversifying its revenue stream away from the ad business, and it's building a broader ecosystem, where each of its service offerings are linked to each other.
Bottom-line
Google didn't disappoint its investors; it posted a robust financial result this quarter. Its supremacy in the advertisement business is paying well, but the declining CPC rates may be a concern for the company. We believe that roll out of its EC represents a major opportunity going forward. Increasing mobile usage will push advertisers to increase bidding.
Some analysts continue to argue that Google is an overvalued stock with a P/E of 27.40 as compared to Apple's 12.96, and investors should book their profits as the stock has gained its fair valuation.
However, Google has shown that it has much more potential, and it can develop a much wider ecosystem, delivering more value to its shareholders. It has a superior technology and a leading market position in all areas such as, online advertising, video, mobile, search, and display ads. We believe that this stock has more upside potential in the long term and recommend a buy.
Disclosure: I have no positions in any stocks mentioned, and no plans to initiate any positions within the next 72 hours. I wrote this article myself, and it expresses my own opinions. I am not receiving compensation for it (other than from Seeking Alpha). I have no business relationship with any company whose stock is mentioned in this article.
Additional disclosure: Fusion Research is a team of equity analysts. This article was written by Rohit Gupta, one of our research analysts. We did not receive compensation for this article (other than from Seeking Alpha), and we have no business relationship with any company whose stock is mentioned in this article.