Google (NASDAQ:GOOG) started the surprises with its 3rd quarter EPS report, and now Apple (NASDAQ:AAPL) follows through with its 2012 fiscal year-end report ending at the same date. Both Microsoft (NASDAQ:MSFT) and Amazon (NASDAQ:AMZN) posted their 3Q results recently. Investor reactions have been both interesting and instructive.
We get the best possible look at probable coming prices for these (and other) stocks by using Intelligent Behavioral Analysis. It is done by seeing how the agents that facilitate portfolio-adjusting volume trades (for market-moving, big-money-fund clients) hedge the at-risk positions they must take to get clients' desired trades filled. What those pros are paying for protection, and the way the hedges are structured, tell what is believed may be likely.
The resulting price-range expectations are regarded to be those of the clients, as seen by the facilitators, the professional market-makers [MMs]. Since these are reflected in their forward-looking, self-protective actions daily, they provide a sensitive measure of the impact that quarterly earnings reports may have on both expectations and on actual prices in next day, next week, and next month terms.
Let's look at how the chain of events has progressed, starting with GOOG.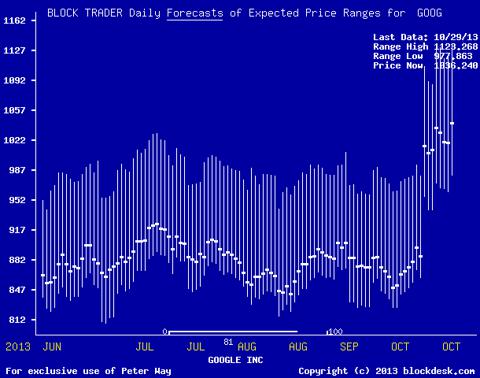 (used with permission)
Clearly, GOOG's report was a positive surprise for the street. Prices jumped immediately, taking others, like AMZN, with them in sympathy.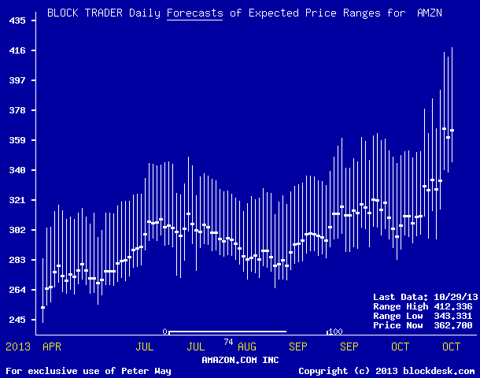 AMZN, using its own brand of accounting legerdemain, maintained its momentum with its 3Q report.
MSFT was more in shock, stood still for a bit, then edged down before putting out their own modestly encouraging report.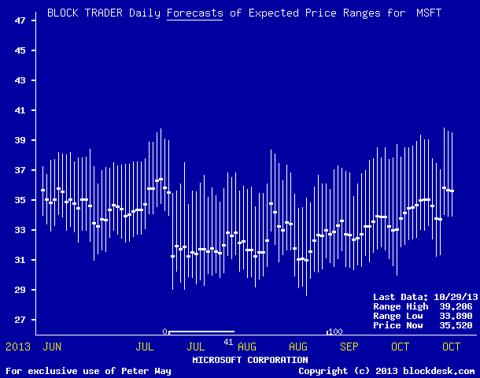 And now, AAPL shows its own market presence: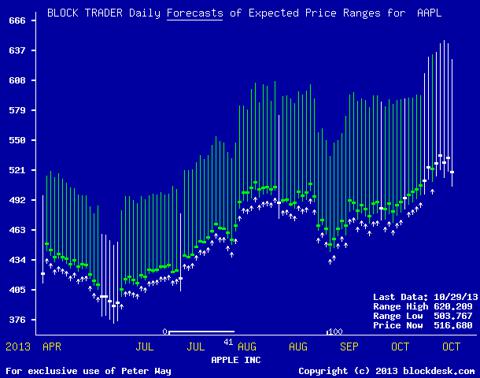 But the street's first reaction to the AAPL presentation is not so upbeat as for the others. Of course, one day's divergence from the flock of starling darlings does not create an immutable trend, either for AAPL or the rest of the angry birds. Still, one might come away with the idea that street cognoscenti were not as enthralled with management's insistence in plumping all the product developments, packaging and asserted public receptions, to the near exclusion of financial and competitive developments.
Here is a two-year reminder of the recent past, just to keep perspective, for those with longer memories, of the value of persistence.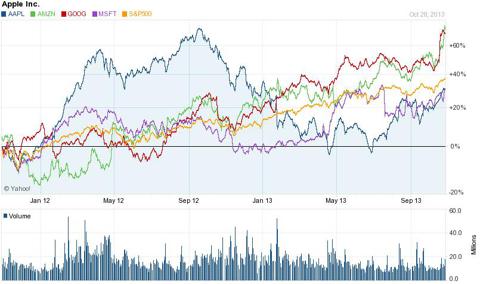 It does reinforce the notion that being in the right place at the right time makes all the difference. The market trend (SPX, SPY) separates GOOG and AMZN from the strivers, AAPL and MSFT, not only at the end of this period, but near the beginning, in early 2012, where the roles were reversed.
Looking back it's easy to tell where the capital gain advantage was to be had. Now, looking forward it's not so easy. We just think it may be easier to have a clearer view when the horizon is 2-3 months rather than 2-3 years.
Here are the current market-maker forecasts in comparison with one another, setting aside all the usual fundamentals, accounting noise, technology sophistication, and product marketing hype, with a focus solely on how likely it seems that stock prices may do one thing or another.

For those new to this analysis, the Sell Targets are the top of the Range Forecasts, Worst-case Drawdowns are an average experience of implied forecasts during the last five years having a balance of upside to downside like today's. That balance is expressed in the Range Index, which tells the percentage of the forecast range from low to high, that lies below the Price Now. The Win Odds are the proportion of those similar prior forecasts that produced profitable experiences in the 3 months subsequent to the forecast, usually by reaching sell targets.
That R~R ratio is a comparison of the sizes of Sell Target prospect and Worst-Case price drawdown experience.
Make the tradeoffs between these dimensions which are most meaningful to you, with our best wishes for satisfying outcomes. See you again in 3 months or so.
Disclosure: I have no positions in any stocks mentioned, and no plans to initiate any positions within the next 72 hours. I wrote this article myself, and it expresses my own opinions. I am not receiving compensation for it (other than from Seeking Alpha). I have no business relationship with any company whose stock is mentioned in this article.