'Tis the season, as they say. Seasons, actually. Today winter starts (hard to believe all that snow came for an autumn storm, eh?). Friday, though, marked the start of another season—the post-crash period.
We've now made it through 200 trading days since the March 6 equities low. For momentum followers, that's going to make stock market gains from here seem all the more dramatic as meltdown lows are dropped from the index's 200-day moving average.
The same could be said, more or less, for gasoline. Looking back at second-month RBOB contracts, March 6 wasn't an exact bottom on a settlement basis, but close enough (it was, in fact, $1.1414 scored on Feb. 18; prices dawdled a bit before taking off on March 11 from $1.1471).
Friday, February RBOB gasoline settled at $1.9171, bouncing back through the 50 percent retracement of the contract's September-October rally. Second-month gasoline had dipped as low as the $1.87 level—a 62 percent retracement—this month.
Second-Month RBOB Gasoline Futures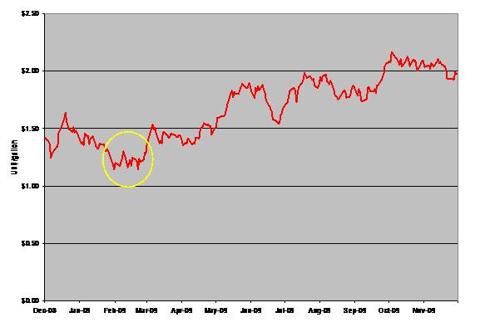 Things are looking up for motor fuel. At least technically. The MACD indicator, while not yet bullish, has at least turned up. RSI and stochastics both have made bullish crossovers.
In light of recently building inventories, it's probably best to look at gasoline's price resurgence cautiously. Still, the crude oil market reverted back to normal pricing last week when West Texas Intermediate's premium over heavier, more sour North Sea Brent was restored. WTI is favored for refining into gasoline and lighter distillates.
Now that winter's here, refinery maintenance cycles may idle some capacity (that portion that hasn't already been shut down because of slackened demand).
For now, a February close above $1.93 might encourage bulls to take a run at the 38 percent retracement at $1.96, while a settlement below $1.86 would be an invitation for bears to pile on.