EMC Corporation (EMC) is one of the world's largest suppliers of enterprise storage and also owns 80% of VMware (NYSE:VMW), the largest provider of server virtualization software. Shares are down from highs on weaker spending by federal agencies but could present an opportunity for long-term investors. Management has made a strong commitment to return cash to shareholders and a strong position in a growing industry should support future cash flow.
Weak 3rd quarter masks stronger trend
Shares dropped almost 5% on a weak 3rd quarter report this month as profit missed expectations and management cut its sales and earnings forecast for the year. Revenue for the third quarter increased 5% to $5.54 billion though operating margin slid 0.9% to 23.4% on weaker federal spending. Management gave full year guidance of $23.25 billion in sales with a net margin of 16.8% for $3.9 billion and $1.80 in earnings per share.
Information infrastructure, by far the largest segment with 75% of sales, has been weak and only posted 2% year-over-year growth in the quarter. Pivotal and VMware are supporting overall topline growth with an increase of 21% and 17% on the quarter. EMC is seeing strong growth in Latin America, 13% yoy, along with eight percent growth in EMEA and Asia Pacific.
Bookings were up late in the quarter and the company has just started building momentum around its newest product cycle with VNX2 and XtremIO. Management noted in the conference call that uptake for the VNX unified storage product was accelerating with half of the orders late in the quarter being client transitions to the new system.
The company's $6 billion buyback for the three years to December 2015 is on schedule with approximately $3.5 billion remaining. Management stated its long-term intention to return about 50% of free cash flow to shareholders, with half from buybacks and half from dividends. Despite recent weakness in infrastructure, EMC has been able to grow revenue by a 10% compound annual rate over the last five years and has increased free cash flow by an annualized 18% over the period.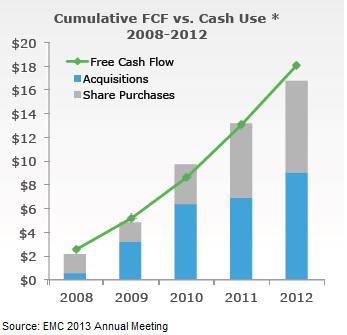 The company spent $2.6 billion on research & development last year, leaving $5 billion in free cash flow. Most free cash (57%) was deployed with $2.1 billion on acquisitions and $700 million on the share buyback program.
On the current share price, the remaining $3.5 billion in repurchases would reduce share count by approximately 146 million shares while 2013 dilution from convertible notes and warrants would add 55,000 shares. Even with dilution from convertibles and warrants over the next two years, share count could drop by as much as 7% from the current outstanding.
Gaining share in a growing market
The company has been able to steadily improve market share in external storage since 2009, primarily at the expense of Hewlett-Packard (NYSE:HPQ) and Oracle (NYSE:ORCL).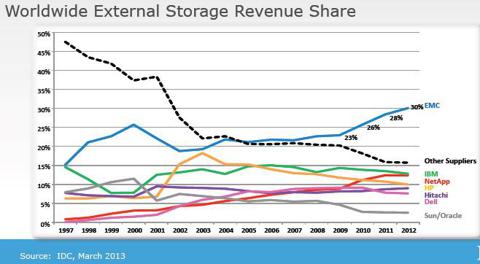 Adoption of cloud services has just begun to gain momentum with tech-research firm Gartner predicting growth of 18.5% this year to $131 billion. Adoption of cloud business process and advertising services is wide spread at 28% and 48% of companies using the services. Other services, like security and infrastructure are less widely used and present strong upside potential. Estimates for the potential size of the market vary with growth to $270 billion expected by 2020.
Revenue from the VMware unit grew 22% in 2012 and accounted for 21% of total revenue. The Information Intelligence unit and the Security unit together accounted for the remaining 7% of revenue.
The company announced its new Pivotal initiative at the 2013 Strategic Forum, combining assets from EMC and VMware to target next-generation cloud and big data applications. The initiative could materially add to revenue over the next few years and CEO Tucci told investors that the unit could eventually be sold in an IPO.
Management estimates a market of $164 billion by 2016 with $87 billion for EMC II, followed by $50 billion for VMware, $17 billion for Pivotal and $10 billion for advanced security. Total sales are expected in increase by a 9% annual rate with earnings growing by 10% plus annually to 2016.
A growing cash stash and sizeable price discount
Free cash flow has increased by an annualized 18% over the last decade and cash on the balance sheet jumped 70% last quarter to $11.1 billion. The company just started paying a dividend this year with a 1.7% yield. Given significant cash flow generation, the company will either need to start returning more to shareholders or dramatically increase its acquisition program. Investor preference would probably be for a return of cash but a slight increase in acquisitions could also add to long-term value.
Shares trade for 17.8 times trailing earnings, in-line with the industry average but a 20% discount to its five-year average multiple of 22.2 times earnings. The company's current valuation is roughly equal with that of the general market despite carrying an average 50% premium to the earnings multiple on stocks in the S&P500 over the last five years.
Besides the probability of higher dividends and a reduced share count, all you have to do is ask yourself if this company should carry the same price-earnings multiple as the general market. Has the company's earnings prospects decreased so much that it is no longer a growth story?
Factset reports revenue growth for companies in the S&P500 of 2% in the third quarter of 2013 on a year-over-year basis, below the 2.7% growth reported in the third quarter of last year. Data from CSI Market shows the operating margin for the broader index has held relatively stable at 13.3% over the last year.
Revenue growth for EMC slowed to 8.5% last year but has posted a compound annual rate of 10% over the last five years. The company's operating margin, 18% in FY2012, has trended up over the last three years. While it may not trade at premiums seen in the past, the shares definitely should be trading higher than the valuation on the general market. Given growth in cloud services and the company's rising market share, I would expect an earnings multiple closer to 20 times trailing over the next couple of years.
Assuming continuing weakness and annual sales growth of just 7.5% yields $27 billion for 2015 revenue. Applying the current 16% profit margin and a 5% reduction in share count brings us to $2.20 per share in earnings and a price of $39.60 with an earnings multiple of just 18 times. That is more than 66% above the current price and based on fairly conservative estimates.
Adding to Long-term Growth and Dividends Portfolio
I am using the recent selloff to add EMC to my Long-term Growth and Dividends Portfolio. Adoption of cloud services are growing as companies become more comfortable outsourcing their infrastructure and IT needs. The company has been able to gain considerable market share and should be able to produce strong revenue growth over the next decade.

The addition follows Freeport McMoRan (NYSE:FCX) last week on a diversification in mining assets and an extremely cheap valuation on 2014 estimates. I plan to add a position each week for a total of ten holdings and then update monthly. Returns are based on allocating $10,000 of the $100,000 model portfolio to each holding with cash invested in the market fund. While near-term losses are possible, I am positioning the portfolio to take advantage of short-term industry fear and significant future cash flow.
Disclosure: I am long FCX, EMC. I wrote this article myself, and it expresses my own opinions. I am not receiving compensation for it (other than from Seeking Alpha). I have no business relationship with any company whose stock is mentioned in this article.