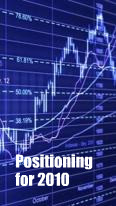 First, a recap: some successful themes of 2009
During this time of year, investors like to examine various forecasts and begin positioning their portfolios for 2010. The performance of broader markets in 2009 was a huge relief for investors as many may now feel that things can improve from here. From a technical standpoint, the Great Recession likely ended in Q2 09 and market performances coming out of recessions have generally been quite positive. The question now facing investors is what portfolio strategies should be implemented for 2010.
Before covering 2010, a quick review of where I stood at the beginning of 2009 may be helpful. At that time, credit spreads were blowing out and valuation multiples across many sectors were compressed, impounding expectations of Armageddon. In addition, what had been headwinds in 2008 turned into underappreciated tailwinds early on in 2009. For example, in my 2009 forecast, I discussed the benefits of input cost reductions for HanesBrands (NYSE:HBI) and Starbucks (NASDAQ:SBUX):
While the global slowdown has negatively impacted many companies, the slowdown has resulted in a decline in commodity prices, which could provide significant tailwinds for companies dependent on key raw materials... A key raw material for HBI is cotton which reached levels of $0.70+ per pound earlier in 2008. Cotton has now fallen roughly 50% from this level...These cost savings could offset a certain level of volume declines, protecting HBI's earnings power.

Another company that could benefit from declining commodity costs is Starbucks ... If this is substantial, cheap milk could provide a good buffer against declining sales. These types of cost levers could result in upside earnings surprises for long positions.
Both HBI and SBUX have experienced impressive returns since the end of 2008 but at this point could very well be considered fairly valued. Another area I highlighted was leveraged equities:
Lending relief may not help all equities but it could present opportunities with companies that have significant debt loads and stable cash flows. These companies could perform well as credit conditions continue to ease, as the "penalty" for owning some of these companies compresses with equity valuations improving for highly levered companies as the risk of not being able to refinance near-term debt is reduced. As credit markets ease, highly levered but cash-flow stable companies could stand to benefit.
I simply meant that due to credit spreads blowing out, there were a number of leveraged companies with very stable cash flows that were valued far too cheap. The low valuations were due in part to concerns of refinancing risk and question-marks regarding the stability of cash flows relative to the debt of these companies. However, examining the financial statements, credit agreements, and covenants of leveraged companies made it clear that many of these companies were still producing plenty of cash flow relative to their debt and that once credit spreads tightened, the equity valuations could sky-rocket.
The outperformance of these leveraged equities resulted in many bears and market observers coining the 2009 rally as a "Junk Rally", as many skeptics were oblivious to the fact that the key driver of this rally was the tightening of credit spreads. As such, high credit-quality, dominant businesses that did not suffer as sharp a valuation decline did not participate as strongly in the rally despite being "high quality" companies.
For example, in my 2009 forecast, I suggested shorting McDonald's (NYSE:MCD). Heading into 2009, MCD could have been shorted in the low $60s. As seen in Chart I, MCD's performance for 2009 left much to be desired as it fell within the "high quality" subset of companies and still yielded gains from selling short to start the year, until the November rally. Heading into 2009, it was clear that the best businesses did not offer the most attractive valuations.
CHART I: MCD 2009 YTD PERFORMANCE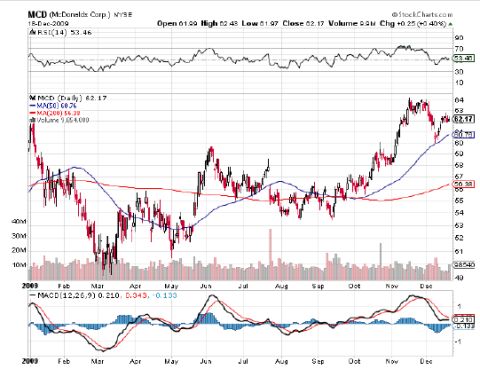 While MCD and other high quality companies did not perform as well as the more troubled companies, this was primarily due to relative valuation. MCD and similar high quality companies could be bought for anywhere from 13-18x EPS while many troubled companies could be purchased for 25-80% of these metrics. The fact that high quality companies like MCD maintained relatively high valuation metrics is a testament to the quality of their franchises, but the best valuations were clearly in beaten down small and mid cap names.
However, heading into 2010, I believe that relative value between these areas has converged to a degree that some high quality names may offer some very attractive relative returns. This is mainly because I feel that 2010 may be a wash-out for aggregate index performance due to my view of the economy.
The four most dangerous words: 'This time it's different'
"This time it's different" are considered four of the most dangerous words one can utter. In 1999 or 2000, for example, if one was to offer criticism of technology stocks' valuations, they simply did not understand the new technological paradigm. In 2005, if one did not believe home prices appreciated 15% per year, it was because they failed to realize how scarce land was. In both of those instances, those that pushed the bullish angle of these phenomena believed that this time it was different.
However, when constructing my 2010 investment strategy and outlook, I wanted to examine whether my cautious stance heading into 2010 was the result of grasping the same belief that "this time it's different" with respect to the economic contraction we've experienced. This recession is surely the most severe that working professionals have experienced. Additionally, the lack of historical perspective increased the impact of these adverse conditions. Indeed, whether one was 22 or 62, there has really been little tangible context that people could cling to. As a result, the intensity of this meltdown, combined with little tangible experience, and the structural issues leading to the Great Recession, have led to a disparity in forecasts with little middle ground.
Many strategists are predicting that the indices will continue to strengthen in 2010 as earnings growth continues to improve. Even strategists that have been historically cautious, such as Jim Grant, have recently become more bullish in their view. However, there are still a number of bearish strategists who are predicting a correction or far worse for the markets, given the headwinds the economy is still facing. The forecast generally depends on one's view of the nature of the Great Recession.
In a typical recession, a V-shaped recovery is not unusual. However, the Great Recession was not typical as it was led by a financial crisis, and financially induced recessions tend to have much more tepid and longer recovery periods. This is because financially induced simply means debt induced, and the debt hangover and deleveraging consumes a great deal of economic output. In addition, because consumers and businesses entered this recession with such high debt levels, there's little head room available to alleviate the credit pressures.
The Great Recession can be characterized by consumers and businesses both having significant debt with little equity that can be extracted or borrowed against at this point. Consumers and corporations have leveraged both their cash flow and assets, providing no head room for any credit or demand expansion as most cash flow will be used to delever and repair balance sheets. For example, many Americans experienced little to no real income growth over the past decade and simply used credit cards to leverage their cash flow and/or capital extractions from their various assets, whether a home or securities, to bridge the gap between their needs/wants and what their regular, unlevered income could provide. Many corporations have done the same thing, leveraging up their cash flow and then also obtaining financing against their various assets. As a result, both corporations and consumers are more constrained than ever before, making the chances for a "normal" recovery rather low.
The more optimistic forecasters generally view the Great Recession as a typical recession and may be weighing the preceding paragraph as less influential in their 2010 expectations. The forecasters are taking their cue from market performance and expect that structural issues in the economy may sort themselves out sooner and through natural mechanisms within the economy. The more pessimistic forecasters view the Great Recession as something much more serious and the current recovery rather weak despite the GDP numbers that appear strong from a headline perspective.
The strategists with more bullish perspectives may say that the bearish forecasts are falling into the trap of thinking "this time it's different", with the economic recovery and market performance following a typical recession. However, I do not believe that this view means that bearish forecasters are ignoring historic precedence. While the Great Recession is not too similar with prior US recessions, it has an eerie resemblance to the Japanese real estate collapse in the late 1980s/early 1990s and the two decades in which the Nikkei churned.
CHART II: NIKKEI 225 1984 - DEC 18, 2009 []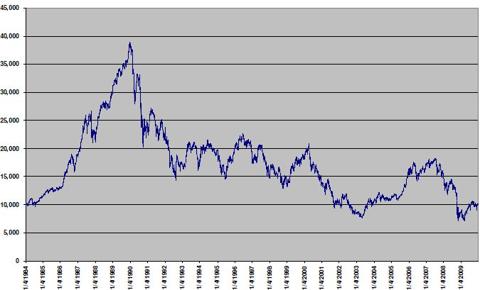 While a logarithmic chart would be even more useful, Chart II clearly illustrates that there were a number of powerful rallies and corrections once the Nikkei bubble imploded in 1989-1990. For buy and hold investors and fund managers that maintained 100% net exposure, this was a period where little money in aggregate was made. Markets would rally led by expectations that Japan was pulling out of the economic malaise, only to roll over. Investors should bear in mind that these were grinding types of rallies and reversals, occurring over long periods of time.
Given that the US economic challenges are similar to those experienced in Japan, I tend to favor the more cautious perspective for 2010 and believe that the US will continue to progress through a Japanese-style L-recovery. Given the massive drop in GDP in Q4 08, a high single digit GDP figure for Q4 09 would be "normal." However, it's more likely that GDP figures in Q4 09 will come in between 3-5%, reflecting the ongoing economic strains. I don't think that equity markets, at their current levels, will be that satisfied with these types of GDP figures in 2010, particularly given the price tag associated with generating subpar economic growth.
Good economic news may not mean much at this point
Investors have been treated to some "good" news in recent weeks as unemployment ticked down below 10% and a number of states have started also reporting slight drops in unemployment. Various productivity indicators and economic output metrics have also improved, which is stoking the expectations for an increasingly robust earnings environment in 2010, fueled by productivity gains and perhaps a return of the US consumer as the economy emerges from the Great Recession.
The challenge for investors is reconciling market expectations with economic performance. Market valuations appear to expect major earnings growth over the coming years, particularly sectors that outperformed in 2009. For example, the consumer discretionary sector performed very well in 2009, but heading into 2010 it appears to expect a major return of the consumer, based on the 2010 EPS multiples that many trade at. If those earnings don't materialize, stocks in this sector could experience a sharp correction. The same can be more broadly applied to the indices. If unemployment continues to tick higher or recover at a very slow level, the broader market could roll over if it is pricing in a faster recovery than what materializes.
Net exposure and stock/sector selection are key to 2010
The prior discussions establish the backdrop I am using when constructing my 2010 portfolios. Rather than waste time attempting to derive what the S&P500 will do in 2010, investors and readers may be better served with ideas on constructing a portfolio. Given the economic backdrop and current market valuations, I would not be surprised to see volatile but generally flat equity markets, and have constructed my investors' portfolios and hedge fund to generally withstand these markets while also being able to exploit some opportunities that future volatility may provide.
One benefit of range-bound and flat markets is that they are comprised of a number of sectors that lead and lag, offsetting one another and therefore leading to flat markets. This can be frustrating for index investors and those that invest with managers that have some allocation or weighting to every sector. However, for those that can adjust exposures to various sectors as well as be more tactical with deploying cash, flat markets can present some opportunities to outperform.
Bond mutual funds have received significant inflows from investors this year, reflecting the public's apathy and distrust of the current equity rally. Bonds have done extremely well over the past forty years, particularly Treasuries. Rob Arnott, one of the sharpest investment minds in the world, has done an excellent job of analyzing the equity risk premium relative to bonds and his research concluded equity risk premiums are much smaller than many believe. One interesting note from Arnott's piece, "Bonds: Why Bother?", is that from February 1969 - February 2009, investors in 20-year Treasuries (consistently rolling to the nearest 20-year bond and reinvesting income), outperformed the S&P500. Of course, February 2009 was close to the near-term market bottom but the fact that Treasuries have remained so competitive and outperformed stocks for a multi-decade period is something investors should know, particularly as there are many stock-only fund managers that consistently use skewed statistics to make the case for aggressive equity allocations.
Nonetheless, bond investors should also be wary of the multi-decade run that bonds have had relative to equities and not expect this trend to continue unabated. In either case, current bond inflows suggest investors are chasing yield but could do better off with some alternatives in the equity world. For example, some megacap companies are valued quite attractively and also pay healthy dividends. Kraft (KFT) is a company that fits this profile. In the worst of the market crisis in March 2009, KFT traded for about $21 per share, basically just about 20% below where the stock currently trades. KFT has a dividend yield of 4.3% and given its dominant franchise, trades for just 12.0x 2010 EPS and about 9.0x EV/LTM EBITDA. Companies like KFT generally have good visibility with EPS so there's not a lot of risk in missing earnings.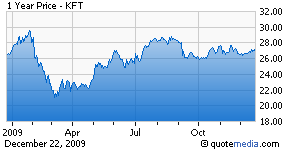 More importantly, if the worst of the crisis is over in terms of capital market fears, a rational downside could be just 15-20% and a case could easily be made for KFT to experience valuation multiple expansion and gains of 30-50%. In addition, KFT investors can write various options against their position through near to mid-term short straddles. The combination of a healthy dividend and periodic option sales (roll the short straddle every three months if possible) can result in a total return of 12% on one of the highest quality companies in the world.
I think that the principal risk of investing in KFT's equity is actually lower relative to many of the high yield bonds trading at par with 9-12% coupons, particularly as the Fed removes a number of their liquidity programs in 2010 and credit spreads widen. The widening of these credit spreads will likely negatively impact riskier bonds and riskier equities which outperformed in 2009. However, companies like KFT may actually outperform given their solid balance sheets, franchises, and most importantly, attractive valuations.
Investors could benefit by allocating a good portion (15-25%) of their portfolio to these types of "Anchor" stocks -- cheap, high quality companies with solid dividends that also provide liquid option markets whereby additional returns and/or hedging can be achieved. These types of holdings will have a lower beta relative to the broader market, prospects for continued earnings growth, and the possibility for valuation multiple expansion.
Investors should also consider a tactical cash allocation of 15-20% heading into 2010. This may seem like a sizable amount, but if we are in a range bound market and approaching the upper bounds of that range, a tactical cash position will allow investors to protect themselves from grinding reversals and also selectively deploy cash into opportunities that arise. If equity markets reverse 10% or so, that cash could be used constructively in certain areas. The main point is that investors should keep their net exposure relatively dynamic either through greater cash and/or short sales.
While anchor stocks and cash can provide some moderate results, thematic investing in a number of smaller companies in specific sectors may yield impressive results in 2010. While leading sectors of 2009 included financials, consumer discretionary, and technology, there were a number of sectors that lagged which may be poised to rebound significantly in 2010.
The power segment may be an area investors consider. Companies such as Dynegy (NYSE:DYN), Mirant (MIR), and RRI Energy (RRI) can offer some outstanding returns mainly because energy prices in areas such as coal and gas appear to have bottomed. The downside is generally limited for these companies given their valuations. In some cases a number of plants have been shuttered, meaning that a small incremental increase in demand can result in outsized operating income growth.
Another area that has been left for dead is refiners. This is mainly a balance sheet play as most refiners have outlooks that will remain murky for some time. However, the balance sheets of many refiners have been shored up and the refineries themselves may carry significant value beyond the depreciated figures on their books. Environmental issues remain an overhang but in many cases, refiners have liquidation book values well over their current share prices. Refiners and power companies do not need to get close to the operating margins of 2006-2007 to generate returns for their shareholders either, given where they are currently valued. In addition, both refiners and power companies should benefit from a strengthening US dollar, and the unfolding dramas in some European countries and the Middle East could result in a greater appetite for the USD.
Domestic legacy carriers may also be poised to benefit sharply in 2010. While domestic legacy carriers are awful long-term investments, negative investor sentiment and valuation may make the industry segment a big winner in 2010. Like refiners and power companies, airlines benefit from a strengthening USD. Airlines stripped out considerable capacity in 2009. Oil that is range bound between $60-80 per barrel is something management would prefer relative to the $140 per barrel prices airlines faced in 2008. In addition, airlines have raised significant liquidity and the decline in high priced corporate travel is moderating. Last, 2010 should allow for airlines to enjoy better comparables relative to 2009, particularly during the important summer season. In 2009, air travel was sidelined by the H1N1 virus. With the shock factor of swine flu declining, the summer of 2010 could be very promising for airlines and their shareholders, particularly those that are the most battered such as US Airways (LCC).
While my fund and investors benefited from investing in a number of consumer discretionary stocks in 2009, I believe that many currently sport valuations on both a trailing and forward basis that could be difficult to maintain. The thesis behind a number of consumer discretionary stocks was that while sales were plummeting, key costs also decreased. For example, commodity costs declined whereby producing and transporting items were much cheaper. In addition, the commercial real estate crisis benefited tenants who could aggressively renegotiate leases. These companies also aggressively reduced headcount and stripped out capacity whereby if sales declined at a slightly lower rate, actual earnings growth could still be achieved.
This stunned investors and analysts early on, which is why a number of stocks in the consumer discretionary space increased 2-5 fold in 2009. However, heading into 2010, many investors and analysts are expecting cost cuts and some level of sales growth to further propel earnings growth. I believe that the cost cutting in the consumer discretionary space was more or less low-hanging fruit and a one-time item and that sales growth in 2010 may be underwhelming relative to current valuation. When some of these companies were priced at 3-5x EV/EBITDA and <10x normalized EPS, tepid earnings growth was a massive surprise. Heading into 2010, many of these companies are now valued at 18-25x 2010 EPS and 9-12x EV/EBITDA, fair to overvalued with a tough road to earnings growth that justifies their current valuations. Companies such as AnnTaylor (NYSE:ANN), Skechers USA (NYSE:SKX), and other consumer discretionary names may be a bit stretched in terms of valuations relative to the level of earnings that will materialize.
Commercial real estate ("CRE") remains the biggest telegraphed topic of doom in 2010, but it remains difficult to implement a sell short strategy against it. One can purchase CDS against bonds of CRE companies or short the equity, but these companies were able to raise considerable capital in 2009 through various equity raises. More importantly, banks and CRE companies are joined at the hip so banks have every incentive to ride the problems out and continue to refinance CREs. Banks don't want to take a hit to their capital so are incentivized to refinance CRE debt as it comes due, pushing maturities out another 5 years and hoping that things improve. That way the banks can mark these assets at par and the CREs continue to operate with a few extra commitment and LC fees. I will be ready to short some names in the REIT sector but currently see little reason to pay out a 4-7% dividend, waiting for a catalyst to arrive that can derail the momentum many of them have.
In summary, the economic underpinnings of today's markets are very weak while valuation multiples have expanded. Heading into 2009, we faced a worse scenario but valuations were attractive. The combination of factors we face heading into 2010, however, are not conducive to the bullish stance of many market pundits. This certainly doesn't mean that markets cannot continue to rally, benefiting long-only, fully invested participants. However, the structural hangover is likely to be long and painful which is why I am more cautious heading into 2010. This does not mean that there are no investment opportunities available and if markets remain range-bound, active selection may be in a position to outperform in 2010.
Author's disclosure: Long: KFT, DYN, LCC. Long sectors: Power, Refiners, US Legacy Air Transportation. Short: ANN, SKX. Short sectors: Consumer discretionary
Original post (pdf)