As the saying goes, if you're only going to do one thing, make sure you do it well. That is certainly the philosophy of Canadian urology company Sophiris Bio Incorporated (NASDAQ:SPHS). In a biotech world oversaturated with overzealous pre-clinical companies drowning in their own disorganized ambitions, Sophiris is a breath of fresh air. In their California-based operations center, Sophiris is developing a late-stage, highly targeted treatment, for benign prostatic hyperplasia (enlarged prostate), a large and unsatisfied market. It is the one significant product in their pipeline. However, given the track record of the team at Sohpiris, one product may be all they need to make their impact on the biotech realm.
The Sophiris Team
The executive and management team at Sophiris is exceptional. Needless to say, executive leadership is pivotal. No matter how promising the science may be at any biotechnology company, incompetent management has been known to ruin exceptional ideas. At Sophiris, this is the least of their concerns. The company is led by its chairman, Dr. Lars Ekman, a board certified surgeon with a Ph.D. in experimental biology from the University of Gothenburg in Sweden. His resume is exceptional. In addition to having served in various executive capacities at Pfizer (NYSE:PFE) over the course of 16 years, he has also led research and development teams at Elan Pharmaceuticals (NYSE:ELN) and Schwarz Pharma AG. So revered is Dr. Ekman among his colleagues, that he also serves on the board of directors for five other biopharmaceutical entities.
As for the team that Dr. Ekman leads. It is equally brilliant. Among them is Randall Woods, the companies CEO. Mr. Woods was previously the President and CEO of NovaCardia, a pharmaceutical company focused on cardiovascular diseases, until its acquisition by Merck & Company (NYSE:MRK) for $350 million in 2007. Furthermore, the company employs world-leading urologists, is backed by experienced investors, and is led by a veteran drug development team that has achieved more than twenty drug approvals, which by their own declaration, include "several blockbusters".
The Product
At Sophiris the universal focus is on their one product; PRX302.
PRX302 is designed to provide long-term relief of benign prostatic hyperplasia symptoms without causing sexual dysfunction or sacrificing quality of life. It is formulated as a recombinant version of the native proaerolysin protein. PRX302 has been genetically modified by replacing the furin-cleavage sequence with a PSA-selective sequence. In summation, this allows for the treatment to be highly targeted, highly efficient, and highly effective.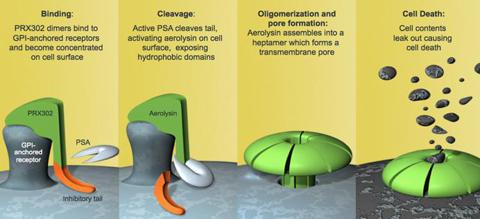 PRX302 is delivered directly to the encapsulated prostate via localized injection. Further, PRX302 has been engineered to be selectively activated by enzymatically dynamic prostate specific antigens, which are present only in prostate tissue. Once activated, PRX302 forms disruptive pores in the membranes of prostate cells resulting in selective cell death, thus creating a highly targeted, localized approach to killing prostate cells constricting the urethra. In addition to these findings, it has also reportedly been found to demonstrate a high safety profile.
The Trials
On October 28, 2013, Sophiris announced that enrollment had begun for the phase three trial of PRX302. During phase two trials, which were randomized, double blind, vehicle controlled trials, PRX302 sustained meaningful and significant results. Not only did patients find the treatment consistent and sustainable, but there were no reports of erectile or sexual dysfunction. The latter being the number one complaint among users of other treatments for enlarged prostates.
If the success of the phase two trials is repeated in phase three trials, then Sophiris will have provided sufferers of benign prostatic hyperplasia with a safe, side effect free, and effective alternative to either invasive surgery or side effect potent oral tablets. This would provide a substantial market with a new standard for treatment.
The Market
It is estimated that over five million men in the United States alone suffer from life altering affects associated with an enlarged prostate. According to the American Urological Association the addressable market for enlarged prostate, or benign prostatic hyperplasia, is approximately $500 million. However, Marko Kozul, an analyst and doctor, estimates that peak sales for PRX302 could eventually be in the vicinity of nearly $800 million.
Value For Shareholders
According to streetinsider.com, analysts Stifel Nicolaus and Lazard Capital have given Sophiris a buy rating with respective price targets of nine and ten dollars. Leerink Swan has given Sophiris an outperform rating with a price target of $11. Currently, Sophiris trades for about 4.50 per share. The upside here is in excess of 100%.
Risks
As is the case with any biopharmaceutical company there are risk factors to be considered. Successful phase two trials do not always translate to successful phase three trials. At phase three, there is a higher level of scrutiny. In the event, for any reason, that PRX302 failed to impress at phase three trials, this would obviously be a disappointment to Sophiris and shareholders alike. If Sophiris elected, at that point, to reformulate and then resubmit to the FDA it would come at a significant cost and would require a significant amount of time.
Lastly, as PRX302 is the lone pipeline drug currently under development at Sophiris, failure at the phase three level could be detrimental to the company as a whole.
Conclusion
The probability of success for Sophiris and PRX302 is high. Excellent leadership, innovative science, executive experience, and a substantial market all indicate good things on the horizon. In consideration of these factors, as well as the impending start of phase three trials, it would appear that Sophiris is currently undervalued. With upwards of 100% upside and minimal downside, Sophiris presents to be an ideal asymmetrical trade. Sophiris is more than worthy of investor consideration.
Disclosure: I have no positions in any stocks mentioned, and no plans to initiate any positions within the next 72 hours. I wrote this article myself, and it expresses my own opinions. I am not receiving compensation for it (other than from Seeking Alpha). I have no business relationship with any company whose stock is mentioned in this article.