To say that this morning's Chicago PMI report for October was good would be an understatement. While economists were forecasting the headline reading to come in at 55.0, the actual reading was more than 10 points higher at 65.9. October's increase (+10.2) represented the third largest one-month increase in the history of the report (since 1967), and the largest monthly increase in more than thirty years (July 1983). Relative to expectations, this morning's report was the strongest since March 2007.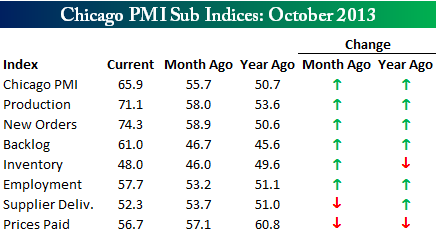 The table to the right summarizes the one-month and one-year changes in each of the Chicago PMI's sub-components. As shown, in this month's report five of the report's seven subcomponents increased, with Supplier Deliveries and Prices Paid being the only categories that showed declines. Relative to a year ago, we saw the same breakdown of increases versus decreases as Inventories and Prices Paid were the only categories down compared to a year ago. Earlier this week, we saw a weaker than expected PPI report and an inline CPI. These reports coupled with the decline in the Prices Paid category of the Chicago PMI suggests that inflation remains contained.
Two of the most impressive aspects of this month's Chicago PMI report were the big jumps in Production (+13.1) and New Orders (+15.4). We have provided charts of each category below. As shown, the jump in Production was the highest reading since February 2011, and the largest one-month increase since October 2004. For New Orders, this month's level of 74.3 was also the highest since October 2004 and the thirteenth largest monthly reading on record. The 15.4-point increase was also the largest monthly increase since March 2007.