Acacia Research Corporation (NASDAQ:ACTG) develops, acquires, and licenses patented technologies. It assists patent owners with the prosecution and development of their patent portfolios, protection of their patented inventions from unauthorized use, generation of licensing revenue from users of their patented technologies and enforcement against unauthorized users of their patented technologies.
The company seemed over the past few years to be building an impressive portfolio of patents to license. In fact, I traded the stock in 2012 after I saw George Soros was a shareholder. But underneath the surface is an unpredictable revenue stream built on lawsuits and it's no wonder the company doesn't give guidance.
Long Slide From $45 to $15 in 2 Years
Since a quarterly revenue peak of $99 million in early 2012, the company and the stock have been sliding. And dozens of weeks in the past two years where the stock was either a Zacks #4 Rank (Sell) or #5 Rank (Strong Sell) have kept our followers out of the name.
One of the risks with small caps in the Zacks universe is that the analyst coverage can be low, sometimes with only one covering analyst providing estimates, as was the case with Acacia. Obviously, the more analysts, the better idea you have of how reliable the estimates could be and where in the dispersion you want to put your confidence.
But in the case of ACTG, anyone holding the stock got the heads-up right away from this lonely analyst who lowered his Q3 EPS estimate from 40-cents to 7-cents on October 14. The next day, the Zacks Rank from ACTG dropped from #3 (Hold) to #5 (Strong Sell) because of the magnitude of this downward revision.
Full year 2013 EPS was also taken down to $0.33 from $1.11 and 2014 down to $1.16 from $1.77.
Two days later when the company reported on October 17, any investor or trader who was paying attention to one of the most important earnings estimate revisions of all -- the ones that come days before a quarterly report -- was able to dodge this bullet when the company reported an unexpected loss of 8-cents...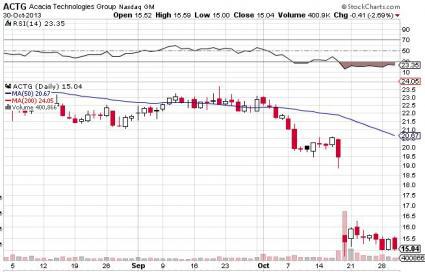 I read a few research reports since this let down and it seems the analysts are generally forgiving of and apologetic for Acacia, citing that "quarterly fluctuations" need to be smoothed out over 12-month periods. Three analysts maintain price targets between $25 and $34.
It's not hard to understand why all the analysts don't provide estimates for this unpredictable business. But while they remain positive on Acacia shares at these levels, I'd only take them at their word if we see those annual estimates head back up.
And the Zacks Rank will be your heads-up.
Kevin Cook is a Senior Stock Strategist for Zacks where he runs the Follow The Money portfolio.
ACACIA RESEARCH (ACTG): Free Stock Analysis Report (email registration required)