By Chris McKhann
Pulte Homes (NYSE:PHM) is facing a complex long-term options strategy as its stock price rises today.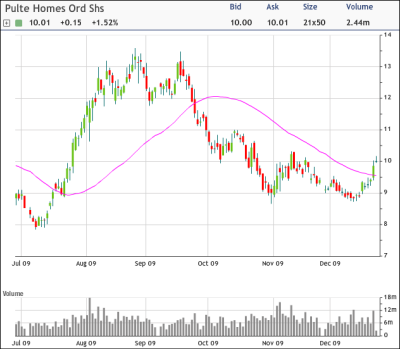 The homebuilder is up 1.52% and is back above $10 by a penny, having bounced off of support around $8.75 that goes back to July. PHM was above $13 as recently as mid-September.
One trader is using a complex three-legged options spread all the way out in January of 2012. The trade involved 10,000 of the 10 and 7.50 put strikes, going for $2.79 and $1.50 respectively and 10,000 of the 15 calls, traded for $1.50. The open interest at all three strikes was less than 400 contracts so all of these were new opening positions.
This strategy appears to be a collar trade, buying the put spread as protective against a limited move down in PHM and selling the call to offset the cost. This protective play would take in a small credit and would take a maximum profit if shares rise up to that $15 level. But the strategy provides protection to the downside to below the March low of $7.71.
(Chart courtesy of tradeMONSTER)