With only days left until the end of retail's biggest season, there are few opportunities remaining to draw consumers to the checkout line. With improved product viewing and popular delivery and ship-to-store options, online shopping removes traditional barriers to the chaotic in-store experience, and retailers are wise to exploit those advantages. Every month, Compete releases its Retail 200 report, where the top 200 online retailers and major eCommerce categories are scored by traffic and indexed against past performance. Running an early analysis in December thus far, it is clear that certain players are stuffing a bit more into their stockings this year than their counterparts.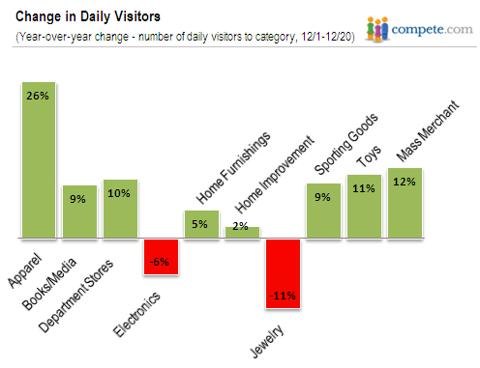 During the first three weeks this month, certain eCommerce categories led the market in growing their average daily visitor traffic. Apparel saw its daily shopper volume rise 26% over the same time period last year, more than double the growth of any other category; in contrast, Department Stores only gained 10% year-over-year. Notably, the biggest losers were two categories that commonly hold inventory with higher price points: Electronics and Jewelry (losing 6% and 11% of their average daily traffic over last year). Bucking its category trend, however, the jewelry site zales.com – currently offering up to 60% off online-only orders – gained 18% in daily users. There's nothing like reducing profit margins to drum up some holly-jolly sales.
And the hit to the Electronics category relates to a telling case study on the death of a retailer. When Circuit City filed bankruptcy and liquidated at the end of last year, major industry players stood to gain a sizeable market share from the nation's second largest electronics retailer. While the brick-and-mortars were shuttered, the eCommerce site was picked up by Systemax and operated under the same (albeit tainted) brand name. Here is the aftermath one year later.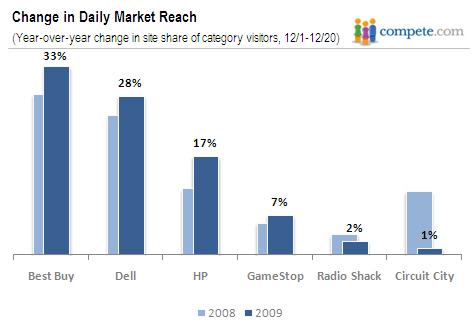 As of last December, Circuit City reached 10% of the Electronics consumers each day; so far this month, its share is a tenth that size. Best Buy (NYSE:BBY) and HP (NYSE:HPQ) show the highest gains, each increasing by 5 points its daily market reach (share of daily Electronics shoppers visiting its site), while Dell (NASDAQ:DELL) rose by 3 points and Radio Shack (NYSE:RSH) actually lost share over last year, falling 2 points. With the near disappearance of a major brand, HP is the real winner here: by carving out 300,000 more daily visitors – the highest volume increase for any brand – it cements its 3rd place presence in the category.
Important for any wishlist, the Toys category is showing some movement this season. Daily visitors show on par growth of 11% over last year, with the dominant player Toys 'R' Us commanding 73% daily reach. The story changes, however, when visitors are crossed with time spent on the site.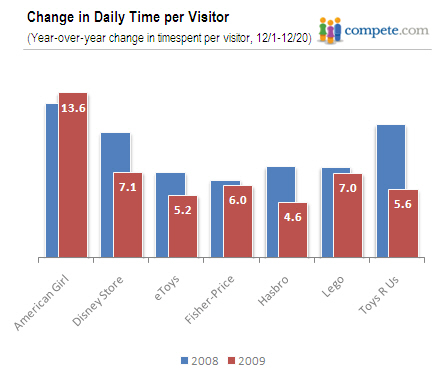 The only site with more daily time spent per visitor over last year is American Girl, at about 13½ minutes; Toys 'R' Us has the lowest with 5½ minutes. This observation is partly due to increased traffic at Toys 'R' Us, but also speaks to a strength of the online channel. A website can be more than just a shop and purchase portal, and americangirl.com includes a forum for users to interact with the products and discover other doll personas to enjoy. This ploy not only keeps its target audience engaged, but opens a customized advertising channel for the retailer.
To be sure, every eCommerce industry has its own quirks that present different challenges to a company: Toys can leverage character personalities; Electronics products don't need to look good on you; and Apparel products don't need a how-to guide. The positives of the online channel far outweigh the negatives, and companies innovative enough to piece together the seamless online strategy – free shipping, detailed product views, sales chatting – will find themselves well positioned at the start of 2010.