Hasbro (NASDAQ:HAS) posted solid third-quarter revenue and earnings that exceeded consensus expectations. Revenue jumped 2%, while operating profit improved 3%, thanks to modest improvement in the firm's operating margin. Adjusted net earnings of $1.31 per diluted share in the third quarter compares to $1.24 per share generated in the prior-year period, or more than a 5% increase.
We were very pleased with management's comments that brand initiatives are resonating well with consumers and that it has increased its presence in faster-growing geographies. Though performance in the US and Canada continues to languish as a result of weakness in the 'Boys' and 'Preschool' categories, the firm's 'International' and 'Entertainment and Licensing' segments performed wonderfully.

Image Source: Hasbro
Sales in Europe, Latin America and Asia Pacific advanced in the period, and emerging market growth registered 22% in the quarter. The 'International' segment recorded impressive 24% operating profit growth! The 'Entertainment and Licensing' segment's operating profit dipped in the quarter, but this was as a result of the addition of Backflip Studios to the segment (its contribution to operating profit is much smaller than the other two segments, as shown above). Overall, operating-profit performance wasn't bad.
Hasbro also launched a cost-savings initiative and is targeting $100 million in annual savings by 2015. The firm noted that its expectation for gross cost savings in 2013 continues to be about $45-$48 million (or $13-$15 million net of pension charges).
Valuentum's Take
We were encouraged by Hasbro's performance in the third quarter and continue to believe that the proclaimed "death" of toys is overblown. For one, strength in the firm's 'International' segment and emerging markets speak to the sustainability of the firm's world-class brand portfolio. As Hasbro continues to experience modest sales increases as it pursues cost-cutting initiatives, we expect operating profit to continue to move higher. We continue to prefer Hasbro over Mattel (NASDAQ:MAT) on the basis of our Valuentum Dividend Cushion score, and the firm remains a core holding in the portfolio of our Dividend Growth Newsletter.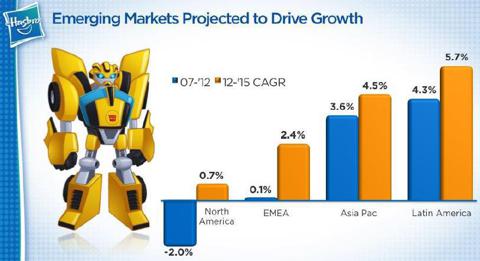 Image Source: Hasbro
Disclosure: I have no positions in any stocks mentioned, and no plans to initiate any positions within the next 72 hours. I wrote this article myself, and it expresses my own opinions. I am not receiving compensation for it (other than from Seeking Alpha). I have no business relationship with any company whose stock is mentioned in this article.
Additional disclosure: HAS is included in the portfolio of our Dividend Growth Newsletter.