Sony (NYSE:SNE) reported earnings Thursday and lowered earnings forecasts. This coincided with an 11% drop in share price. This came after Sony was already down 17.50% off the "rebound" high it made in May of this year. So is this then end of the turnaround plan? I would not give up on it so fast, in fact subscribers of my Stock Waves service have been patiently waiting for this pullback under 19.
I am very bullish on Sony, and there are a plethora of reasons I can point to. I am not going to go into a detailed breakdown of Sony's departments and numbers. Matthew Levy did a great job with that in his September article here. But there are certainly some things worth mentioning.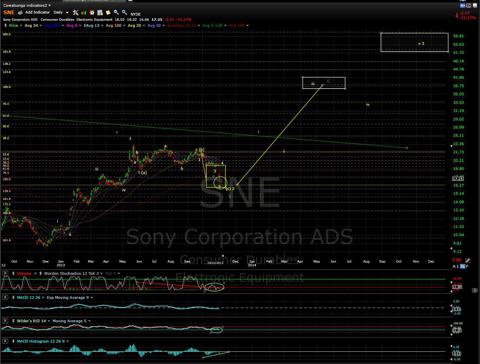 Current P/E for SNE is 15.80. It has not been that low since 2008, and incredibly far from the 2k level seen at the peak of the tech bubble. In 2002, a 736 P/E was hit before a 60% drop in price. However, even an "extreme" measure of 243 in 2004 was not enough to induce a big downturn. This measure is not going to be a limit on price for quite some time.
The current P/S is 0.30. Peaks in P/S have coincided well with peaks in the stock price. If we discount the 4.0 registered in 2000 as irrational exuberance we are left with the 0.89 in 2007 being our "extreme" level. Based on this, SNE could almost triple to 51.75 before triggering a larger slide, plenty of room to run here.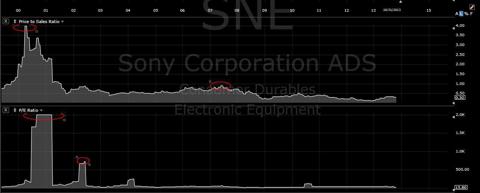 One area of fault I find in Mr. Levy's analysis is his freezing of the conversion rate for the Yen. For his fundamental evaluation of the underlying businesses of Sony it may have been appropriate, but I think there is a very strong correlation between the Nikkei index, the USD/JPY and SNE. As I said in my Amazon article, I am not concerned with the long-term sustainability of the business model. I want to know where the stock price is going on shorter horizon. The Nikkei rise in tandem with that of the USD/JPY off the 2012 lows started a bit earlier than SNE and topped just a few days before SNE did in May.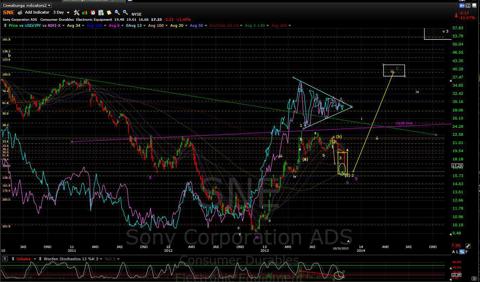 Garrett Patten, lead analysts for the World Markets at elliottwavetrader.net, is projecting a strong continuation of this move in the Nikkei as it nears the end of its consolidation from May targeting close to 17,000. And USD/JPY is targeting 109 in a similar move.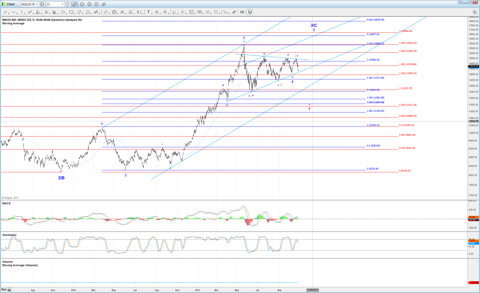 I see a similar move starting in SNE taking it to the 25 level. After a consolidation there, I think we see it continue to 40s and then and ultimate price target over the next 12 months of 52.99. This fits very well with the projected price "extreme" based on P/S and should see a bigger pullback from there. What else can help Sony reach these lofty goals?
We are two weeks away from the highly anticipated release of the new PS4. While there has been a lot of discussion about poor expected margins with the planned offering price, I think Sony is being very smart here in a strategic move in the platform war; getting customers to invest and recouping any loss-leader with accessories and game sales, many of which Sony produces directly. Sony learned very valuable lessons from the mistakes made with Beta years ago and I doubt they will repeat. Also all those people up-grading to new PS4s won't be able to resist a new 4K XBR UHD TV. Obviously not everyone is going to go for the $3,500 Cadillac, but things like the new SimulView & 3D Personal Viewer are very exciting.
Another major development on the bullish horizon for video game and technology sales is the recent announcement from the Chinese government to lift the ban in place since 2000 on the sale of video game consoles. As James Vincent reports in the Independent, there is no timeline yet and numerous restrictions will be in place, Sony stands to be a huge beneficiary.
Sony's Music and Entertainment divisions also contribute greatly to its potential. Elysium did very well at the box office grossing over $232M world wide, and while Fury is not scheduled to be released until November 2014 with Brad Pitt and Shia LaBeouf in a WWII flick this should do very well, as should the Carrie remake. Though production may not be planned yet (or at all) the fact that SPE owns the rights to Ghostbusters III, a Flash Gordon remake and a Captain Planet movie should alone add several billion to the valuation.
The television department is no slouch either. The Goldbergs and The Michael J. Fox Show are off to great starts and I can see the stampedes now to get the special edition Blu-ray Breaking Bad box sets. I also feel compelled to mention one of the greatest shows on television, Franklin & Bash Starring "Zac Morris" & Breckin Meyer, the gratuitous product placement in this alone probably keeps SPT in the black. As Matt discusses SME has had some great growth recently, and while he puts Justin Timberlake and Beyonce at the top of the list of the world wide phenomena the music segment controls I can't believe he left off One Direction.
Bottom line I look at this drop from earnings as a gift and with support at 14.88 the risk:reward ratio for the ultimate target of 52.99 is 1:15. Will Kazuo Hirai succeed in is 3-year turnaround plan? It does not really matter to me but I am along for the ride now.
Disclosure: I am long SNE. I wrote this article myself, and it expresses my own opinions. I am not receiving compensation for it (other than from Seeking Alpha). I have no business relationship with any company whose stock is mentioned in this article.
Additional disclosure: I primarily base my trading decisions on chart patterns and technical analysis. Patterns can change quickly, and I am constantly looking for new support levels to lock in gains and minimize potential losses.