I find investing in pharmaceutical companies to be quite appealing for two very distinct reasons. The primary reason revolves around their very generous dividend payments. The vast majority of the companies in the industry pay a dividend that is substantially higher than average. The recession resistant nature of the business offers an investor a relatively predictable earnings stream which will allow one to compound gains. The second reason revolves around the high margins involved with research based drug manufacturers. The high margins associated with patented medications make the industry one of the most lucrative n the world. The patent position allows for monopolistic pricing power which is very lucrative. The only drawback is the patent has a finite time span that once lapsed will cause sudden erosion in pricing power due to generic competition. This phenomenon is termed "the patent cliff" which can have a negative impact on the company's share price. The setback in the company's near term prospects allows for a patient long term investor to initiate a position at an attractive price. The investor will receive an above average dividend while waiting for the next cycle of innovation that will replenish the company's coffers and boost the share price. I believe we are witnessing that exact scenario playing out with GlaxoSmithKline (NYSE:GSK) shares. The article below will detail the three main reasons behind my decision to initiate a position in GSK.
GSK is a multifaceted consumer health company based out of the United Kingdom. GSK combines a significant consumer over the counter division coupled with a prescription drug and vaccine divisions. The consumer division contains some well known brands such as Aqua fresh toothpaste, Polident, Abreva, Nicoderm CQ nicotine patches and Tums antacids. The consumer division with its well known brands and recession resistant nature allow for a steady annuity like revenue stream. The margins aren't as high as those associated with branded medications.
The primary reason for my position in GSK revolves around the depth of their new drug pipeline. The research pipeline is the life blood of all the major pharmaceutical companies. As they combat their patent cliff issues it is imperative for them to have a steady flow of new products to make up for the revenue lost. As we can see from the following link, GSK has over 15 unique products that are currently in phase III testing as reported by the company in March of 2013. While it is impossible to predict the exact number of the candidates that will be finally approved, I find comfort in the sheer volume of candidates.
The following quote by Sir Andrew Witty CEO of GSK on the most recent conference call sums up the progress made by the GSK's research team this year. "Before closing I would like to highlight the great performance from the R&D team. 2013 was always going to be an important year for our R&D organization and I am delighted with the progress to date with four of the six key assets highlighted at the start of the year already approved. Given how difficult drug development remains, this level of achievement in the last nine months is remarkable and unprecedented for GSK and I want to pay thanks to everyone who has worked hard to make this possible.
The four approvals consist of Breo for COPD, Tafinlar and Mekinist both for metastatic melanoma and Tivicay for HIV. In addition we have received approval for our quadrivalent influenza vaccines in the U.S. and significant new indications for three other products. Taken together these approvals represent substantial new growth opportunities in key areas of oncology, HIV, and respiratory disease." Transcript courtesy of Seeking Alpha.
The new approvals received by GSK will go a long way to shoring up their revenue base. The products will start off slow as it takes time for GSK to market and educate the physicians to the benefits their particular drugs offer. I anticipate over the next two years the products will allow GSK to achieve revenue growth which will allow for a higher share price.
| | | | | | |
| --- | --- | --- | --- | --- | --- |
| Year | 2008 | 2009 | 2010 | 2011 | 2012 |
| Revenue in millions | 45,051 | 44,254 | 47,800 | 44,093 | 42,025 |
| Dividend per share | 2.17 | 1.92 | 1.71 | 2.17 | 2.27 |
| Shares outstanding | 2672 | 2595 | 2631 | 2524 | 2583 |
The secondary reason for my purchase of GSK revolves around their revenue base. As we can see from the table above revenue has declined by roughly 3 billion dollars since 2008. The primary reason behind the shortfall revolves around the loss of patent protection on some of GSK's proprietary medications. I believe revenues have finally stabilized and based on some of the above mentioned approvals will begin to rise. GSK largest branded medication franchise is their respiratory division which contains the products Advair, Ventolin and Flovent. Advair is GSK largest contributor and is slated to come off patent shortly. Fortunately, for GSK and its shareholders the US Food and Drug administration has yet to issue guidelines for the introduction of generic inhalers. GSK's management mentioned on its most recent conference call they don't expect any generic competition until 2016 at the earliest. This should provide ample time for Breo to make up for the lost sales expected in Advair.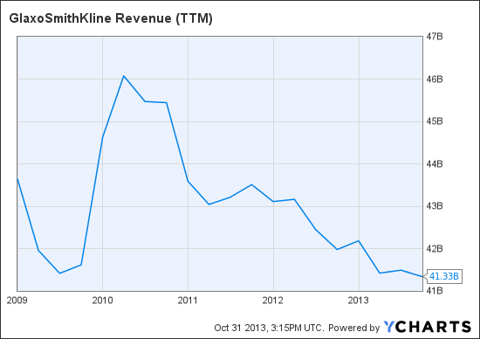 TTM) Chart" height="388" width="471">
GSK Revenue (TTM) data by YCharts
The final reason for my investment in GSK revolves around its dividend and buyback strategy. GSK recently announced an 11% jump in the quarterly dividend rate to 0.6161 cents per ADR. At a recent quote of $52.65 the dividend works out to a very attractive yield of 4.68%. The dividend payout ratio is well over 70% which some view as a red flag and a reason to avoid purchasing shares in GSK. The payout ratio is high however as revenues accelerate forward with the approval and marketing of new medications, I view it as a worthwhile risk. GSK also engages in open market purchases of it shares with the purpose of reducing its shares outstanding. As we can see from the table above, GSK has managed to shrink shares outstanding by over 3%. The share reduction will aid GSK in generating its quarterly performance and is an additional way in which it returns value to its shareholders.
In summary, I find GSK to offer a compelling investment opportunity. The dividend rate of 4.6% and rising gets me half way towards my goal of investing in conservative companies that I can compound my money by at least 10%. I believe that as the new products in the pipeline are approved and brought to market, GSK may enter into a growth phase making my 10% target conservative. I saw a similar situation develop last year with Bristol-Myers Squibb (NYSE:BMY) and detailed it here. GSK's rise may not be as rapid however the risk reward ratio in my view is compelling. Thank you for reading and I look forward to your comments.
Disclosure: I am long GSK, BMY. I wrote this article myself, and it expresses my own opinions. I am not receiving compensation for it (other than from Seeking Alpha). I have no business relationship with any company whose stock is mentioned in this article.
Additional disclosure: Thank you for reading the article. Investors are always reminded that before making any investment, you should do your own proper due diligence on any name directly or indirectly mentioned in this article. Investors should also consider seeking advice from a broker or financial adviser before making any investment decisions. Any material in this article should be considered general information, and not relied on as a formal investment recommendation.