Overview:
Light versus dark are at it again. This time in the tablet market as opposed to the smartphone arena. Apple (NASDAQ:AAPL) has recently introduced its new iPad Air. Samsung (OTC:SSNLF) is already selling its new 2014 Galaxy Note 10.1. In my recent article, The iPhone 5S's Graphics Are Insane, I point out a linear relationship as the latest iPhone has some serious advancements over its predecessor. This discussion will demonstrate how the popularity of these two rivals' latest tablets come down to one thing - the consumer's needs. Microsoft (NASDAQ:MSFT) has also recently unveiled their new Surface 2 into the marketplace.
iPad Air: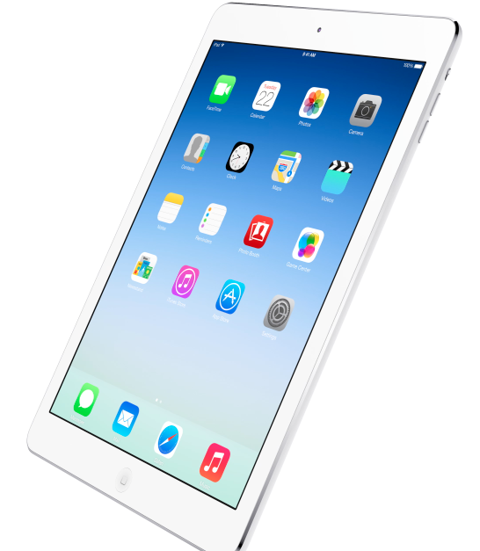 The iPad Air is Apple's continuation of its simplistic, yet highly popular, tablet. The iPad Air offers a killer tablet at a lower price than its competitors. The intensity of the graphics and performance of the new A7 chip can be viewed in my previous article (referenced above).
Key Features:
64 Bit architecture boasting the new A7 chip and M7 motion co-processor.
iOS 7.
28% lighter, 20% thinner and 24% less volume than the current 4th generation iPad. The iPad Air weighs one pound.
9.7 inch retina display boasting a 2048 x 1536 resolution with 3.1 million pixels.
10 hour battery life.
2x faster

Wifi with download speeds reaching 300 mbps. Also features the ability to connect to more LTE bands than before if the wireless device is chosen. This is even possible without signing a contract.

iPhoto, iMovie, GarageBand, Pages, Numbers and Keynote all come free.
475k apps on the App Store. Some are very cool such as "Stock Touch" (shown to the right).
HD FaceTime Camera, 5MP iSight Camera with 1080p HD video capability and a 1.2 MP front-facing camera.
The Apple ecosystem including apps such as iMessage, FaceTime, iCloud, AirDrop, AirPlay, AirPrint.
16GB Wifi starts at $499 and the 16GB

Wifi + cellular model starts at $629.
The 2014 Galaxy Note 10.1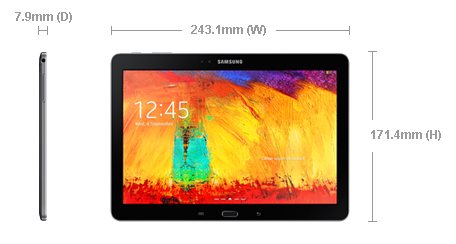 Samsung has unveiled its new 2014 version of the popular 10.1 Galaxy Note. Although there is no price available for the LTE model, the 16GB Wifi model starts at $549.99.
Key Features:
Big Core 1.9GHz Quad + Little core 1.3 GHz Quad GHz CPU Speed.
Android 4.3, Jelly Bean.
1.21 pounds.
USB port and Micro SD expandable memory available.
Up to 9 hours internet usage and 10 hours video playback.
2 MP front camera and 8MP rear camera.
10.1 inch display at 2560 x 1600.
S Pen - A stylus that lets you edit photos on Adobe (NASDAQ:ADBE) Photoshop Touch, draw fine details or bold lines and create notes, memos and postcards. The S Pen features extremely accurate pressure sensitivity.
Multi-Screen capability to use two applications at once.
50 GB free Dropbox space.
Cool new features such as Pop Up Play that lets you place a video screen anywhere on the device as you can view the rest of the screen to do other activities. Also Group Play lets the user conduct interactive meetings and edit slides in real time across multiple devices.
Surface 2: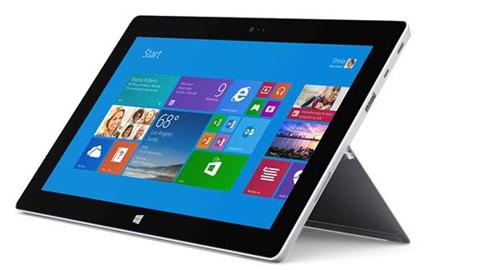 Microsoft should not be left out of the comparison of the tablets. Its new Surface 2 is undeniably powerful. I have chosen to use the Surface 2 in this comparison instead of the Surface Pro 2 since the former has a price range in line with the two other devices being compared. The Surface 2 starts at $449.99.
Key Features:
Windows RT 8.1 Operating system that comes with Microsoft Office 2013 RT.
NVIDIA (NASDAQ:NVDA) Tegra 4 (T40) 1.7 GHz Quad Core.
3.5 MP front facing camera and 8 MP rear camera.
10.6 inch screen at 1920 x 1080, with a total weight of just under 1.49 lbs.
Dual position kick stand.
Ten hour life of video playback.
Stereo speakers with Dolby sound.
One year of Skype free with unlimited calling to 60 countries and 200 million hotspots.
200GB of free storage on Sky Drive for two years. Free Word, Excel, Powerpoint and OneNote web apps in your browser.
Two to three times faster than the original surface, and 25%longer battery life.
Recent Sales Information
Apple sold 14.1 million iPads in the last quarter (up from 14 million one year ago in that quarter).
Microsoft reported sales from the Surface doubled from the prior quarter and climbed to $400 million in revenue. Microsoft's total revenue for the quarter was $18.5 billion so this is a fraction of the company's total revenue.
The new Galaxy note has recently gone on sale so there is no solid information on this tablet's current sales.
The Overall Tablet Market Share:
A recent IDC report released on October 30, 2013 demonstrates that the competition in the tablet market is as intense as ever.
(Source)
Report Highlights:
Apple is down to 29.6% from 40.2% (26.4% decrease in market share quarter over quarter).
Samsung is up 12.4% to 20.4% (123% increase year over year).
Microsoft is not even on the board. Forecasters predict it will achieve 1% market share in 2014. The company also took a $900 million dollar write down on the Surface RT tablet and accessories a few months ago.
Analysis and Conclusion:
The battle for the tablet market is extensively competitive. If I were to choose a device it would undeniably be the iPad air. As demonstrated in my previous article Apple's A7 chip with the M7 motion co-processor are truly revolutionary and will definitely satisfy. The ecosystem that Apple sports cannot be denounced with the offering of the company's proprietary apps such as iMessage, FaceTime and iCloud. In comparison, BlackBerry (BBRY) is pushing their BBM application on mobile phones and Microsoft is including Microsoft Office on their tablets (both selling points for each company's respective proprietary technologies). Apple is doing the same thing with their iPads. The inclusion of the company's unmatched proprietary technologies are major selling points for the company's devices. In my opinion Apple wins in the area of proprietary technology that is included and we have to wait and see how the processing and graphics power of the two tablets fare after they are examined by the technology analysts. I would bet the A7 chip is the fastest in the marketplace right now. The Galaxy Note can sport the 1.9GHZ quad-core Cortex A15 chip of the Qualcomm (NASDAQ:QCOM) Snapdragon 800 chip. We are going to have to wait for the benchmark tests to roll out comparing the two devices including each version of the Galaxy Note with each processor.
On a strictly technical basis, The 2014 Galaxy Note has a better display at 2560 x 1600 versus the iPad Air's 2048 x 1536 display. Also the iPad Air Wifi is 15% lighter at 469 grams vs. 540 grams. The Note has a stylus, expandable memory, more RAM (3gb vs. 1gb) and a better camera (2MP vs. 1.2MP and 8MP rear vs. 5MP). The Galaxy Note has the compatible smartwatch yet the Note is more expensive than the iPad Air.
The reason I did not actively analyze the Surface 2 over the iPad Air or the new Note is due to the fact that the specifications seem to fall at or below the two devices. Microsoft's marketshare is also very small although growing as detailed above. Keep in mind that the Surface Pro 2 at $899 is an extremely powerful device sporting 8GB of Ram, a 512GB hard drive and an Intel i5 processor with a TPM Chip for enterprise security.
The technical advancements the Galaxy Note sports over the iPad air do not ring any new bells. The Surface Pro originally had arguably more features than the iPad 4 at the time although sales usually comes down to one thing - user experience and not technical specifications. Although on a marketshare basis, Samsung is catching up - a fact that may lead the next round of tablet sales numbers to be extremely interesting to see how the below factors pan out:
How well the new Note is selling against the iPad air (and the upcoming iPad Mini with Retina display) with each company's device sales figures and quarterly market share numbers. Also how well Microsoft's new Surface devices fare in the marketplace.
The benchmark test comparing user experiences for each device and the processing/graphics power (especially the A7 chip against the Snapdragon 800 chip in some Galaxy Notes).
There is a large expanse of Android devices out there as well in the marketplace. This article is meant to focus on the three larger companies in this marketplace.
Disclosure: I have no positions in any stocks mentioned, and no plans to initiate any positions within the next 72 hours. I wrote this article myself, and it expresses my own opinions. I am not receiving compensation for it (other than from Seeking Alpha). I have no business relationship with any company whose stock is mentioned in this article. This article is informational. always do your own research and contact a financial professional before executing any trades.