Barrick Gold (NYSE:ABX) reported something during its Q3FY13 earnings report that surprised investors - it would halt development of its Pascua-Lama mine in South America indefinitely. This is what Barrick stated in its earnings announcement:
"We have determined that the prudent course - at this stage - is to suspend the project, but naturally we will maintain our option to resume construction and finish the project when improvements to its current challenges have been attained," Mr. Sokalsky said. "As a result of our previous decision to slow down and re-sequence construction, which resulted in significant demobilization over the last few months, we are in a much better position to implement this temporary suspension quickly and efficiently, with many ramp-down activities already underway. Our previously lowered capital cost guidance for 2014 is now expected to be further reduced by up to $1.0 billion while we continue to address all our environmental and social obligations."
This was not taken well by ABX shareholders as the stock was sold even though earnings were solid and costs were below original guidance. But what we want to draw investors' attention to isn't the affect of this on Barrick, but rather the affect of this on the future production of gold and silver - which is important to investors that invest in physical gold, silver, and the precious metal ETFs (GLD, SLV, PHYS, and PSLV).
The Pascua-Lama Mine: A Monster of a Mine
For investors who are not familiar with this particular project, the Pascua-Lama project is located on the border of Chile and Argentina and is expected to be one of the largest precious metals mines in the world.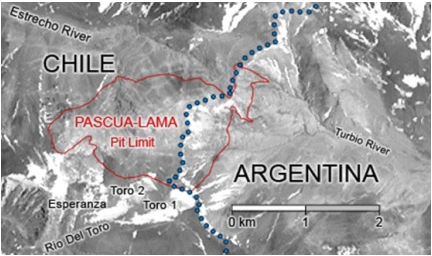 It has an estimated 17.9 million ounces of gold reserves and 676 million ounces of silver reserves. The mine was expected to start production in the second half of 2014 and was expected to average gold production during the first five years of operation of 800,000 to 850,000 ounces and silver production of around 35 million ounces per year.
To put that into perspective for investors, the expected gold production is around 25 tonnes of gold per year, or about 1% of total annual mine supply, or almost double the 13 tonnes of national gold holdings of Cyprus, the sale of which gave gold investors such worries earlier this year.
The silver production is even greater in terms of world silver supply. The 35 million ounces of silver this mine was expected to produce is around 5% of total annual mined silver supply, or put it another way, one out of every twenty ounces of silver mined worldwide was supposed to come from this mine - a huge portion of annual production. It is no wonder that Silver Wheaton (SLW) shares got hammered on the news, because SLW was supposed to buy 25% of all the silver produced from the mine during its lifetime.
What this Means for Gold and Silver Investors
This mine was predicted to be a large contributor to future gold and silver production, and the fact that ABX has now suspended it has essentially off-lined a large portion of this production. We have already covered how silver production costs have continued to rise, and though we haven't completed our second quarter all-in cost analysis on gold producers, we expect that gold production costs are also rising even as mine production is dropping. Events like this that have a marked effect on future precious metals production (especially silver), are very bullish for gold and silver investors since it means the world can expect less supply, at least at current prices.
The fact of the matter is that Barrick didn't only shutdown development of the mine because of political issues it was facing, but reading in between the lines, the company was having trouble containing spending and needed to save the $1 billion (at least) that they would have spent on development. This is evidenced by the fact that ABX has quite a debt load, and announced an extremely large issuance of $3 billion worth of shares after hours to pay off a portion of their large debt load - and ABX isn't alone in having debt and liquidity issues amongst major miners.
If the majors are having liquidity and profitability problems at current precious metals prices, and are mothballing projects like Pascua Lama, then what does that say about future production of gold and silver? It means that we will have a significant drop in future production.
These are all warning signs that there will be a significant drop in future gold and silver production if prices languish at current levels - they don't even need to fall further. The vicious cuts to exploration expenses, the liquidity starved explorers and junior miners, and the mothballing of almost completed projects are all pointing towards a big drop in gold and silver supply.
It may take some time, but we believe that investors should continue to accumulate gold, silver, and the precious metal ETFs (GLD, SLV, PHYS, and PSLV) because it is obvious to anyone following the industry that most miners cannot survive in the current silver and gold price environment - they need higher prices. Pascua Lama is just another nail in the coffin of those who believe we will see sub-$1000 gold again - the economics of it just don't work.
Disclosure: I am long SGOL, SIVR. I wrote this article myself, and it expresses my own opinions. I am not receiving compensation for it (other than from Seeking Alpha). I have no business relationship with any company whose stock is mentioned in this article.