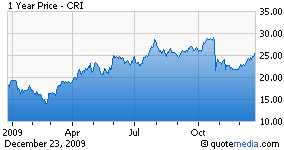 Carter's (NYSE:
CRI
) is the largest designer, marketer, and retailer in the United States of apparel exclusively for babies and young children, with multiple dominant brand names, including Carter's, OshKosh, Child of Mine and Just One Year. Its products target kids from the ages of birth to seven years old.
With the recessionary economic environment and weak consumer demand, baby apparel businesses continue to prosper. Parents may cut back on their own clothing, but not their baby's. Carter's stock price has more than doubled since its early bottom in July 2008.
However, recently, Carter's stock price plunged as much as 30% as it delayed filing of its Q3 quarterly report on October 27, 2009 to review its past accounting for vendor allowance.
Wednesday, Carter's announced that it has completed its review of the accounting irregularity, and plans to restate its financial statement 2004-2009. The sec filing Wednesday shows Carter's had slightly overstated revenue and earnings 2004-2007, and understated revenue and earning for 2008 and 2009. The restatement has a cumulative impact of 7.5M on retained earnings, which has almost minimal financial impact. As a result of the review, President Joe Pacifico has left the company.
As the dust of accounting issues is about to settle, I believe several long-term themes of Carter's remain intact.
Strong brand names
The strength of Carter's brands among its target customers is just amazing. CRI has dominant brands that command a 14.1% market share, with the Carter's brand leading the category at 10.9% market share, and OshKosh at 3.2% market share. Every mom knows about the Carter's, Just One Year and OshKosh brands. And new moms will soon recognize the brand as they very likely receive Carter's new baby gifts from their mom friends, often before the baby is born. Strictly speaking, Carter's is not in the fashion business, but the consumer staples business, because of the staying power of its brand names. 10 years later, popular fashion names like Abercrobie & Fitch (NYSE:
ANF
), Aeropostale (NYSE:
ARO
) and Express may not be around, but babies may still wear Carter's and OshKosh.
Margin improvement potential
Since its acquisition by Carter's in 2005, the OshKosh brand had experienced sales declines, resulting in significant losses. Management's effort to revive the brand has resulted in sales and margin improvement since 2008, and should push the overall margin higher.
Retail growth potential
Carter's currently operates 271 Carter's and 168 OshKosh retail stores nationwide. The total number is small compared to its competitors, like Gymboree (NASDAQ:
GYMB
), Children's Place (NASDAQ:
PLCE
) and the Gap (NYSE:
GPS
). Management's plan to continue growth in retail stores is another major driver of sales growth.
Demographics Trends
According to statistics from the National Center for Health, the US birth rate has increased for the last five straight years since 2003. The demographics trends continue to work in Carter's favor.
Overall, Carter's has a solid business that generates a respectable ROE of about 20%. With the accounting issues behind it, Carter's stock is still trading at an attractive $26, or just 12x forward P/E. Historically, it has been trading at around 15x forward P/E. I believe the solid fundamentals should gradually drive the stock price back to the level of historical valuation.

Disclosure: No position in any stocks mentioned