"I am more and more impressed with the possibilities of history's repeating itself on many different counts," Benjamin Graham
Given market enthusiasm following the temporarily resolution of discord in Washington, it's probably not a stretch to guess a return of partisanship ahead of January's budget debate will provide investors with opportunities to buy good companies on sale. If so, those buying risk in November may find seasonal tailwinds support positions and reward them by the end of January.
Markets tend to reward through January.
Over the past ten years, the S&P 500 ETF (NYSEARCA:SPY) has gained 8 times from the beginning of November through the end of January. On average, the SPY has produced a median return of 5.24% during the period. In keeping with the January Effect, mid and small cap have performed even better gaining a median 7.2% and 7.27%, respectively.
Source: Seasonal Investor Database
And, while some will argue there's little value left in financials following the big run off the 2009 lows, financials have similarly performed well into the New Year. The XLF has gained 8 times over the past decade, producing a median 4.96% return.
Given the median return of the XLF trails the S&P 500 for the period -- influenced in part by 2008 -- you may find it more helpful to consider industries within the sector instead. One of the better performing financials industries over the coming three months is banking.
Since inception in 2007, S&P banking ETF (NYSEARCA:KBE) has gained 5 times, producing a median 7.67%. That return is nicely above the 4.9% median return for the SPY for the same period.
3 Banks offer robust seasonality through January
Looking at the broader banking universe at my firm, E.B. Capital Markets, LLC, three big cap banks offer impressive seasonality through January. All three have buy signal scores in the scoring system used by my firm. That system blends together key data across seven characteristics, such as earnings consistency and growth, and valuation. And, importantly all three have positive catalysts tied to loan volume growth supporting future earnings.
1. U. S. Bancorp (NYSE:USB)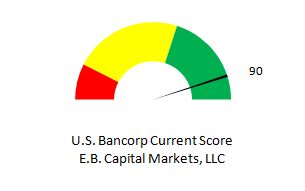 Source: Seasonal Investor Database
Banks like U.S. Bancorp have seen net interest margins, or NIMs, drop as interest rates have continued to squeeze spreads. But, falling NIMs are not uncommon at this stage of economic recovery. As you can see from the following chart, spreads typically compress after spiking exiting recession.
Instead, you should focus on loan growth as easing standards provide earnings leverage. For example, commercial and industrial loans have grown dramatically from the recessionary low. The total of C&I loans held at banks reached $1,576.5 billion in September, up from $1,541.5 in May and $1,456.5 the year before. That increase in activity helped support 5.7% growth in average total loans at U.S. Bancorp from last year. Importantly, loans were up 2% sequentially. One U.S. Bancorp's fastest growing markets was commercial real estate, where commitments rose nearly 10% year-over-year. But, it's not just commercial loans that are seeing demand growth for the bank. $2.8 billion of credit lines for new credit cards were approved as banks gain confidence in lending to consumers again. As a result of ongoing cheap funding provided by shifting deposits from CD's to savings accounts, coupled against rising loan balances, U.S. Bancorp continues to offer solid ratios versus peers, including an ROA of 1.65% and an ROE of 15.8%. Granted, on the surface the company's 1.96 price to book value doesn't appear cheap versus some competitors. But, comparing the measure to historical levels suggests investors are far from the euphoric valuations preceding the recession. And, remember book value isn't stagnant. It's grown to $35 billion from less than $20 billion in 2009.
USB Price to Book Value data by YCharts
Additional reading: US Bancorp Q3 Earnings Transcript
2. PNC Financial Services (NYSE:PNC)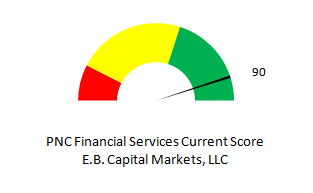 Source: Seasonal Investor Database
A similar dynamic is playing out at regional bank PNC Financial Services. The bank saw its loan portfolio expand 2% quarter-over- quarter in Q3. The $3.1 billion of additional loans made last quarter brought PNC Financial's year-over-year loan growth to 6%. The growth was led by commercial, which climbed 9% year-over-year. But, consumer also picked up, growing by 2% from last year. And, there appears more room to expand that portfolio further given PNC Financial's loans to deposit ratio is 89%. As for other ratios, return on equity improved from 10.15% last year to 10.5% this year and return on assets improved from 1.23% to 1.36%. Investors are currently paying 0.96 times book value for PNC Financial shares, which again is well below peak pre-recession levels. And, book value has climbed to $41 billion from roughly $15 billion in 2009.
PNC Price to Book Value data by YCharts
Additional reading: PNC Financial Services Q3 Earnings Transcript
3. Keycorp (NYSE:KEY)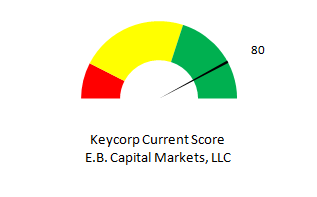 Source: Seasonal Investor Database
Over at Keycorp, loans grew 5.1% from a year ago as commercial, financial and agricultural loans grew 11.1%. Like U. S. Bancorp and PNC, consumer loans are also starting to benefit from growing demand and an increasing willingness to lend. Keycorp finished the quarter with 1.8% more consumer loans in its portfolio than it had a year ago. The banks return on equity and return on assets both improved from last year. Return on equity climbed from 8.45% to 9.13% and return on assets improved from 1.06% to 1.12%. The price to book has climbed to 1.15 from less than .50 at the recessionary low. However, investors were paying closer to 2 times book value in the middle of last decade for Keycorp shares. Since the recession, Keycorp's book value has grown from less than $7 billion to nearly $10 billion.
KEY Price to Book Value data by YCharts
Additional reading: Keycorp Q3 Earnings Transcript
Conclusion
Banks are shifting from rationalizing loan portfolios to expanding earnings leverage and that suggests additional opportunity for book value growth and higher price to book values. Historically, investors have been willing to embrace banks exiting fall, suggesting that you take advantage of opportunities this month to get U.S. Bancorp, PNC, and Keycorp into portfolios.
Disclosure: I have no positions in any stocks mentioned, but may initiate a long position in KEY, USB, PNC over the next 72 hours. I wrote this article myself, and it expresses my own opinions. I am not receiving compensation for it (other than from Seeking Alpha). I have no business relationship with any company whose stock is mentioned in this article.