[Editor's note, November 15, 2013: This article has been revised since original publication, as the author updated the 'Valuation' segment]
Introduction to Molycorp
Molycorp (MCP) is the largest rare earth producer in the world outside of China. The company's crown jewel is the Mountain Pass mine in California. In 2008, the mine was purchased by a group of investors led by Ross Bhappu and Resource Capital Funds. Vertical integration was the strategy of Molycorp from the beginning. The company went on a buying spree of downstream rare earth processing companies, such as AS Silmet in Estonia, Santoku Corp. in Arizona and most importantly Neo Materials Technologies with facilities around the world, including China.
Aerial view of Mountain Pass, photo courtesy of siteselection.com
Vertical integration is key in the rare earth industry. Processing these materials into purities that are required for end use is an extremely intensive process and requires specific knowledge. Molycorp's business plan is simple. Feed low cost oxides from the Mountain Pass mine into their global supply chain to produce value added, highly engineered materials that are customized for end users.
The most important acquisition Molycorp made was that of Neo Materials Technologies, formerly listed on the TSX. Neo Materials is a leader in the production of neodymium-iron-boron magnetic materials, highly engineered rare earth and zirconium compounds, and rare metals such as gallium, rhenium and indium. A subsidiary of Neo Materials known as, Magnequench, has a commanding 85% market share in the magnetic powders markets, the uses for which I will discuss later. This acquisition gives Molycorp direct sales outlets into China and provides established customer relationships.
The Mountain Pass facility is on the verge of completion and the final stages are currently being commissioned. I would like to stress the point that while many companies grow into market leaders, being the best was Molycorp's vision from the start. The company was assembled to fulfill a gap in the market and Molycorp is in the process of accelerating from zero to sixty.
Refer to Molycorp's 2012 Annual Report for more information.
Introduction to Rare Earths
Rare earths are a set of 15 elements known as lanthanides found at the bottom of the periodic table. Scandium and yttrium commonly occur in rare earth formations but are not technically rare earths. Although rare earths are actually not rare, it is difficult to find concentrated deposits that can be economically mined.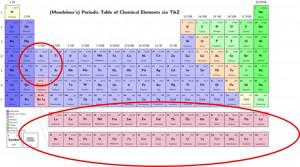 Photo courtesy of decodedscience.com
Rare earths occur in groups, so the mining of one inevitably leads to mining of others. Each rare earth has different supply and demand fundamentals, so the idea of a basket price has little practical use, although the industry as a whole tends to move together.
The rare earths I am going to focus on are neodymium, lanthanum, and cerium because these are the elements that mostly comprise the Mountain Pass deposit.
Neodymium has the best supply and demand fundamentals of the three. Neodymium makes up about 15% of the Mountain Pass production. The principal use of neodymium is in the production of high strength magnets known as neodymium-iron-boron or NdFeB magnets. These magnets power electric motors and provide a large advantage in efficiency over traditional magnets. Most people are not aware of the role magnets and electric motors play in their everyday lives. I will go over a few.
Hard drives and circuitry: This includes mobile phones, laptops, tablets, disc players, and video game consoles.
Appliances: washing machines, dryers, ceiling fans, refrigerators, etc
Cars: Hybrid vehicle engines, seat motors, fans, belts, speakers, the 2014 Mercedes S class has over 100 electric motors in it.
Wind Turbines: A single wind turbine can use up to 900kg of neodymium. To put this in perspective, Molycorp will be producing about 3.2 million kilograms of neodymium at phase one levels.
Shannon Song, VP of Magnequench Tianjin Co. holds a vial of NdFeB powder. Photo courtesy of Doug Kanter/Bloomberg
The next rare earth in focus is lanthanum. Lanthanum is less rare than neodymium and makes up about 30% of the Mountain pass deposit. The principal use of lanthanum is as a catalyst in the petroleum refining process, known as fluid catalytic cracking, or FCC. This market has been very robust and will continue to perform well driven by increasing demand for petroleum and further refining of heavy oil and sands from North America.
Lanthanum is also used in the production of catalytic converters. Catalytic converters help control and minimize emissions from automobiles. Emission standards are becoming increasingly stringent. Lanthanum also helps reduce the amount of platinum group metals needed in this application.
Nickel-metal-hydride batteries are also significant users of lanthanum. Although there is little debate the future of batteries is lithium-ion, NiMH batteries are still used extensively. This will most likely continue until enough lithium projects come into production and the price declines. Toyota plans to build a 200,000 unit per year lithium-ion battery manufacturing plant. Although this sounds significant, the plant will take time to be built and Toyota sells over 1.2 million hybrid vehicles each year.
Lastly, there is cerium. Cerium is the most abundant rare earth making up about 50% of the Mountain Pass production. The principal use of cerium has been glass polishing, which suffered demand destruction in 2011 when prices jumped to unsustainable levels. This demand is expected to return, but in any case cerium will most likely be in an oversupply situation. Cerium is also added in small amounts to rare earth compounds, so Molycorp has internal demand for some of its cerium molecules, in addition to its newly developed product line known as Sorbx.
Molycorp has developed a proprietary water purification and treatment technology by the name of Sorbx. The company has entered into a distribution contract with Univar, an industry leader in this segment. Molycorp has recently converted its first customer, a plant for a private food processing company, and are in negotiations to convert other plants for this same customer. The market for Sorbx is huge and demand for phosphate removal and waste water treatment is significant. Many water treatment plants in the United States are over their "allowed" phosphate discharge limits. There are other applications as well, such as determent of algae growth in the pool and spa markets and drinking water purification.
Molycorp anticipates being able to use all of its cerium production internally, mainly for Sorbx. This is very important because it avoids excess cerium production and transfers sales from an oversupplied commodity type market, to a niche market, with patented and proprietary technology.
Industry Dynamics
In 2010/2011 rare earth prices experienced a huge run up to unsustainable levels. When China began restricting exports Western and Japanese companies panicked and purchased huge stocks of material. It was a similar situation to when people believe a catastrophic event will occur and buy massive amounts of canned goods. Prices at the time surged due to the huge increase in demand at once. After the panic subsided the industry suffered a "hangover" while these companies subsisted off their stockpiles.
Prices fell throughout 2012 and most for 2013 but have recently leveled off. The stockpiles have been run down but companies have been buying hand to mouth as prices kept falling because no one wants to restock something when it could be restocked at a lower price at a later date. As Molycorp says, "the anticipation of falling prices creates very conservative purchasing patterns for our customers." Now I believe we are currently sitting in a situation where customer stockpiles are low and prices are no longer falling. High inventories and falling prices were the two detriments plaguing the industry the past couple of years, and neither are the case any longer.
"I guess there are still a few folks out there that feel that there might be room for prices to continue to slide. Of course when prices stops sliding and they start going the other way they want to get the benefit of the even lower prices. So, it's a constant struggle. Some of our contracts have floors and ceilings, which allow for prices to come down within certain percentage of the Asian metal or the Metal Pages Index. So, I think the relative volatility in the prices is a fact of life for those contracts, they are long-term."
Quote from Molycorp CEO, Constantine Karayannopoulos, Q4 2012 Earnings Call, Source: Seekingalpha.com
What the industry needs at this point is a catalyst, something to shift expectations to rising prices. This would mainly come from large buyers or traders taking the initiative and leading the herd. All prices need at this point is the slightest uptick and the trend would reinforce as buyers jumped back in and expectations of rising prices created demand now to take advantage of the low but rising prices. The Chinese State Reserve Bureau has announced a plan to purchase over 1 billion dollars worth of rare earths (an approximately 8 billion dollar annual industry, so it is a massive purchase). I believe this is exactly what the industry needs. Keep in mind the rare earth industry is a micro market, roughly one tenth the size of the copper industry so it is much more volatile and susceptible to shocks.
Molycorp's stock price could also influence the fundamentals of the industry. It is the flagship company of the industry and serves as an indicator of industry health. Molycorp has recently completed mechanical construction and is commissioning the final stages of the Mountain Pass facility. The new chlor-alkali system allows the company to recycle its waste water and chemical reagents, which dramatically lowers costs. The ramp up in production along with a decrease in costs will result in appreciation of the company's stock price regardless of the macro dynamics of the industry. This could lead to a shift in expectations that the industry is recovering, that Molycorp will succeed and prices won't fall further. This could cause or help cause the initial rise in prices (that becomes self-reinforcing) as I mentioned previously.
Playing devil's advocate, "Why won't prices fall further, since Molycorp is increasing the world supply?"
China is restructuring the industry and I believe their efforts will offset the additional supply being brought to the market. The end goal of the Chinese government is to have a few large corporations control the entire rare earth supply in China. Previously, illegal mining and smuggling was rampant but this is coming to an end. The Chinese government has multiple motivations for restructuring the industry and restricting exports. The first of these is to protect the environment. Rare earth mining is not the most environmentally friendly process to say the least but regulation can help. As, for restricting exports, China has no intention of continuing to supply the world's neodymium, dysprosium, terbium, yttrium needs while it is highly questionable the country will even have enough supply to meets its own domestic needs. This also comes back to environmental concerns, the less mining the better, from China's viewpoint.
Lastly and possibly most importantly, China wants to promote its own rare earth processing industry and downstream manufacturing facilities. Supply and demand often end up in the same place for obvious reasons. Where the demand is, that is where the supply has to go. However, when there is a shortage of supply or concerns about availability, the reverse is also true. Where the supply is, that is where the demand has to go. This causes manufacturers of the products that consume rare earths to move to or keep their plants in China. The effect of this is creating jobs in manufacturing and midstream/downstream rare earth processing industries.
As I mentioned previously, demand has been dour due to stockpiling in previous years and falling prices. This has been the cause of the decline in prices, not additional supply. When demand returns, the new supply will prevent another run up in prices to the extent we saw in 2011. Or looking at it differently, if it wasn't for new, reliable supply coming online, demand may not return at all.
Economic Backdrop
I will pass on the long explanation of how I believe economies function and what the main forces that drive them are. If you are interested stay tuned because I may write an article on the subject later. As for now I will skip to the point.
The Japanese economy and the United States' economy both have a very positive and similar outlook. Besides China, these two countries are the largest users of rare earths. Reflationary policies by central banks in each country have contributed to improving economic fundamentals. Stocks are at all time highs in the USA and are well on their way in Japan. I expect the recovery in these economies to pick up steam over the next few years. An inflationary horizon bodes very well for commodities, especially those with favorable supply and demand fundamentals. There is plenty of upside, unlike stocks, which largely have had their run.
China is continuing to drive the global economy. I acknowledge their economy is slowing but 7% annual GDP growth is far from depressing. I maintain my view that I want to be long whatever China is short of, and neodymium is a perfect example.
The auto industry has been a bright spot in the global economy and as I discussed previously, this is very positive for rare earths. Tablet and smartphone sales are also booming.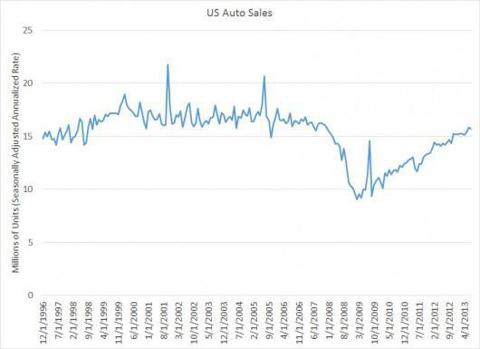 Source: Bloomberg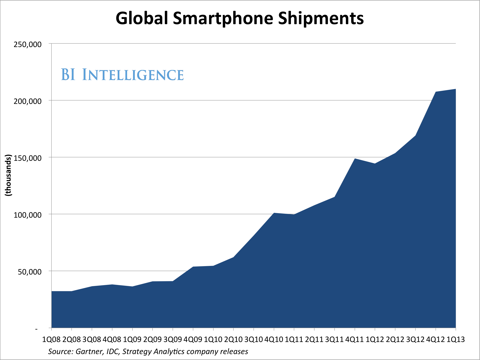 Source: Business Insider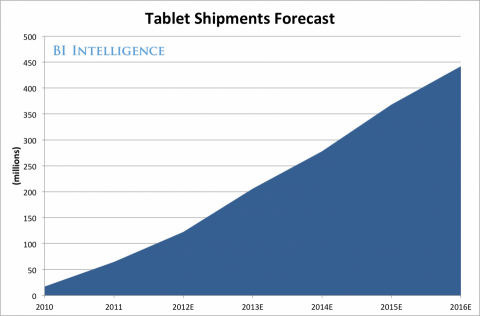 Source: Business Insider
Next I will display some stock prices of companies who are either direct customers of Molycorp, or large users of rare earths. This gives some insight into the health of industries that demand and consume large amounts of rare earths.
W.R. Grace & Co.
NYSE: GRA - Oct 29 4:02 PM ET
91.71+0.03 (0.03%)
Lowe's Companies, Inc.
NYSE: LOW - Oct 29 7:31 PM ET
50.61+0.50 (1.00%)
After Hours: 50.610.00 (0.00%)
Whirlpool Corporation
NYSE: WHR - Oct 29 4:05 PM ET
148.93+2.94 (2.01%)
Apple Inc.
NASDAQ: AAPL - Oct 29 7:59 PM ET
516.68-13.20 (-2.49%)
After Hours: 516.65-0.03 (-0.01%)
Motorola Solutions Inc
NYSE: MSI - Oct 29 4:01 PM ET
62.73+0.29 (0.46%)
Ford Motor Company
NYSE: F - Oct 29 7:56 PM ET
17.61+0.04 (0.23%)
After Hours: 17.60-0.01 (-0.06%)
General Motors Company
NYSE: GM - Oct 29 7:58 PM ET
36.06+0.26 (0.73%)
After Hours: 36.25+0.19 (0.53%)
Toyota Motor Corporation (ADR)
NYSE: TM - Oct 29 4:02 PM ET
128.95+0.58 (0.45%)
Western Digital Corp.
NASDAQ: WDC - Oct 29 5:58 PM ET
72.74+0.31 (0.43%)
After Hours: 72.36-0.38 (-0.52%)
Seagate Technology PLC
NASDAQ: STX - Oct 29 4:00 PM ET
48.25-1.60 (-3.21%)
Nidec Corporation (ADR)
NYSE: NJ - Oct 29 4:02 PM ET
23.460.00 (0.00%)
Source for stock chart images: Google
Insider Activity
The insiders at Molycorp have displayed some of the most bullish purchasing activity I have seen.
In January 2013, Molycorp's largest shareholder, a Chilean mining company, Molibdenos y Metales, made a $90 million investment nearly doubling its stake to 18% of the shares outstanding.
In 2012, chairman of Molycorp, Ross Bhappu, purchased 2.5 million shares at a price of $10 for a total of $25 million.
Former CEO, Mark Smith, made a $500,000 purchase in 2012
The latest purchase was made by newly appointed CEO, Geoffrey Bedford to the sum of $150,000 at $5 per share.
Bedford's purchase was from the latest capital raise. While the market reacted very negatively to this offering, a subtitle in the prospectus clearly states the following:
"We are offering 45,000,000 shares of common stock. Some of our employees, including Geoffrey R. Bedford, our current Executive Vice President and Chief Operating Officer and recently appointed President and Chief Executive Officer, and Molibdenos y Metales S.A., one of our significant stockholders, are purchasing 14,034,000 shares of our common stock in the aggregate in this offering."
-SEC Filings, 424B5, Molycorp Inc., 10/16/2013
Possibly, had the stock not been so obscenely undervalued Molycorp could have only raised capital once back in January.
Numerous other significant insider acquisitions have been made along with zero dispositions.
MCP Insider Transactions - Yahoo Finance
Valuation
Molycorp has stated Molycorp Canada (formerly Neo Materials) has had a historical EBITDA of $150 million. I am estimating the third quarter of 2014. Therefore, I will divide $150 million by four and this amounts to $37.5 million. The third quarter is seasonally the strongest and I am very bullish on volumes from this portion of the business. I have decided to round this number up to $45 million for the quarter.

Molycorp Mountain Pass will be producing and selling approximately 6,000 tons of lanthanum and 3,000 tons of neodymium annually. I estimate lanthanum prices to be around $15 to $20 per kilogram and neodymium to be $85 per kilogram. The revenue from these two elements amounts to $350 million annually. I estimate COP per kg of $8 for material coming out of Mountain Pass. Running at 20,000 tons per year this totals to $160 million. I will add $75 million for other expenses. By subtracting revenue from expenses I predict annual EBITDA for Mountain Pass of $115 million. I will divide this number by four to calculate an approximate quarterly EBITDA of $30 million.
Molycorp Mountain Pass and Molycorp Canada Combined Q3 2014 EBITDA: $75 million.
Note: Molycorp's earnings are highly accounting dependent. There have been multiple inventory write downs, tax credits and valuation allowances. I have found it nearly impossible to accurately quantify the effect of this on future earnings.
I believe the significant short interest in this stock, along with plans for capacity expansion will allow MCP to trade at a very high multiple.
Molycorp Price Target: $37
Disclosure: I am long MCP. I wrote this article myself, and it expresses my own opinions. I am not receiving compensation for it (other than from Seeking Alpha). I have no business relationship with any company whose stock is mentioned in this article.
Additional disclosure: I own LEAP call options on Molycorp's stock.