I've been writing about my researches into building various areas of my income portfolio recently. Some readers have asked for a more comprehensive picture of my approach. I've decided to lay out some of my thinking for your consideration.
Regular readers who frequent the Seeking Alpha dividend-income group will, I think, find my approach differs from the approaches they're used to seeing here. So, let me open with a comment to those looking for more of the SA-routine DGI approach: You won't find very much of that here. Certainly less than usual in these parts. There's nary a Coca-Cola (NYSE:KO) to be found. Wal-Mart (NYSE:WMT) need not apply. Philip Morris (NYSE:PM)? Altria (NYSE:MO)? Not here. It's nice when I've gotten a hold of something that's raised dividends for decades, but it's not disqualifying to be a newcomer to the dividend-paying classes. Of course a few of the usual suspects put in an appearance; it would be bizarre if none did. So, Aflac (NYSE:AFL)? Johnson & Johnson (NYSE:JNJ)? ConocoPhillips (NYSE:COP)? Check, check, check and several others as well.
Let me start by making clear that I'm talking about a post-retirement, income portfolio. Every page off the calendar brings me another day closer to retirement. Of course, that's been true for a long time, but right now there are barely 60 pages left. So, I've been spending a lot of time recently tweaking my portfolio to focus it more for the primary investment objective of every retiree: Income.
It's my view that a retiree's portfolio is a very different thing than a pre-retirement portfolio. For me, that means shifting priorities toward income and capital preservation, and moving capital growth lower down the planning list. I mention this here because I see repeated articles and comments by much younger investors discussing their approaches to building their retirement portfolios. All too often, it seems to me, these look less like wealth-building (accumulation-stage, if you like) strategies and more like a retiree's current-income strategy. Mid-life investors who are building portfolios for their eventual retirements should, in my opinion, be emphasizing growing capital rather than generating current income to reinvest. I would say to them: There's time to shift from capital appreciation to stable income, be grateful for that time and use it wisely.
With that out of the way, I'll proceed.
I'll start by acknowledging the obvious: everyone's situation is unique. So, let me outline mine. I have been building my retirement assets throughout my working life. Most of that time I've been fortunate enough to be able to contribute to my tax-deferred accounts at or near the maximum allowed. If I were giving financial advice to younger folks, this would be the top of my list: Max out your 401k/403b/457/IRA opportunities to the extent you are able. Sure, you want/need the cash now, but if you don't see it, it's not there. Not always possible I'll concede, but keeping it as a goal will go a long way to assuring a comfortable late life.
Back to my situation: The love of my life retired a half-dozen years ago with a stable pension but no Social Security eligibility. I'll begin drawing Social Security starting Jan 2014 right after I turn 70 in December. Those keeping score will realize 2014 also marks the year I will have to make annual withdrawals from the IRA that I've rolled my workplace accounts into.
During the 80s and 90s the love of my life and I dabbled a bit in California real estate. Nothing major, but enough that after selling our last property in 2007 - at essentially the peak of that red-hot market - we had built a decent taxable portfolio as well. Decent enough that we've begun to see that as our income source and the residual (after required withdrawals) principal in our tax-deferred accounts as the next generations' money. Our expectation and hope is that we will not need it in our lifetimes. So, I'm treating those accounts like they belonged to my kids and grandkids. They're built for growth with a longer horizon. I'm not going to discuss this in any more detail here other than to say that I'm trying to implement an MPT-based approach and treat them like an endowment: An endowment that pays out income and continues to grow.
An aside here if I may: There was some discussion a few days ago about endowment-style portfolios in a comment thread. It seems there are folks who fail to understand how an endowment works. An institutional endowment is a device for preserving, ideally growing, capital while providing income. Any institution, let's say Yale for example, that holds significant endowment funds, does not simply sit on that money and grow it. It uses that money for operating income. Otherwise, what's the point?
To me, the analogy is perfect. Remember, the rules of my game are such that I will make withdrawals based on my predicted lifespan. Then the beneficiaries inherit the accounts on a tax-deferred basis. They start withdrawals based on their life expectancies. My hope is that they're smart enough to continue the cycle. That's exactly what an endowment is. Managed correctly, it's eternal. We can learn a lot from how they are managed.
Enough time spent on that hobby horse, what I want to discuss here is the retirement income account. And, I remind you that the total emphasis here is on income. So, in the taxable account I have been gradually shifting it from a portfolio balanced by asset class for moderately aggressive growth to a moderately aggressive income producer. There are still residual holdings from the growth days in there, but I've made most of the transition over the last year or so. As the feds require me to move tax-deferred money out of the tax-deferred accounts, my plan is to gradually reduce the aggressiveness of the portfolio's income-production (thereby reducing yield, of course) while maintaining an income level that should grow at a moderate pace. In brief: As time goes on, reduce risk, reduce yield, but grow income from dividend growth and the influx of new capital, all the while maintaining a growing principal. That's the strategy for now. It will change in time, but that's in the future.
Before I get into details, let me say I fully realize that we are in a different financial position from many other retirees. But, I submit, the approaches I outline here apply broadly and there are aspects that others might want to consider.
With all that verbiage as background, here's the plan in outline.
Portfolio Objectives
Priorities
Income, growing at a rate that beats inflation at a minimum. The target is something close to 4.5%
As tax-advantaged as reasonably consistent with priority 1. I'm fine with paying my taxes, but I'm not eager to pay any more than I have to. Change the rules, and I'll adapt, but today I'm playing under today's rules.
Capital preservation. N.B. this is a third priority not because it's unimportant, but because I think we can handle some capital decay if necessary for priorities 1 and 2 to be fulfilled.
Capital appreciation consistent with priorities 1 and 2. The same applies as in note 3, but more so (Less so? I'm not sure. But you get it.)
One last point here is that an overarching objective is to work toward having reasonable asset class diversification. To me the primacy of this concept is obvious. I'm often surprised by how many authors at Seeking Alpha neglect or downplay this principle, some to the extent of conjuring rationalizations for ways that domestic equities can, by themselves, provide adequate asset class diversity. Perhaps some of this is a consequence of the strength of the equities markets over the past several years having made it convenient to overlook prime tenets? Memories are short.
Portfolio Categories
I'm going to consider the portfolio in 4 categories because that's what makes sense to me: Dividend Stocks, Equity Closed End Funds, Equity Exchange Traded Funds, and Fixed Income Investments (which includes ETFs, CEFs and Mutual Funds). There's overlap among these categories if one looks at it in terms of standard asset class allocations, but I see them as separate pools for creating income, each with its own requirements for attention.
The foundation is dividend stocks, some rock-solid blue chips, some small to mid caps and some speculative complements to round it out. Currently the portfolio contains 33 equity holdings.
There are 10 positions in equity closed end funds. Six of these offer tax advantages stemming from their option-income strategies that provide relatively high levels of return of capital. Readers who do not understand (or, perhaps, misunderstand) the tax advantages of non-destructive RoC might want to refer to the discussion in this piece on one of my CEF holdings here. I continue to believe this is an overlooked area for income investors.
There are 8 equity ETFs. Five of these are international funds, one of which is an international real estate fund, one is a US small cap equity fund and one is a large cap equity fund that is a bit of the odd-man-out here with its modest 0.5% distribution yield.
Finally there's fixed income. I have essentially moved out of conventional bond funds since last spring replacing them with more volatile, often leveraged, high-yielding CEFs. Three of these are municipal bond funds (see priority 2). Most of these were added over the past six months or so as discounts increased well out of proportion to what looked to me to be reasonable.
Portfolio yield using current data is 4.7%. Total return YTD is 13.6%. Beta is 0.81 although this figure does not include four positions for which I do not find a published beta, so it is likely a small (I assume) underestimate.
Here's a summary of the categories comprising the portfolio.
| | | | |
| --- | --- | --- | --- |
| Category | % of Portfolio Value | Category Yield (%) | Yield as % of Portfolio Yield |
| Dividend Stocks | 56.8% | 3.5% | 42.1% |
| Equity CEFs | 12.1% | 9.8% | 25.4% |
| Equity ETFs | 18.0% | 3.1% | 11.8% |
| Fixed Income | 13.1% | 7.4% | 20.6% |
If you're like me, you see things better graphically than in a table so, if the editors will forgive a bit of redundancy:
Individual Stocks
Category Metrics

Portfolio Metrics

Company (Ticker)

Asset Class

Div Yield

Item Value as % of Category

Item Yield as % of category

Item Value as % of Portfolio

Item Yield as % of Portfolio

Aflac

US Equity

2.3%

3.6%

2.4%

2.1%

0.048%

Baxter Intl (NYSE:BAX)

US Equity

3.0%

2.0%

1.7%

1.1%

0.034%

BCE Inc (NYSE:BCE)

ForDev Equity

5.4%

1.8%

2.7%

1.0%

0.054%

BP PLC (NYSE:BP)

ForDev Equity

5.0%

2.4%

3.5%

1.4%

0.068%

Coach (COH)

US Equity

2.4%

2.8%

1.9%

1.6%

0.038%

ConnocoPhillips

US Equity

3.8%

5.1%

5.6%

2.9%

0.110%

Cisco (NASDAQ:CSCO)

US Equity

2.7%

4.4%

3.4%

2.5%

0.067%

CSX Corp (NYSE:CSX)

US Equity

2.2%

1.8%

1.1%

1.0%

0.022%

CVS Caremark (NYSE:CVS)

US Equity

1.6%

3.4%

1.5%

1.9%

0.030%

Deere (NYSE:DE)

US Equity

2.4%

3.3%

2.3%

1.9%

0.044%

Ford (NYSE:F)

US Equity

2.1%

3.2%

1.9%

1.8%

0.038%

General Electric (NYSE:GE)

US Equity

3.2%

2.9%

2.7%

1.6%

0.052%

Corning (NYSE:GLW)

US Equity

2.6%

2.1%

1.6%

1.2%

0.031%

Horace Mann Educators Crop (NYSE:HMN)

US Equity

2.7%

3.4%

2.6%

1.9%

0.052%

Intel (NASDAQ:INTC)

US Equity

3.9%

2.0%

2.2%

1.1%

0.044%

Johnson & Johnson

US Equity

2.9%

3.8%

3.2%

2.2%

0.063%

Kinder Morgan Inc (NYSE:KMI)

US Equity

4.2%

2.0%

2.4%

1.1%

0.048%

Kraft Foods (KRFT)

US Equity

4.0%

3.0%

3.5%

1.7%

0.069%

Medley Captial Corp (NYSE:MCC)

BDC

10.4%

2.5%

7.5%

1.4%

0.148%

Microsoft (NASDAQ:MSFT)

US Equity

2.8%

2.9%

2.3%

1.6%

0.045%

Oaktree Capital (NYSE:OAK)

US Equity

8.3%

3.6%

8.7%

2.1%

0.170%

Omega Healthcare (NYSE:OHI)

REIT

6.0%

2.8%

4.8%

1.6%

0.094%

Pinnacle Foods (NYSE:PF)

US Equity

2.7%

3.0%

2.3%

1.7%

0.045%

Royal Dutch Shell (NYSE:RDS.A)

ForDev Equity

5.3%

2.8%

4.3%

1.6%

0.084%

Seagate Technol. (NASDAQ:STX)

US Equity

3.4%

4.1%

4.0%

2.3%

0.078%

AT&T (NYSE:T)

US Equity

5.3%

1.5%

2.2%

0.8%

0.044%

Target (NYSE:TGT)

US Equity

2.4%

3.6%

2.5%

2.0%

0.049%

Orchids Paper Products (NYSEMKT:TIS)

US Equity

4.7%

2.3%

3.0%

1.3%

0.060%

Tupperware (NYSE:TUP)

US Equity

2.7%

2.6%

2.0%

1.5%

0.040%

VF Corp (NYSE:VFC)

US Equity

2.0%

4.4%

2.5%

2.5%

0.049%

Volkswagen A.G. (OTCPK:VLKAY)

ForDev Equity

1.5%

4.6%

2.0%

2.6%

0.039%

Wisconsin Energy (NYSE:WEC)

US Equity

3.4%

1.9%

1.9%

1.1%

0.037%

Wells Fargo Bank (NYSE:WFC)

US Equity

2.6%

4.7%

3.6%

2.7%

0.070%
Readers will note that - unlike many equity-income portfolios - this list is light on REITs and MLPs. I think there are interesting value buys right now in REITs, but I haven't found the opportunity to take full advantage there. And, while I do not share the widespread concern over K-1's and all the other tax complications on MLPs, I simply have not extended my knowledge base to that realm yet. Maybe soon, because I do think MLPs should have a place in an income portfolio.
It's also light on many of the Darlings of Dividend Delights. There's no KO or WMT, which, as I've argued elsewhere, do not look poised for performance any time soon and simply do not provide enough dividend yield to justify their laggardly growth. Neither tobacco nor fast food has found a place: Tobacco because I choose to not make money from the drug trade, and fast food because nothing there looks attractive to me at this time. It's lighter on industrials than I'd prefer and this is a sector I'm looking at for opportunities.
These are U.S. and, to a lesser extent, foreign developed equity positions. I'm aware that some more attention could be paid to sector allocations, and I will be looking at that over the coming weeks and months, especially because I have recently become concerned over the price explosion for several of the stocks and sectors I'm holding. Some may be approaching unsustainably overvalued levels. This is a broad phenomenon in today's market as many traditionally stable, defensive stocks have surged in the past year.
Equity CEFs
The portfolio includes the following Equity closed end funds:
| | |
| --- | --- |
| BlackRock Global Opportunities Equity Trust | (NYSE:BOE) |
| Eaton Vance Enhanced Equity Income Fund II | (NYSE:EOS) |
| Eaton Vance Tax-Advantaged Global Dividend Opportunities Fund | (NYSE:ETO) |
| H&Q Healthcare Investors | (NYSE:HQH) |
| ING Global Advantage and Premium Opportunity Fund | (NYSE:IGA) |
| Nuveen Multi-Strategy Income & Growth Fund | (NYSE:JPC) |
| Nuveen Equity Premium Income Fund | (JPZ) |
| Kayne Anderson Energy Total Return Fund | (NYSE:KYE) |
| Oxford Lane Capital Corp. | (NASDAQ:OXLC) |
| Columbia Seligman Premium Techn | (NYSE:STK) |
Category Metrics

Portfolio Metrics

Ticker

Asset Class

Div Yield

Item Value as % of Category

Item Yield as % of category

Item Value as % of Portfolio

Item Yield as % of Portfolio

BOE

Buy-Write Equity

8.8%

13.3%

11.9%

1.6%

0.141%

EOS

Buy-Write Equity

8.8%

10.4%

9.4%

1.3%

0.111%

ETO

ForDevEquity

7.9%

5.9%

4.7%

0.7%

0.056%

HQH

Healthcare

7.2%

4.7%

3.4%

0.6%

0.041%

IGA

Buy-Write Equity

9.3%

11.6%

11.0%

1.4%

0.131%

JPC

Pref CEF

8.8%

9.2%

8.2%

1.1%

0.097%

JPZ

TaxAdv.Equity

8.9%

6.5%

5.9%

0.8%

0.069%

KYE

MLPs

6.4%

10.6%

6.9%

1.3%

0.082%

OXLC

Senior Loans

14.2%

12.6%

18.2%

1.5%

0.216%

STK

Buy-Write Equity

12.9%

15.4%

20.3%

1.9%

0.241%
This asset category is my cleanup hitter. It makes up 12.1% of portfolio value and delivers 25.4% of the income. Note also that a good fraction of that income is tax advantaged. BOE, EOS, ETO IGA, JPZ and STK have levels of RoC that will be a welcome positive come tax time. JPC is a preferred stock fund that may belong in the fixed income category, but I've got it here. KYE provides some exposure to MLPs (along with KMI in the equity category). OXLC is a bit of a wild card. It's a small, opportunistic fund that is woefully short on shareholder communication, but it has steadily provided outsized yields. It, too, may be miscategorized. I've been in it for a little more than a year now. I consider it to be my riskiest position, primarily because it's done so well and has that big yield. Add that I admit to knowing precious little about it, so I assume it's risky, at least for me.
Nearly all of these were purchased at a time when they presented bargain prices based on outsized discounts on NAV value. Some have reverted somewhat to mean discounts for the funds' histories and are likely less attractive to purchase now. I continue to follow the CEF space for these opportunities. To this end, I recently purchased HQH for its high-yielding exposure to healthcare sector, and STK for its tax-advantaged exposure to the technology sector.
Equity ETFs
| | |
| --- | --- |
| WisdomTree Emerging Mkts SmallCap Div | (NYSEARCA:DGS) |
| SPDR S&P International Dividend | (NYSEARCA:DWX) |
| iShares MSCI Emerging Markets | (NYSEARCA:EEM) |
| iShares MSCI EAFE | (NYSEARCA:EFA) |
| iShares S&P Small-Cap 600 Value | (NYSEARCA:IJS) |
| SPDR Dow Jones Intl Real Estate | (NYSEARCA:RWX) |
| iShares MSCI EAFE Small-Cap | (NYSEARCA:SCZ) |
| Cambria Shareholder Yield ETF | (NYSEARCA:SYLD) |
Category Metrics

Portfolio Metrics

Ticker

Asset Class

Div Yield

Item Value as % of Category

Item Yield as % of category

Item Value as % of Portfolio

Item Yield as % of Portfolio

DGS

EmergMkts

3.3%

6.6%

7.1%

1.2%

0.039%

DWX

ForDevEquity

6.4%

8.5%

17.9%

1.5%

0.099%

EEM

EmergMkts

1.9%

14.7%

9.1%

2.6%

0.050%

EFA

ForDevEquity

2.7%

28.3%

25.0%

5.1%

0.138%

IJS

US Equity

1.5%

1.9%

0.9%

0.3%

0.005%

RWX

Intl Real Estate

6.2%

9.5%

19.2%

1.7%

0.106%

SCZ

ForDevEquity

2.7%

22.1%

19.5%

4.0%

0.108%

SYLD

US Equity

0.5%

8.5%

1.4%

1.5%

0.008%
This is the category where I get the bulk of my international exposure (although there is some in the previous two categories as well). Before I started moving to an income-focused portfolio, I used my own idiosyncratic interpretations of MPT strategies, and invested primarily in ETFs to sustain an asset-class balanced, capital-appreciation emphasis. Several of these holdings are legacies from that period. I've gradually whittled down a fund like IJS as I shifted resources into dividend-paying small caps, but it gets harder to do. Not because I can't find small caps that look attractive, but because the capital gains hit on sales of IJS is becoming a bit of a tax burden this year which has been a good one both for me and for IJS in terms of capital gains.
Similar histories apply to the international funds. As I discussed recently (here), I would like to move more of EFA's allocation to DWX and at least some of EEM's to a fund like HILO. Those moves will more than double the income from those allocations. But I'm still pondering the tax consequences.
SYLD is the odd one here with its 1.5% income yield, but I'm so attracted to the premise behind this fund I bought it in both my income and growth portfolios.
Finally, I have a position in international real estate with RWX. This is also a holdover from earlier days when it fitted well with my MPT slant at that time. It finds an equivalently nice fit here with its 6.2% yield while still providing an uncorrelated asset class exposure. I can foresee increasing this position as time goes on.
Fixed Income
| | |
| --- | --- |
| MFS Intermediate High Income Fund | (NYSE:CIF) |
| Flaherty & Crumrine/Claymore Total Return Fund | (NYSE:FLC) |
| Dreyfus Strategic Municipals | (NYSE:LEO) |
| Pioneer Municipal High Income Trust | (NYSE:MHI) |
| PIMCO California Municipal Income Fund | (NYSE:PCQ) |
| PIMCO Dynamic Income Fund | (NYSE:PDI) |
| PIMCO Income D | (MUTF:PONDX) |
Category Metrics

Portfolio Metrics

Ticker

Asset Class

Div Yield

Item Value as % of Category

Item Yield as % of category

Item Value as % of Portfolio

Item Yield as % of Portfolio

CIF

Bond CEF

7.5%

7.1%

7.3%

0.9%

0.070%

FLC

Bond CEF

9.4%

5.5%

7.0%

0.7%

0.067%

LEO

Muni CEF

7.3%

18.7%

18.6%

2.4%

0.179%

MHI

Muni CEF

8.1%

5.3%

5.8%

0.7%

0.056%

PCQ

Muni CEF

7.1%

11.2%

10.8%

1.5%

0.104%

PDI

Bond CEF

7.4%

34.0%

34.4%

4.5%

0.331%

PONDX

Bond MF

6.5%

18.3%

16.2%

2.4%

0.156%
I've backed out of conventional bond funds (corporate and treasury) entirely over the past year. The portfolio remains light in the fixed-income category by any conventional standard for a balanced-income portfolio. Once again, some of the CEFs were selected while trolling for bargains based on the massive discounts to be found following the Taper Panic of 2013. Some I've been long for much longer than that, and used that window of opportunity to add. The muni bond funds were hit very hard earlier in the year. They are recovering somewhat, but still have a way to go. But, look at those yields, and consider that they are tax-free to boot. For PCQ, I even get a pass on my state taxes. For that level of income return, I can wait for the market discounts to pick up to a more normal level.
PONDX, another legacy from the growth portfolio, has been a favorite of mine for some time, and PDI is my most recent love affair in income equities. Together these two funds comprise just short of 7% of the portfolio's total value. Dan Ivascyn, who manages both, has been doing spectacular things in the bond investing world. PDI is not for the faint-hearted. It's leveraged near 45% and relies on complex derivative strategies that are well beyond my level of understanding. But it's been good to me, and I welcomed the opportunity to increase my position during the mid-year bond CEF crash.
Global Diversification
I'm missing some of the asset class diversification I'd prefer to have, especially in basic materials and commodities which I cover in my growth account. But, I do think I'm on a reasonable track with regard to global diversification, although there's still a way to go. I'll add one last piece illustrating this aspect of the portfolio before I sum things up.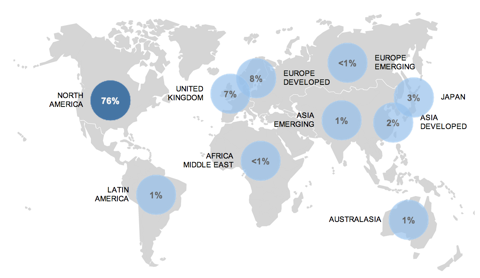 I'm not absolutely confident that this analysis is completely correct. In any case, I'd like to see a higher commitment to Latin America, especially, and a bit more exposure to Australia would, I believe, be rewarded in the coming cycle. In any case, I think the time to increase exposure to global markets is upon us and I plan to do some tweaking in that direction.
Summing up
So, that's it. I'm the first to admit that it's a portfolio that's not for everyone. There is probably an untoward level of risk here that eludes me, but I am reassured by that 0.81 beta. And, it is doing the job I asked of it when I started putting it together a year or so ago. The income is above the level I was targeting, and its NAV has grown nicely (aided, of course, by a remarkably strong year).
My current concern involves the aftershocks that are likely to follow the remarkably strong year. Some of the equity holdings have seen spectacular performance this year. Run-ups in equities like JNJ and VFC have given this shareholder much unexpected joy, but give some pause as well. These are not the types of stocks to sustain high valuation multiples and a correction would seem to be in the offing (even to someone as bullish as I've been lately) as things cool down.
In closing, I hope this exercise provides readers some interesting food for thought. I'm sure many of you will find much to disagree with here; I'd expect no less. If so, I'd appreciate hearing from you. It would be interesting to know if my uncertainties are reinforced by the views of others, or if there are whole levels of lunacy that I've completely missed. So, if you think something is particularly dumb, let me know; more value there than hearing "Oh, I hold that too and love it. High five, dude!" And, I'll feel free to lay out my case in response when you do.
Thanks for reading this.
Disclosure: I am long AFL, BAX, BOE, BP, CIF, COH, COP, CSCO, CSX, CVS, DE, DGS, DWX, EEM, EFA, EOS, ETO, F, FLC, GE, GLW, HMN, HQH, IGA, IJS, INTC, JNJ, JPC, JPZ, KMI, KRFT, KYE, LEO, MCC, MCD, MHI, MSFT, OAK, OHI, OXLC, PCQ, PDI, PF, RWX, SCZ, STK, STX, SYLD, T, TGT, TIS, TUP, VFC, OTCPK:VLKAY, WEC, WFC, WMT. I wrote this article myself, and it expresses my own opinions. I am not receiving compensation for it (other than from Seeking Alpha). I have no business relationship with any company whose stock is mentioned in this article.