Red Hat, Inc.'s (NYSE:RHT) third-quarter earnings of 17 cents per share (after adjusting for stock based compensation, amortization of intangibles and litigation expenses) beat the Zacks Consensus expectation of 12 cents on increased revenue, particularly from subscription. EPS was above the company's guidance of 15 – 16 cents.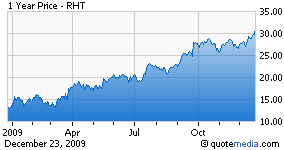 EPS was down by one cent from 18 cents reported in the year-ago quarter due to lower interest income, which was $2.2 million for the quarter, $5.9 million less than last year, primarily due to the lower interest rate.

The results for the quarter were fueled by economic recovery, particularly in North America and Europe and strong pick-up in the U.S., improving corporate IT spending environment, Red Hat's robust growth potential, new product launches, margin expansion, strong execution and increased customer demand for open source software solutions.

The company's better-than-expected results boosted the share price by 7.1% after hours, closing at $29.87, the highest since mid-2006. The stock is up almost 126% this year. Revenue totaled $194.3 million, up 17.5% year over year, driven by strong subscription revenue (accounted for 84.6% of the total revenue) which increased 21.4% from last year.

Revenue came in above the high-end of the company's guidance of $187 – $189 million. Subscription revenues were strong for the seventh consecutive quarter on 100.0% renewal rates for the top 25 customers, who renewed at 120.0% of the original deal size. The company's top 30 deals in the quarter included 14 deals of over $1 million.

Moreover, growth was driven by strong bookings and billings (13% growth year over year) due to strong customer demand for the Red Hat open source solution. Also, the company's middleware solution continues to gain traction (research firm Gartner positioned Red Hat's JBoss Enterprise Middleware as a leader in their Magic Quadrant for enterprise application services).

Around 62% of bookings were converted to revenue, with direct sales accounting for the remaining 38%, reflecting a modest recovery in demand from OEM and channel partners. Red Hat partners include Intel Corp. (NASDAQ:INTC), International Business Machines (NYSE:IBM), Cisco Inc. (NASDAQ:CSCO) and Dell Inc. (NASDAQ:DELL). During the quarter, approximately 56% of bookings came from the Americas, 29% from EMEA and 16% from the Asia-Pacific. We are also positive about the substantial growth in deferred revenue, which increased 23% year-over-year to $618.7 million.

Gross margin on a non-GAAP basis increased 100 basis points year over year to 86.0%, primarily due to strong subscription sales. Despite a year-over-year increase of 18% in operating expenses on a non-GAAP basis due to continued investment in R&D, operating margin of 23.7% was up 50 basis points from the year-ago quarter, driven by focused expense management. Operating income increased 20% to $46.1 million year over year in the third quarter.

The company has a strong balance sheet and exited the quarter with $959.1 million in cash equivalents and investments, an increase of $47.3 million from last quarter. Operating cash flow totaled $54.1 million, down $7.9 from the previous quarter. The company repurchased 1.9 million shares for $52.3 million. Year-to-date, Red Hat has repurchased 7 million shares for $146.3 million.

Guidance

For the fourth quarter, Red Hat expects revenue of $191 – $193 million and non-GAAP operating margin of around 23.8%. EPS on a non-GAAP basis is estimated to be approximately 15 cents to 16 cents assuming a 35% tax rate. This is up from the Zacks Consensus expectation of 12 cents a share. Operating cash flow is expected to improve due to strong third quarter billings.

For the full year 2010, Red Hat expects revenue to be in the $743 – $745 million range, which is up $10 million from the company's previous guidance. Full-year 2010 operating margins are expected to be about 100 basis points better than 2009.

The company faces intense competition from Novell Inc (NASDAQ:NOVL), Microsoft Corp (NASDAQ:MSFT) and Oracle Corp (ORCL). However we believe the company's strong market position, focused execution, strong cash flow, international expansion and proven value proposition will help grow its business in the near term despite competition and deliver strong revenue growth beyond fiscal 2010.