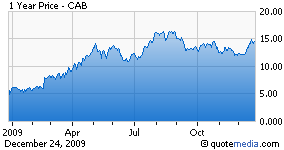 Boasting a healthy balance sheet, viable strategy, and improving operating efficiencies, Cabela's Inc. (CAB) offers investors one of the strongest growth profiles. This prompts us to upgrade our recommendation to Outperform from Neutral with a target price of $16.00.

Cabela's is a leading specialty retailer and the world's largest direct marketer of hunting, fishing, camping, and related outdoor merchandise.

The company remains on course to achieve the targeted long-term return on invested capital of 12%-14%. Next generation store format, multi-channel strategy and seasonal product assortments enable Cabela's to focus on increasing stores productivity and sales per square foot, and lowering labor costs.

The company's Financial Services Business segment plays an integral part in supporting the merchandising business by encouraging customer loyalty rewards program that helps increase revenue, profitability and customer retention at its Retail and Direct businesses, leading to overall growth in sales and earnings.

Cabela's reported better-than-expected third-quarter 2009 results. The quarterly earnings of 29 cents per share topped the Zacks Consensus Estimate of 18 cents, and surged 93.3% from 15 cents posted in the prior-year quarter.

Despite a tough retail environment, Cabela's registered a fourth consecutive quarter of comparable-store sales growth of 3.5% in third-quarter 2009. The company now focuses more on improving store operations, instead of opening new stores.