Earlier in the week I highlighted Linn Energy (LINE) as a high yielder that had experienced an undeserved decline that had better days ahead of it. The article was well received (over 20,000 hits so far) and the stock, thanks to solid Q2 results, has shot up more than 10% this week.
Another misunderstood high yielder in my portfolio is another limited partnership named Global Partners (NYSE:GLP). It sold off significantly after its last earnings report disappointed the market. The stock has slowly recovered since that steep sell-off (I added to my position near the bottom) and it appears that brighter days are ahead for this entity as well. It makes a good pick up here for patient income investors.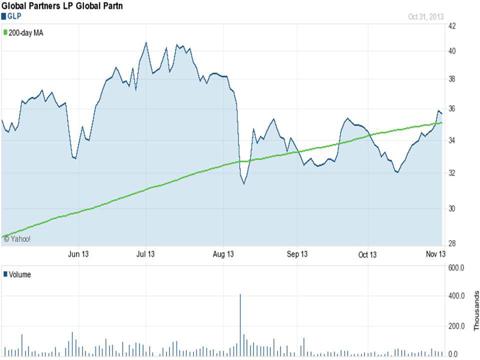 Company Overview:
Global Partners is a midstream logistics and marketing company. The company transports Bakken and Canadian crude oil and other energy products via rail from the mid-continent region of the U.S. and Canada to refiners and other customers on the East and West coasts. Global also owns, controls or has access to one of the largest terminal networks of petroleum products and renewable fuels in the Northeast.
Earnings Disappointment:
Last quarter the company missed badly on earnings expectations and also came in light on revenues. Worse, the company lowered forward guidance, noting lower margins on retail gas and a "less favorable" distillates market weighing on the company's performance. GLP fell over 20% on these results and entered oversold territory.
Turning around:
As I have previously stated I bought more shares on this earnings triggered decline. This entity's earnings results tend to be volatile. In the last 11 quarters, Global Partners has easily beat expectations 6 times and significantly disappointed investors in five quarters; there have been no inline quarters. It is the classic "Buy the dips, sell the rips" stock but a good long-term holding for patient long-term income investors.
Several positive catalysts have occurred for Global Partners over the past few weeks ahead of its earnings report early next week. First it announced its cash distribution will be raised to 60 cents a share per quarter, a 13% increase Y/Y. Second, GLP just crossed over its 200 day moving average; a bullish technical development. Finally, consensus earnings estimates for FY2014 have stabilized over the past month after falling continually for two months after its last earnings report.
Valuation & Yield:
GLP yields 7% with the new distribution hike. The company has also consistently & incrementally raised its payout since it went public in 2005. In addition, the general partner added millions of dollars in new shares in August. Despite the earnings miss, revenues are tracking to an over 15% gain Y/Y in FY2013 and analysts expect another ~8% gain in FY2014. Earnings are expected to increase 20% in FY2014 as well. Earnings are not a good way to analyze GLP's value due to a high amount of depreciation. GLP sells for approximately 3x operating cash flow and enterprise value (which includes all debt) is just over 5x operating cash flow.
Disclosure: I am long GLP, LINE. I wrote this article myself, and it expresses my own opinions. I am not receiving compensation for it (other than from Seeking Alpha). I have no business relationship with any company whose stock is mentioned in this article.