A Food and Drug Administration review of menthol cigarettes could put Lorillard (NYSE:LO) shareholders in the poor house. Investors need to sell covered calls now to protect their downside risk. Any adverse decision on menthol would send Lorillard shares into a tailspin.
Founded in 1760, the oldest company traded on the New York Stock Exchange has become addicted to sales of menthol cigarettes since the launch of Newport cigarettes in 1957. Newport menthol cigarettes became the market leading brand in 1992. (See chart below.)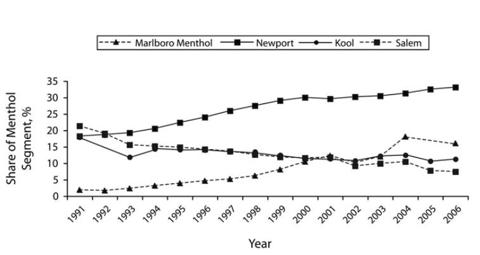 Last year, Lorillard generated near 90% of revenue from sales of menthol cigarettes. Were the FDA to restrict or ban sales of menthol cigarettes, it would be a crushing blow to Lorillard. (See chart below.)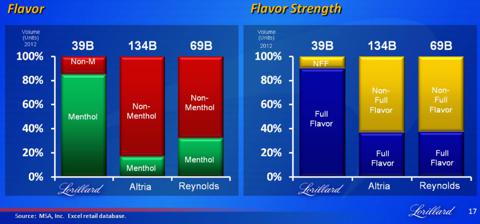 Flavored cigarettes
In 2009, Congress gave tobacco regulation to the FDA and banned sales of flavored cigarettes with the exception of menthols. "Congress [however] authorized the FDA to 'ban or modify the use of menthol in cigarettes based on scientific evidence.'"
In March 2011, the scientific advisory committee concluded, "removal of menthol cigarettes from the marketplace would benefit public health." Although the FDA took no immediate action, it continued to review menthol cigarette concerns.
The regulatory threat emerges
In July 2013, the FDA released a preliminary review on menthol cigarettes and invited public comment, the deadline for which has been extended. The review linked menthol cigarettes with higher smoker initiation rates among young people, especially young African-Americans. The report also said menthol cigarette smokers were less successful quitting than non menthol smokers.
Lorillard's future depends on the FDA's decision
The FDA is likely to do one of three things. It could allow the status quo to continue, although that seems unlikely. It may impose new restrictions on sales of menthol cigarettes, or ban them entirely.
New restrictions on menthol cigarette sales would be a negative for Lorillard, but an outright ban would raise serious doubts as to Lorillard's ability to remain a going concern.
Addicted to sales of menthol cigarettes
Lorillard is the number three U.S. manufacturer of cigarettes and the number one domestic producer of menthol cigarettes, as mentioned earlier. Sales of its Newport brand accounted last year for 36% of the American menthol market and for 12% of the domestic cigarette market, according to a Morningstar research report. Lorillard though claims to have a slightly higher share of the U.S. cigarette retail market as evidenced by the chart from its 2013 Investor Day. (See chart below.)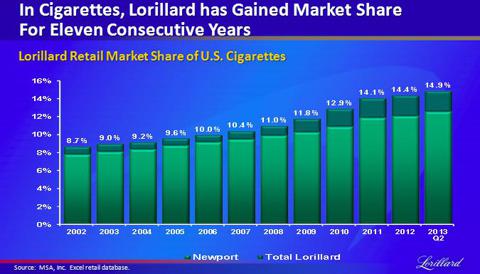 Although smaller than rival Altria (NYSE:MO) or Reynolds American (NYSE:RAI), Lorillard's sales volumes have held up better as compared to competitors. The reason for this is Lorillard's significant exposure to the menthol market, which has experienced less erosion than other segments of the cigarette market. (See chart below.)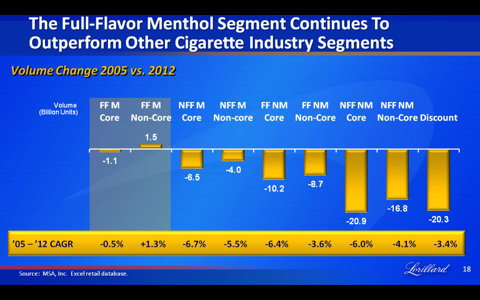 The company has also managed to sell a larger portion of its total menthol sales volume at full price as its competitors have increasingly discounted sales of their menthol cigarette. (See chart below.)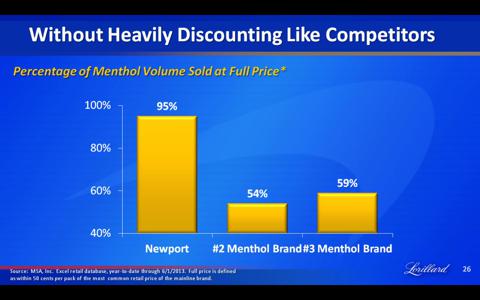 Lorillard argues the 'facts' on menthol
At the company's 2013 Investor Day, Lorillard executives explained why they believe the FDA will make no change in the legal status of menthol cigarettes.
"The smoking incidence for whites, who have a strong preference for non-menthol cigarettes, is higher than that of African-Americans.'

"So one has to ask themselves, if menthol was truly playing a role in initiating smoking at a greater rate than non-menthol cigarettes, wouldn't you see it amongst the African-American population that has a very strong preference for menthol cigarettes? And you just don't."
Lorillard executives also said, "the youth smoking rate for African-Americans is about half that of whites" and young whites on average start smoking a year earlier than do young African-Americans.
"So once again I will ask the same question. If menthol was causing initiation at a greater rate than non-menthol, wouldn't you expect African-American youth to start smoking at an earlier age and have a higher youth smoking rate? But they don't."
An industry report to the FDA calls the lower cessation rate among menthol smokers a myth.
"A few studies (three cross-sectional studies and one of a smoking cessation clinic) reported some lower cessation rates among non-White menthol smokers only. However, if menthol is a factor that affects the ability to quit smoking, one would expect to see consistency among White and non-White subjects. This race-associated inconsistency suggests that some other factor, possibly related to socioeconomic status or genetics, affects the ability to quit, rather than menthol itself."
Don't expect big change
The FDA's most likely course of action is to place new restrictions on both the way in which menthol cigarettes are marketed, especially to young African-Americans, and to limit the amount of menthol allowed in menthol cigarettes.
Disclosure: I am long LO, MO, RAI. I wrote this article myself, and it expresses my own opinions. I am not receiving compensation for it (other than from Seeking Alpha). I have no business relationship with any company whose stock is mentioned in this article.