QlikTech (NASDAQ:QLIK) delivered disappointing third quarter results on October 24. The company missed on both the top and bottom lines, prompting a flurry of negative estimate revisions from analysts.
It is currently a Zacks Rank #5 (Strong Sell).
While shares of QlikTech have taken a beating since the Q3 report, the stock still doesn't look cheap given the big drop in consensus estimates. Investors should wait for earnings momentum to turn around before jumping in.
QlikTech develops and sells the QlikView Business Discovery platform, or QlikView. This software is used for business intelligence (BI) and data analysis.
Third Quarter Results
QlikTech reported disappointing third quarter results on October 24. Adjusted EPS (which includes stock-based compensation) came in at a loss of 5 cents, below the Zacks Consensus Estimate calling for a loss of 2 cents.
Total revenue rose 21% to $104.1 million, but this was well below the consensus of $108.0 million. The company experienced solid growth in the Americas, but sales were weaker than expected in Europe and Asia Pacific.
Stock-based compensation expense rose 56% year-over-year to $8.6 million. If you exclude this, EPS actually came in ahead of consensus, but this was due in part to a large tax benefit.
Estimates Fall
Analysts revised their estimates significantly lower for both 2013 and 2014 after QlikTech's weak Q3 results. This sent the stock to a Zacks Rank #5 (Strong Sell).
You can see the big drop in consensus estimates in the "Price & Consensus" chart: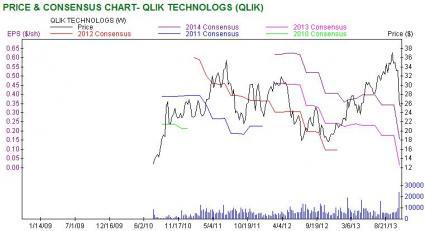 The 2013 Zacks Consensus Estimate is now $0.01, down from $0.17 before the Q3 report. The 2014 consensus is currently $0.15, down from $0.34 over the same period.
Premium Valuation
Shares of QlikTech are down nearly 25% since the Q3 release. But shares still don't look cheap given the big drop in consensus estimates. The stock currently trades around 82x 12-month forward earnings, well above the industry median of 23x.
Its price to tangible book ratio is a rich 9.9, but this is below the peer group multiple of 11.
Investors still interested in the "Business Software Services/BPO Market" should consider Synnex (NYSE:SNX), which carries a Zacks Rank of 1 (Strong Buy) and trades at less than 14x forward earnings, or Cognizant Tech (NASDAQ:CTSH), which is a Zacks Rank of 2 (Buy) and trades at less than 20x earnings.
The Bottom Line
With falling earnings estimates and premium valuation, investors should consider avoiding QlikTech until its earnings momentum improves.
Todd Bunton, CFA is the Growth & Income Stock Strategist for Zacks Investment Research and Editor of the Income Plus Investor service.