Starbucks Corporation (NASDAQ:SBUX) reported record Q4 Fiscal 2013 earnings of $0.63 per share on October 30, 2013. This represents a 37% rise in quarterly E.P.S over the comparable quarterly period last year.
Of note, are the Q4 Channel Development segment results with revenues posting a 13% gain over the similar fourth-quarter period last year. SBUX cites sales growth in the CD unit as primarily driven by increased sales of premium single serve products.
Operating margins in Channel Development rose 450 bps in the quarter ending September 29, 2013 compared to the similar period in 2012. According to management, the margin expansion is primarily due to lower coffee costs and sales leverage.
While Green Mountain Coffee (NASDAQ:GMCR) investors will likely be comforted to know that K-Cup revenue growth for Starbucks was 42% in the latest period, the sales leverage benefit for SBUX may be significantly greater that what might be realized by GMCR.
How so you ask? Well, consider the merits of operating leverage. Operating leverage measures how sensitive, or how risky a company's profit is to changes in sales. For example, assume XYZ Company has a 10 percent increase in sales, and its profit increases 12%. XYZ Company is not very sensitive to the change as seen in the very small difference in the changes in profit compared to sales (10% compared to 12%.
Suppose instead that XYZ's 10 percent increase in sales generated a 40% increase in profit. Thus, XYZ Company has a much more sensitive change in sales, and therefore considered to be more risky as it relates to operations.
The key to differentiating sales and operating leverage is in the cost structure. Cost structure refers to the amount of fixed costs incurred by a company in relation to the amount of variable costs it incurs. Companies with large costs tied up in PP&E will often have relatively small amounts of "unit labor costs." Companies with high fixed costs also tend to exhibit significant depreciation costs, (considered fixed costs), and lower variable costs since assembly labor is considered variable.
Because it is difficult to eliminate most fixed costs in the short run, these companies have higher operating leverage and are considered to have more risky operations.
Companies with a cost structure consisting of significant amounts of labor and fewer machines that aid in production will have lower fixed costs and higher variable costs. Variable costs are easier to reduce on a short-term basis, which makes these companies have lower operating leverage, and are considered to have less risky operations.
GMCR as we had pointed out previously, suffered from poor returns on assets and invested capital. Now, amidst a restructuring which includes rationalizing variable (headcount reductions) and fixed costs (consolidating production), GMCR is hoping to improve the efficiency and utilization of its income producing assets.
However, improvement in SBUX's recent operating metrics and margins (as it relates to the Channel Development segment) should not be viewed as any near-term proxy for GMCR's earnings and profitability. This case is made more obvious by the fact that financial terms of SBUX's expanded partnership with GMCR have not been disclosed.
As long as GMCR is able to sell Keurig brewers and grow its installation base, SBUX will be able to capitalize on its own brand portfolio of K-Cup offerings. Yet, if a comparison of fixed asset turnover (SBUX vs. GMCR) is any indication, SBUX will likely realize a greater level of profitability on the K-Cup products it sells.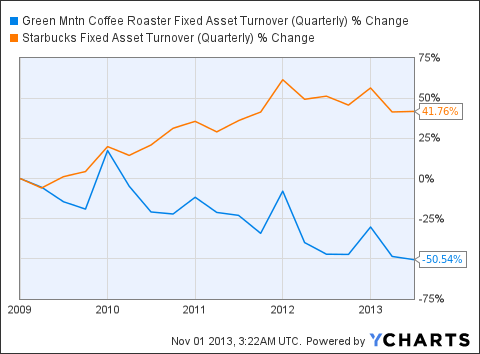 GMCR Fixed Asset Turnover (Quarterly) data by YCharts
Ultimately, the partnership between SBUX and GMCR is valuable to both companies. SBUX enhances their footprint into single-serve brewed beverages via K-cup offerings while further exploiting their own single-serve brewer technology. GMCR benefits from potential expansion and relevance of its Keurig platform, as it attempts to improve returns on net operating assets and rationalize previous acquisitions.
Having SBUX as a partner also benefits GMCR in other ways: As SBUX's K-Cup channel development grows, GMCR would likely be able to absorb excess capacity. Capacity utilization will be critical to the capital productivity picture as GMCR grows out of operational problems.
Meanwhile, the contribution margins (defined as selling price minus variable costs) will likely favor SBUX and their leverage to K-Cup as a measure of the profitability of a product. In other words, SBUX has a better chance than GMCR of covering its variable costs with revenues. The amount left over (or "contribution") covers fixed costs or is profit.
Green Mountain investors should be cognizant to the fact that sales, profitability and earnings vary by degrees. Although SBUX's solid Q4 revenue growth from K-Cup sales indicates healthy end-demand (and supportive to the Keurig platform), we do not know the unit costs or terms of the agreement between SBUX and GMCR. In addition, GMCR stopped providing K-Cup unit sales in 2010.
We know that lower coffee costs aided SBUX margins, but it is unclear what percentage of margin growth was derived from "sales leverage." The former benefits both companies while the latter (as it pertains to K-Cup unit costs and sales) was clearly advantageous to SBUX's bottom line in the recent Q4. From a management effectiveness perspective, SBUX's superior historical operating margins appear to validate this view.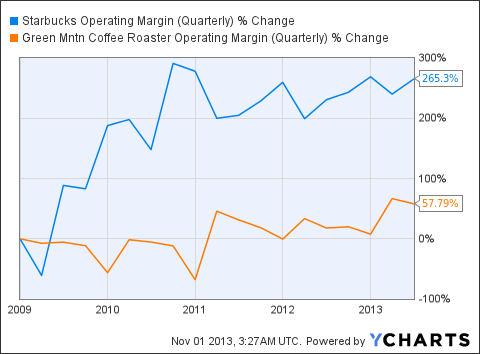 SBUX Operating Margin (Quarterly) data by YCharts
Conclusion: If we were to consider exploiting any potential K-Cup opportunity, SBUX provides the best leverage to profit from the Keurig platform. While the economics of GMCR/SBUX partnership have not been disclosed, our assumption would be that SBUX received favorable terms. This view considers SBUX's strong liquidity profile, multi-channel market exposure and negotiating leverage.
Hopefully, GMCR will emerge from its restructuring a leaner and more operationally efficient company. However, operational effectiveness requires that managers distinguish operational attributes from strategy. Both are essential but the two agendas are different.
Harvard Business School Professor Michael E. Porter puts it in more perspective:
The operational agenda involves continual improvement everywhere there are no trade-offs. Failure to do this creates vulnerability even for companies with a good strategy. The operational agenda is the proper place for constant change, flexibility, and relentless efforts to achieve best practice. In contrast, the strategic agenda is the right place for defining a unique position, making clear trade-offs, and tightening fit."[1], says Porter.
Our take is that GMCR is building its organizational foundation from which to implement strategy and develop operational effectiveness. The new management team and board in place brings a level of industry experience previously and conspicuously lacking. The difference is like night and day.
However, the "OE" cycle at GMCR in our view has yet to be coherent throughout the organization. While SBUX's Q4 K-Cup sales may give hope to an upside surprise for GMCR when they report FY2013 and Q4 results (November 20, 2013), the degrees of sales, profitability and earnings should be examined closely.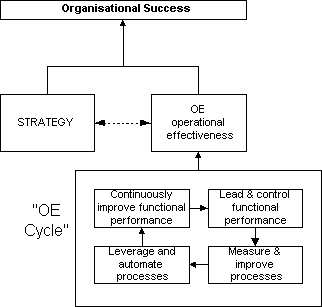 Shares of both SBUX and GMCR each carry rich multiples at current levels in our view. SBUX trades at a forward 25 times FY 2014 earnings, while GMCR sells at 16 times earnings and over 3 times book value. Shares of GMCR are down -18% in the last three months while SBUX is near its fifty-two week high.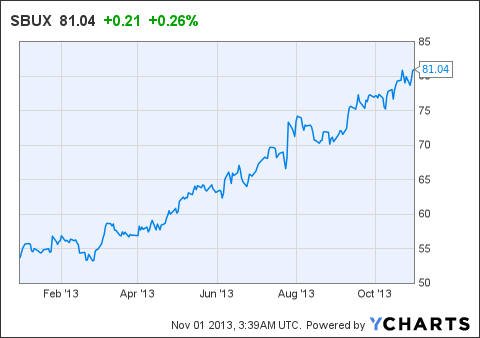 A pullback in SBUX to the low $70 area might be considered for partial positions. Full positions might be considered near $60.
Disclosure: I have no positions in any stocks mentioned, and no plans to initiate any positions within the next 72 hours. I wrote this article myself, and it expresses my own opinions. I am not receiving compensation for it (other than from Seeking Alpha). I have no business relationship with any company whose stock is mentioned in this article.
Additional disclosure: Organizational chart provided by HCI and Harvard Business Review.