Exelon Corp. (NYSE:EXC), the largest nuclear power generator in the U.S., has been facing several headwinds that remain an obstacle to the company's future earnings growth. The stock is down more than 20% in the last six months, as problems faced by the company prevail. Weak PJM capacity prices, lower natural gas prices and deteriorating margins are among the major problems being faced by the company in recent times. These problems are taking their toll on the stock price. Recently, the company reported better-than-expected financial results for Q3 2013; however, I do not see much in the results that could fundamentally change the main story. Therefore, I reiterate my bearish stance on the stock.
Earlier this week, EXC reported an earnings beat for the quarter. EXC's recurring EPS for the recent third quarter came out to be $0.78, beating consensus estimates of $0.66, up 1.3% as compared to the corresponding period last year. Adjusted earnings per share of $0.78 also surpassed the company's EPS guidance of $0.60-$0.70. Reported revenues for the quarter came out to be $6.5 billion, down 1.2% year-on-year.
The quarter's financial performance for the quarter was positively affected by O&M synergies, increased nuclear volumes, higher distribution revenue and decreased storm-related costs, which were partially offset by unfavorable power price changes and D&A. EXC experienced a nuclear capacity factor of 94.8% in the quarter, as compared to 90.7% in the corresponding period last year, above the normal capacity factor range of 93.5%-94.5%. I believe that as we move forward, the capacity factor will decline due to more non-fueling outage days, as 5 non-fueling days for Q3 2013 are usually low.
EXC is likely to shut down some of its facilities, in response to weak power market conditions, which does not offer long-term sustainable profitability. If the company decides to shut down non-profitable facilities, it will tighten up supply and improve future capacity payments, which will portent well for the stock price. If the power market remains challenging for 2014 and 2015, the prime candidates for facility shut downs are Three Mile Island, Clinton, Oyster and R.E. Ginna. During the recent quarter's earnings call, EXC President and CEO Christopher Crane said,
"We continue to take a hard look at our assets and determine their economic viability. We will shut down facilities that we do not see on a path to a long-term, sustainable profitability."
As power markets remained oversupplied, capacity prices deteriorated in recent times, resulting as a hurdle for gross margin of Ex Gen, the company's merchant business. Also, the company lowered its merchant business gross margin outlook by $50 million per annum from 2013 through 2015 because of lower power prices. The following table shows the decreasing trend of gross margin outlook from 2013-2015.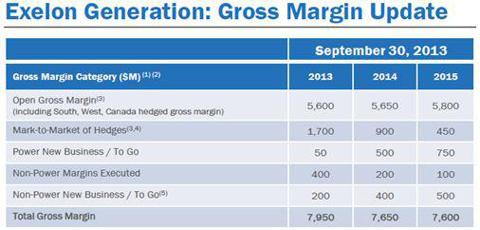 Source: Investors Presentation
The company's management narrowed its full year (2013) earnings guidance to $2.40-$2.60 per share as compared to the prior earnings guidance range of $2.35-$2.65 per share. In contrast to the company's expectations, analysts have estimated an EPS of $2.45 for 2014. Also, analysts have projected a negative 5% earnings growth for EXC for the next five years.
The company is likely to introduce its gross margin guidance for 2016 at the EEI conference on November 11, 2013. Also, I believe the company will provide details and updates on Capex, O&M and load forecast during the conference.
Conclusion
Although the company reported better-than-expected financial performance for the recent third quarter, power market fundamentals stayed weak, which does not portent well for the company's future financial performance. An imbalance between demand and supply, and weak power prices continue to be overhangs on the stock price and obstacles to the company's future earnings growth. Therefore, I remain bearish on the stock.
Disclosure: I have no positions in any stocks mentioned, and no plans to initiate any positions within the next 72 hours. I wrote this article myself, and it expresses my own opinions. I am not receiving compensation for it (other than from Seeking Alpha). I have no business relationship with any company whose stock is mentioned in this article.