The purpose of this series is to highlight stocks that are undervalued, profitable, underperformed the market, and have a favorable technical outlook. The stock that I will be covering for my undervalued series this week is Union Pacific (NYSE:UNP). UNP stock has fallen 7.00% in the last quarter compared to the S&P 500 (NYSEARCA:SPY), which has gained 3.80% in the last quarter. I believe Union Pacific is a solid undervalued long-term choice to gain exposure to the US economy, through transporting a wide range and products. Union Pacific is diversified across six major categories, which gives the company the ability to have a pulse on the economy. The chart below from a recent investor presentation shows each of the six categories of products that it transports, and in addition shows that it has a well-diversified mix of businesses.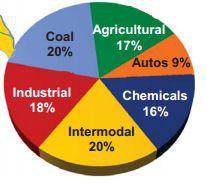 The chart below shows the YTD performance of each of the product categories that Union Pacific transports and highlights some important trends. The first thing I notice is the chemicals segment has had a strong performance this year so far because of Union Pacific transporting crude oil. The second item I noticed was agricultural, and coal volumes have been poor, but there is some seasonality to volume growth as the chart shows, volume growth in the last quarter of each of the last 4 years has seen declines from the end of the third quarter.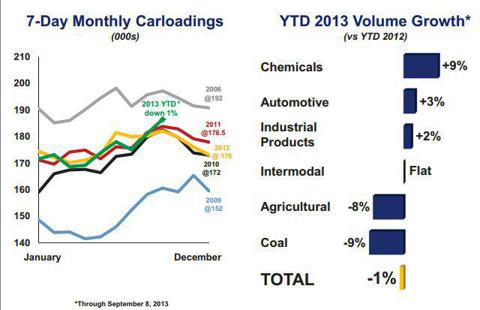 Value
To value UNP I will be using a DCF calculator, with data for earnings and growth coming from Zacks.com, benchmark data from longrundata.com, and CPI data from the BLS. The DCF table below shows shares of UNP are undervalued by 26.51%, which represents a significant opportunity for price appreciation for shares of UNP.
EPS [ttm]: $9.07
Long-term Growth Rate: 12.23%
Earnings grow for next: 5 years
Level off: to 1% after
Benchmark return: 10 yr annualized SPY return of 7.41%+1.20% inflation= 8.61% benchmark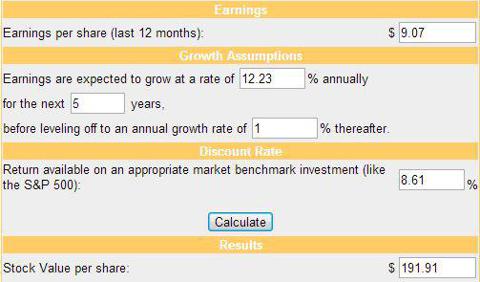 Technical Outlook
The chart below shows that shares of UNP have been steadily declining since UNP hit a high of $165 in the middle of July. However, UNP has two strong levels of support that sit slightly below its current price. The first level of support UNP has is the $148 level [Blue Line] that is where shares broke above at the beginning of May, and held as support at the end of June when UNP had a pullback, and this week UNP has approached this level. The second level of support UNP has is a long-term upward trend line [Red Line] that has acted as support for the last two years. When looking at the chart below, you can see that the support levels cross at almost the exact point where shares fell to earlier this week. Going forward I expect UNP to continue its long-term upward trend, and if there is a broad market correction, I believe the $148 support level will provide strong support for shares of UNP.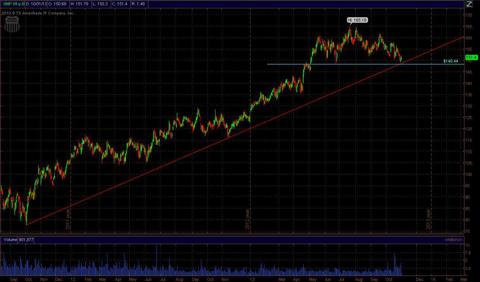 Catalyst
The biggest catalyst for Union Pacific going forward is the growth in oil & gas production in the United States and Canada. Union Pacific captures the growth in the North American energy boom in two ways; the first is the transportation of crude by rail to refineries for processing. This, according to the Union Pacific Investor presentation, showed a 66% increase in crude by rail volumes, in the first half of this year. In addition to transporting crude by rail, Union Pacific also transports the materials needed for drilling and fracking, like drilling pipe, and frac sand. Frac sand volumes increased 20% in the first half of the year due to the amazing amount of sand that is needed for each well, which according to Union Pacific is 30-50 railcars of sand per well!
Risks
The biggest risk to Union Pacific is the fundamental shift away from the use of coal in the United States. With natural gas prices, it is more cost effective for utility companies to build a natural gas power plant rather than a coal power plant. In addition, there are new regulations from the EPA [Environmental Protection Agency] on new power plant emissions, which require new plants to limit or capture carbon emissions. An article from the Washington Post about the subject brings up two key points; the first is "the power industry has been building very few coal plants in recent years anyway, in part because cheap natural gas has made them uneconomical." Therefore, the drop in construction of new plants can be attributed to the low price of natural gas. The second and more concerning point that is brought up in the article is about current coal plants: "later on, the EPA will separately tackle emissions from the thousands of existing power plants that are already operating." In the future if there are regulations that limit the emissions from existing coal plants, this will add more costs to utility companies to upgrade facilities to comply with the regulations, or they may decide to close it down, and replace it with a cleaner source of energy. Either way it appears that coal volumes will continue to decrease in the future, which is a risk for Union Pacific.
Closing thought
I believe shares of UNP are poised to move higher from current levels, because the stock is undervalued, the stock recently was near support and bounced off, and the company is diversified, and well positioned to take advantage of the North American energy boom. In addition, UNP has a strong dividend policy; it has averaged a 21.25% per year growth rate for its dividend, and has not cut its dividend in the last ten years even during the financial crisis. Union Pacific has also been slowly buying back shares over the last decade, with the share count being reduced by 12.50% over that period. I believe going forward shares of Union Pacific in the long-term will move higher to my fair value estimate of $191.91.
Disclosure: I have no positions in any stocks mentioned, and no plans to initiate any positions within the next 72 hours. I wrote this article myself, and it expresses my own opinions. I am not receiving compensation for it (other than from Seeking Alpha). I have no business relationship with any company whose stock is mentioned in this article.