ConocoPhillips (NYSE:COP) reported an adjusted Q3 EPS of $1.47 on Thursday while analysts expected earnings of $1.45 per share. ConocoPhillips has now outperformed EPS expectations in four quarters in a row. Adjusted EPS in Q3 2012 stood at $1.38: a 6.5% y-o-y increase which isn't too shabby in a challenging macro environment with negative impulses from China and the US.
Stocks in general have had a nice run-up during the fourth quarter mainly because of great Q3 results from corporations. I believe the stock market is a bit overbought right now and a pullback is going to happen eventually. Taking a look at interest rates, which are still near zero, I think we are still in the early expansion phase of the business cycle. The actual GDP is still obviously below potential GDP leaving a sizeable output gap. Growth challenges in Asia, particularly in China, and economic problems in Europe add to uncertainty about future global growth in the short term. In the long term the global economy will find its way back to growth driven by population growth and a pick-up in manufacturing activity.
Oil majors like ConocoPhillips are cyclical companies. They usually do well when the economy runs on full steam and energy consumption from consumers and the industrial sector is high. Their share prices are highly correlated to the underlying commodity prices of crude oil, LNG and natural gas. Assuming that the economy is still in the expansion stage, an investment in ConocoPhillips could prove profitable in the long-term. ConocoPhillips' global operations, high quality oil- and gas assets, low valuation and production net growth make this cyclical company a great addition to long-term portfolios.
Taking a look at COP's Q3 production levels, investors can see that incremental growth in MBOED production came from the US (Lower 48) and Canada. Canada in particular was strong and contributed $181 million of adjusted earnings compared to only $5 million in Q2 2013. Natural gas production remains challenging due to field declines, low end prices and high exploration costs.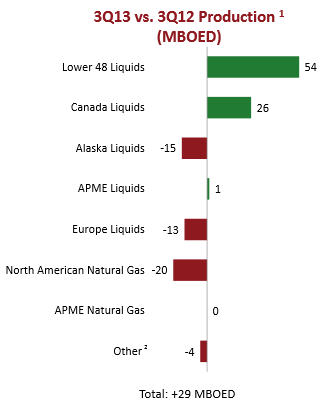 Strong position in US onshore shale plays
I estimate that ConocoPhillips' incremental production growth will be coming from its liquid shale plays by tapping the Bakken and Eagle Ford basins in particular. Bakken production was up 31% y-o-y while Eagle Ford production was up 66% since last year. The graph below suggests that COP is in the process of developing very promising assets in its portfolio.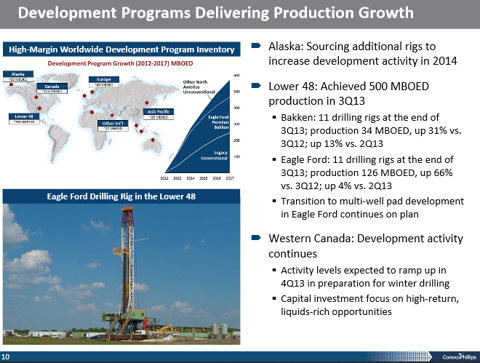 Share performance
ConocoPhillips is up 86% over the last five years. In July 2013 COP sustainably broke through its local share price High at $61.59. Since then the company has kept its momentum marking a new five-year High nearly every week.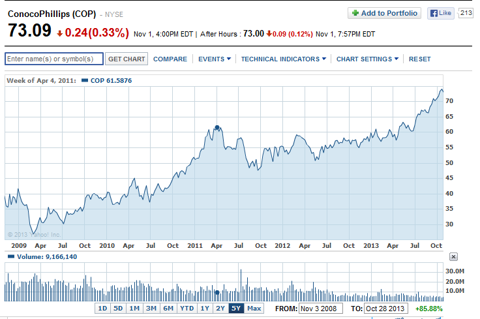 Market valuation
ConocoPhillips, from a relative perspective, is still one the 'most expensive oil majors' in the sector. However, valuation levels are low by any standard. ConocoPhillips trades at only 11.56 times forward earnings which is about a 15% premium to the peer group average P/E of 10.
Chevron (NYSE:CVX), Total (NYSE:TOT) and BP (NYSE:BP) trade below the peer group average of 10 times forward earnings and make equally interesting investments for contrarians and dividend investors. Exxon Mobil (NYSE:XOM) is also a Strong Buy candidate based on quality pipeline assets, cash flow strength, shareholder remuneration and low valuation. The current valuation levels witnessed in the market still offer substantial room for valuation growth considering that the majority of companies in the sector invest billions of dollars every quarter in order to develop their portfolio assets and bring new supplies to the market.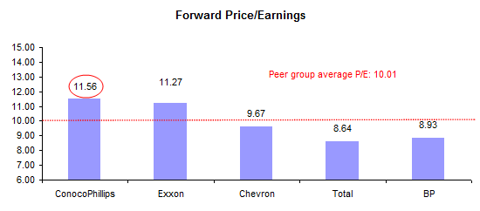 Investors looking for dividends get to enjoy a 3.78% dividend yield if they purchase ConocoPhillips for their portfolio. Only Total and BP offer higher yields at 4.43% and 4.64%. Investors in BP also need to consider settlement payments in relation to the Gulf of Mexico oil spill disaster in 2010 which could put short-term cash flows at risk. However, I do believe BP's dividend is safe for now.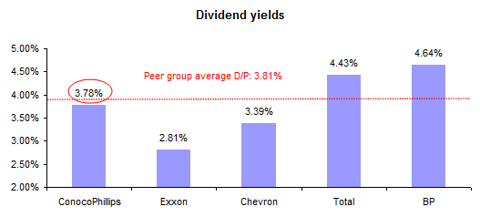 A summary of key valuation metrics is provided below:

Summary
The peer group of major oil companies trades at around 10x forward earnings which is a bargain level considering the quality portfolio assets, deep reservoirs and the cash flow strength of ConocoPhillips. Though COP trades at a 15% premium to the average company, I believe the premium is warranted based on strong production net growth in Canada and the US 48 contiguous states. I also think that ConocoPhillips will be more reliant on crude oil than natural gas in the future which likely will have a positive margin impact and drive earnings. ConocoPhillips' average realized $-price per barrel stood at $69.68 in Q3 2013 compared to $65.62 in Q3 2012 (a plus of 6.2%) and increases are immediately bottom line accretive. COP is still trading cheaply at 11.6 forward earnings which seems to be out of touch with its earnings potential (especially considering its strong Bakken and Eagle Ford footprint with massive y-o-y production increases). Long-term BUY.
Disclosure: I am long BP. I wrote this article myself, and it expresses my own opinions. I am not receiving compensation for it (other than from Seeking Alpha). I have no business relationship with any company whose stock is mentioned in this article.