American Capital Agency Corp. (NASDAQ:AGNC) reported Q3 numbers last week which sent shares 7% lower to $22.22. ARMOUR Residential (NYSE:ARR) also presented its Q3 performance with similarly dismal results. Both AGNC and ARMOUR Residential booked materially lower earnings, core income and continued declines in book values. I have argued that an erosion in net spreads due to higher projected funding costs will hurt leveraged businesses like mREITs. AGNC's results in particular were very disappointing and a loss of 7% in a single day eradicated a substantial part of AGNC's yearly dividend yield.
More importantly, the decline in AGNC's share price since results release couldn't be reversed and AGNC's shares now trade even lower at $21.96. This signals that the market clearly is on alert and is likely to react quite forcefully should Annaly (NYSE:NLY) disappoint next week.
The key takeaway from both AGNC's as well as ARMOUR Residential's results is that the industry is facing serious headwinds from rising interest rates and volatility. Annaly is likely to move the sector next week due to its large market capitalization of $11.2 billion and because it is perceived as the standard-bearer of the mREIT sector. Annaly is one of the oldest (and longest-paying) mREITs in the sector while many newer companies started operations in 2009 or later.
AGNC's Q3 performance in particular bodes badly for any hope of getting better results from a large-cap mREIT. AGNC's estimated taxable income dove 72% q-o-q and 79% y-o-y. We also saw continuing trends of declining book values: ARMOUR Residential's book value per share declined 3% q-o-q and AGNC's book value per share 1%. The decline in book values is also reflected in share prices: The mREIT sector has literally been thrown off a cliff YTD.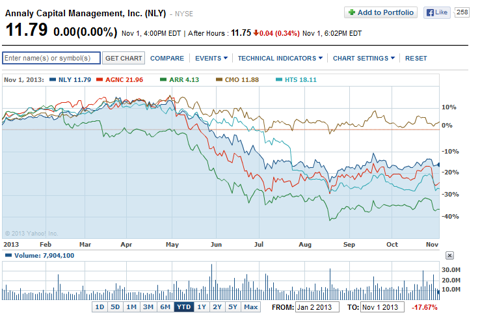 Annaly declined 18% since the beginning of this year while AGNC's share price deterioration has accelerated since its earnings release: Shares are now down 27% YTD. Hatteras Financial (NYSE:HTS) lost 29% and ARMOUR Residential 39%. Capstead Mortgage (NYSE:CMO) is the best performing mREIT in the peer group with a gain of 0.17%.
Annaly's historical dividends and projections
Annaly's yearly dividends have fluctuated wildly and reached a High in 2010 with distributions totaling $2.65 per share. Since then yearly distributions have markedly declined. I estimate that Annaly's Q3 results will be on the same page as AGNC's and further dividend cuts will take place. Assuming a $0.30 per share distribution for the fourth quarter (down from $0.35 in Q3 2013), yearly distributions would stand at $1.50 in 2013 (a decline of 43% since 2010).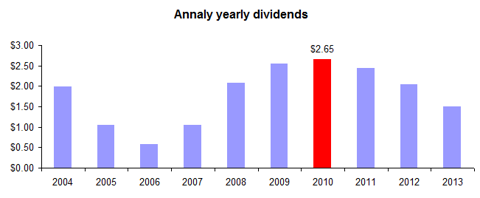 Annaly's quarterly dividend payments suggest that the mREIT has entered a cyclical trend of sequential dividend cuts. A quarterly High was marked in the fourth quarter of 2009 when the company paid $0.75 per share in dividends. Current distributions stand at $0.35 per share, a decline of 53%. The forward annualized dividend yield now stands at 11.87%. My estimates for ongoing dividend adjustments to align lower projected profitability due to higher funding costs with distributions are depicted below: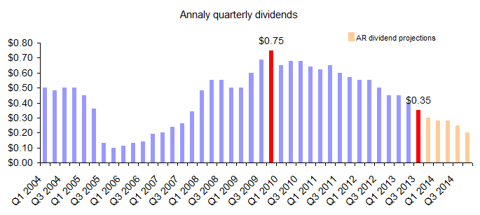 Conclusion
AGNC's and ARMOUR Residential's poor Q3 results shine the light on Annaly's performance release next week. It would be surprising to me if Annaly performs substantially better in the field than other relevant mREIT players. The reaction to AGNC's results in particular was forcefully negative and the stock price hasn't recovered since then. Annaly will be having a hard time to impress investors with Q3 and disappointing results could be particularly disrupting.
Lower profitability in the sector driven by contracting net spreads will eventually lower payouts to shareholders. Annaly already has a long history of consecutive dividend cuts and I project that payouts will continue to decline well into 2014. Dividend cuts also bring the risk of declining share prices. If the risk of the underlying business model does not change, a dividend yield of 8% or 9% may not be sufficient to compensate investors for the risk they are expected to absorb. Lower share prices will bring yields back up to acceptable levels.
Annaly and other mREITs are at serious risk of further dividend cuts and share price declines. I am reiterating my Short position in anticipation of below-average Q3 results and lower projected dividend payouts. I am holding a price target of $7 on Annaly shares.
Disclosure: I am short NLY, AGNC. I wrote this article myself, and it expresses my own opinions. I am not receiving compensation for it (other than from Seeking Alpha). I have no business relationship with any company whose stock is mentioned in this article.