Linn Energy (LINE) is a US oil and natural gas MLP. It has recently undergone a negative assault from the hedge fund industry. It has been reviewed by the SEC for possible shady accounting practices. It has since been absolved by the SEC. The SEC only had some minor criticisms. Now it is waiting to see if the Berry Petroleum (BRY) merger with Linn Energy/Linn Co. (LNCO) will finally go through. On October 28, 2013, LINE/LNCO announced that it had filed Amendment No. 6 to the Registration Statement on Form S-4 in response to comments received from the SEC on Friday October 25, 2013 and with updates related to Q3 2013 financial information.
It appears that the merger with Berry Petroleum will go through. However, the merger wasn't done by October 31, 2013 (the back out date). Therefore, any of the parties BRY, LINE, and/or LNCO can now back out of the deal. Berry Petroleum seems the most likely of the parties to do so. LNCO stock fluctuated between $36.66 per share and $40.10 per share during February 2013, when the merger deal was originally agreed to. LNCO stock closed at $33.21 per share on October 31, 2013. Using the LNCO stock price midpoint for February 2013 of $38.38, the value of the deal is down about 13.5% (1.25 LNCO shares for every BRY share). It is unclear if LINE/LNCO intend to use more stock to increase the value of the deal for BRY. If LINE/LNCO don't, BRY may walk away from the deal.
BRY could walk away from the deal anyway. Its fundamentals have been improving over the course of 2013. Oil production was up by 20% year over year in Q3 2013 to 32,997 bpd. BRY also raised its 2013 average production forecast from 38,000-40,000 Boe/d to 40,500-40,800 Boe/d. The stock price ($48.75 as of the close November 1, 2013) is up slightly since February as opposed to the roughly 13.5% fall in LINE's stock price during the same period. The deal terms were 1.25 shares of LNCO for every share of BRY. At LNCO's current stock price that would amount to BRY stockholders trading $48.75 for 1.25 * $33.21 ($41.51). This seems like a very bad deal. It is unclear why BRY stockholders wouldn't just sell their shares in the open market. Then they could buy even more LNCO shares at current prices.
The spike up November 1, 2013 was due largely to a LINE/LNCO announcement that the Division of Corporation Finance of the SEC has advised that it has no further comments on Amendment No. 6 to the Joint Registration Statement on Form S-4 for the BRY - LNCO merger. In other words there are no more regulatory roadblocks to the LINE/LNCO merger with BRY.
Arguing positively for the merger, BRY shareholders would get a $2.90 per share per year LNCO dividend instead of a $0.32 per share per year BRY dividend if the deal goes through. Further LNCO and LINE stock prices would likely pop on a deal announcement. This would bring the ratio much closer to the value of the BRY shares that would be exchanged. One might guesstimate at least another $3-$4 per share spike for both LINE and LNCO (perhaps more).
LINE/LNCO shareholders should find the merger attractive too. BRY produced $173 million in discretionary cash flow on oil and gas revenues of $306 million in Q3 2013. It produced an operating margin of $51.45 per barrel of oil equivalent. These results should allow LINE/LNCO to lift its distribution/dividend significantly.
If you add the expected LINE/LNCO share price pop on the merger completion (or the approach of the completion) and the yearly dividend, BRY shareholders come out about even on the exchange after a year. Further BRY shareholders would then own a more financially stable stock; and they would be able to get the dividend every year. Hence there is still reason to believe the deal will go through, especially if the prices of LINE and LNCO stocks keep rising.
To put the last in perspective, BRY shares rose 1.35% in the week of October 28, 2013 - November 1, 2013. Meanwhile LINE shares rose +14.66%; and LNCO shares rose +11.74% during the same period. If this kind of rise were to continue on the expectation of a deal completion, BRY shareholders might easily find themselves getting an even or better deal on a stock price swap basis. Then BRY shareholders would be gaining a greater dividend while giving up little or nothing.
It isn't just the prospect of the deal going through that is pushing the prices of LINE and LNCO up. LINE had a much more positive Q3 2013 report than previous quarters in 2013 and than the year earlier quarter. LINE production was up 5% year over year to 823 MMcfe/d in Q3 2013 from 782 MMcfe/d in Q3 2012. Total revenues and other increased approximately $447 million to approximately $495 million for Q3 2013 from $48 million in the year ago quarter. This was largely due to derivatives losses of -$411 million in the year ago quarter versus derivatives losses of only -$64 million in Q3 2013. However, the better numbers are still a positive sign. LINE expects production for Q4 2013 to average 850 MMcfe/d. This is about a +3.3% gain sequentially.
LINE closed a Permian Basin acquisition September 12, 2013. This added 4,800 Boe/d (about 63% oil) to LINE's production. This will be more fully reflected in Q4's production figures. It added 30 MMBoe to LINE's proved reserves; and it added another 24 MMBoe to LINE's potential reserves (through water flooding). This 6,250 net acres has 124 producing wells; and it has 300 identified future low-risk, infill drilling locations. This all yields a reserves to production ratio of approximately 17 years for this acquisition. With a 98% working interest, this field should prove a great and uncomplicated asset for many years into the future.
LINE also made good progress in its organic growth projects. LINE now has 12 Hogshooter wells producing in the Mayfield area of the Granite Wash. They have average initial production rates of 3,800 Boe/d (about 74% liquids). LINE has approximately a 46% working interest in these wells. LINE is operating eight rigs in the Granite Wash (two in the Hogshooter field). LINE is operating four rigs in the Permian Basin. Year to date it has drilled 68 wells there. Further much of LINE's acreage in the Permian could be prospective for horizontal drilling in the Wolfcamp and the Spraberry intervals. This will likely provide further increases to LINE's proved reserves (and eventually to production) in the future. LINE has also been drilling in both the Jonah field and the Hugoton field with good success.
LINE announced that it will host a conference call to discuss Q3 2013 results and the BRY merger. The company looks like it has righted its own boat in Q3 2013; and the BRY merger is looking more and more likely. If this merger goes through, it should give LINE/LNCO a good near term boost both in distribution/dividend per unit/share. It should give LINE/LNCO a push upward in its stock price. Even if the merger does not go through, the end of this process will allow LINE to acquire alternate properties in the near term. These in turn should allow LINE to continue to grow. Whatever LINE adds on top of its current holdings, it is looking like a much stronger stock. Further the thorough look at its accounting by the SEC has given LINE much more ammunition to use against its detractors. The short play by the hedge funds should be over; and this by itself should help LINE's stock price rise from its current level. LINE is a good long term buy.
The two year chart of LINE provides some technical direction for this trade.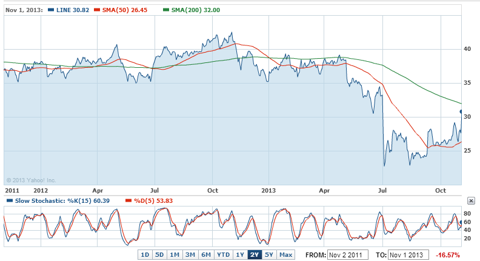 The slow stochastic sub chart shows that LINE is neither overbought nor oversold. The main chart shows that LINE has bottomed. It now seems to be establishing a solid uptrend. If the BRY merger goes through that should help LINE's uptrend continue. The BRY merger would add about 1.65 Tcfe (about 67% oil) to LINE's current 4.8 Tcfe of proved reserves. This should help LINE growth near term and in the future. The high percentage of oil should help to stabilize earnings.
Hopefully the merger will go through; but LINE is looking better whether the merger goes through or not. LINE is a buy. It has an average analysts' recommendation of 2.4 (a low buy). It has a CAPS ranking of four stars (a buy). LINE should continue to go up a bit on a change in sentiment about it. Further it is a relatively safe stock with its production approximately 84% hedged at good prices for the rest of 2013. In fact its strong hedges extend through 2016 for oil and 2017 for natural gas. With possible economic trouble on the horizon, LINE's great dividend (9.4% annually) and its safe revenue stream due to its extensive hedging make it a good stock to own. It has even seen a small amount of net insider buying.
NOTE: Some of the fundamental fiscal data above is from Yahoo Finance.
Disclosure: I have no positions in any stocks mentioned, but may initiate a long position in LINE, LNCO over the next 72 hours. I wrote this article myself, and it expresses my own opinions. I am not receiving compensation for it (other than from Seeking Alpha). I have no business relationship with any company whose stock is mentioned in this article.